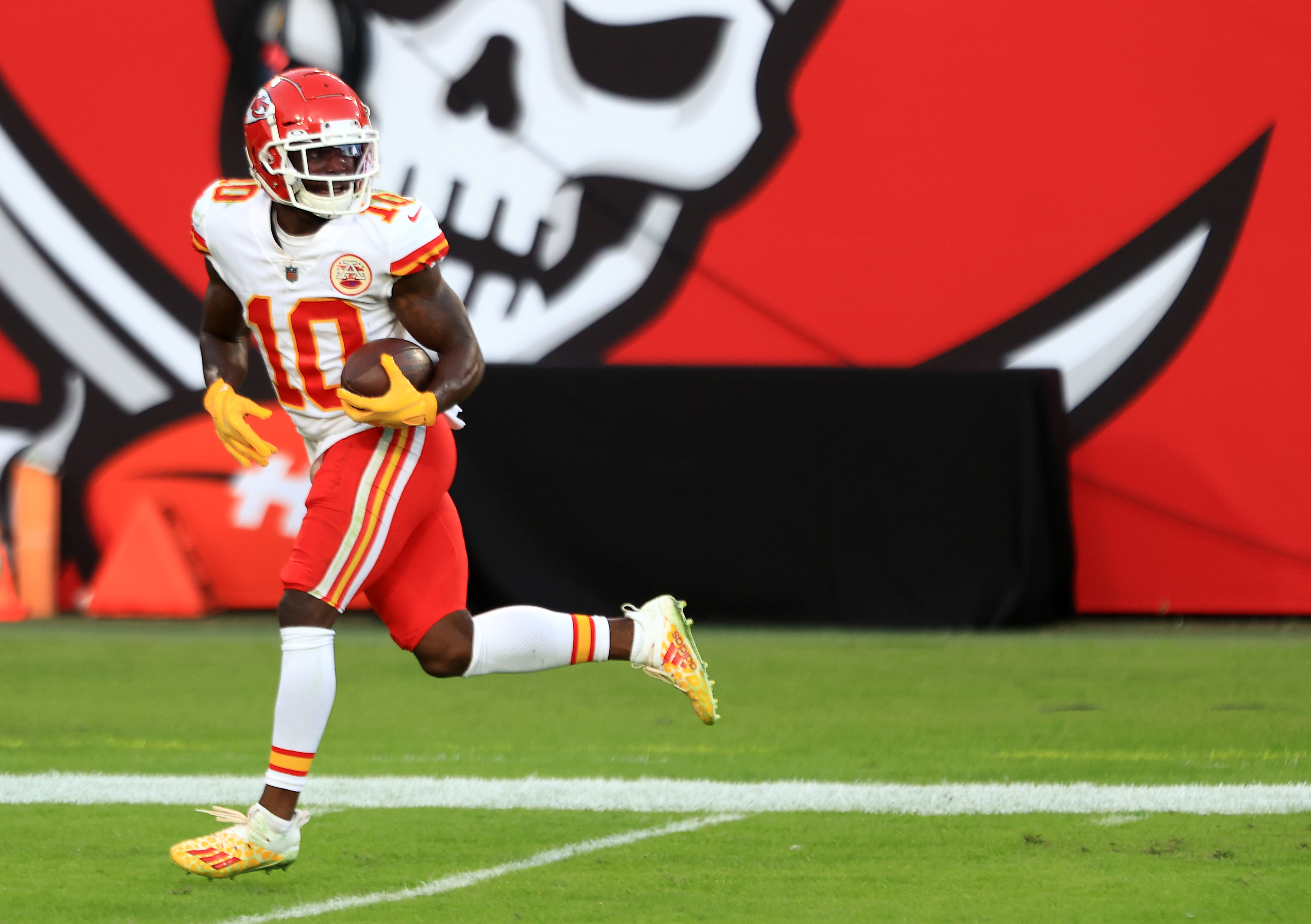 A Tyreek Hill vs. Adam Schefter Race Is the Post-COVID Event We All Need
A Tyreek Hill vs. Adam Schefter foot race is the post-COVID-19 entertainment we all are looking for.
The dreadful 2020 year can't come to an end soon enough. The coronavirus (COVID-19) has put a damper on just about everything in the world today, including sports. While sports have returned after about a four-month layoff, something is still missing – even during football season. What could help turn things around is that Tyreek Hill vs. Adam Schefter footrace that's being tossed around.
Tyreek Hill is built for speed
If Kansas City Chiefs wide receiver Tyreek Hill is no longer the fastest wide receiver in the National Football League, he's still in the running. Hill is lightning fast and has become one of the game's best wide receivers. A fifth-round draft pick out of West Alabama in 2016, Hill has shown he is much more than just a very fast guy.
Wide-receiver skills aside, Hill's speed was caught in action last year in a game against the Minnesota Vikings. Hill showed just how fast he really is and he didn't even have the ball on the play. Kansas City Chiefs running back Damien Williams broke free for a 91-yard touchdown run as Hill outran him as he was looking to block for Williams downfield.
According to CBS Sports, Hill's top speed during that run was 22.8 miles per hour, per Next Gen Stats. The 22.6 mph was the fastest of his career – and he wasn't being chased. The fastest speed that season for someone who had the ball was 22.3 mph and was recorded by running back Matt Brieda.
Adam Schefter isn't fast
Adam Schefter works for ESPN. He gets the insider information out to the public fast. But as far as pure running speed goes, Schefter isn't fast. Schefter isn't an athlete. He reports about them. Growing up, he loved sports but hardly played them.
Schefter never played football. He rarely got off the bench for his high school basketball team. "I was on the bench so it wasn't like I was a contributor to the team, but I will say this: I took pride in practicing hard and being a part of the team even though the team's success had nothing to do with me," Schefter told the Long Island Pulse back in 2013. "Look: I'm a 5'8" Jewish guy—it wasn't like I was going to play college basketball anyway."
As good as Tyreek Hill as playing football, Schefter is the same way when it comes to reporting. With eight million Twitter followers, Schefter has proven he's the go-to guy for breaking news. He just can't run fast.
Talk is heating up of a footrace between Hill and Schefter
It doesn't really matter how the subject came up. The fact it could be a thing is exciting. Kansas City Chiefs speedy wide receiver Tyreek Hill could be facing off against ESPN's Adam Schefter in a 100-yard race. It all started because of a tweet and the big event should happen when the dreaded COVID-19 virus goes away.
Hill directed a tweet at Schefter regarding a race and Schefter responded that it would happen post-COVID-19. Hill has offered to run in full pads while giving Schefter a 40-yard head start. "His form is already better than mine," Hill said on ESPN's Get Up after watching a video of Schefter sprinting.
Get Up host Mike Greenberg said he was representing Schefter and said that 40 yards wouldn't be enough of a head start. He asked for 50. "I can't do 50," Hill responded. He then re-thought the situation. "Maybe, maybe 50." Stay tuned. This could be the post-COVID-19 entertainment we all need.