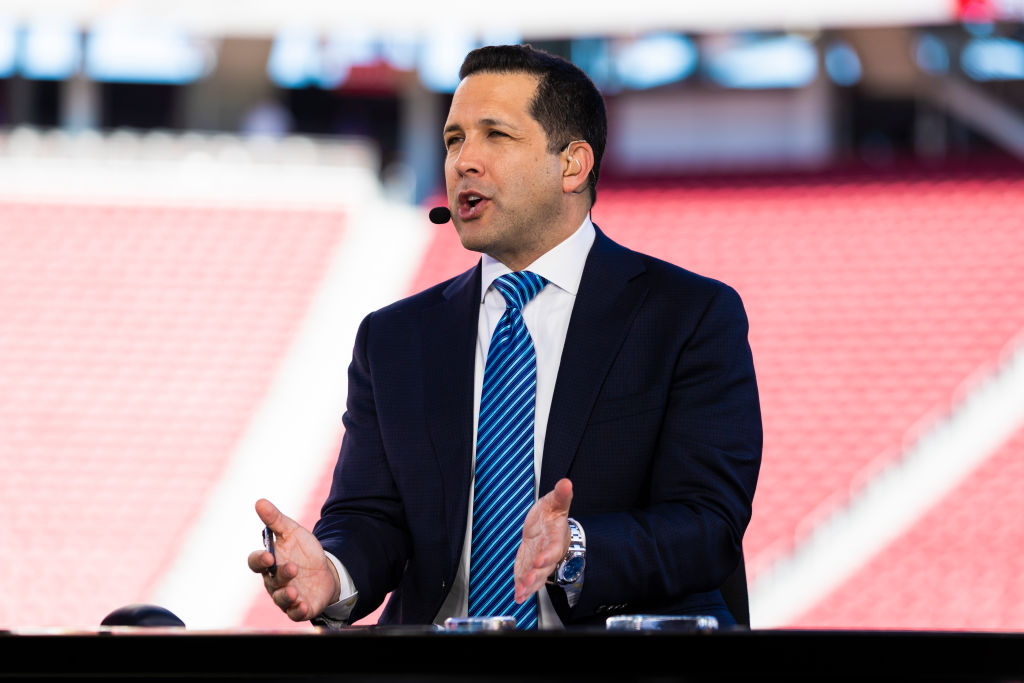 How Much Money Does Adam Schefter Make?
Adam Schefter is one the most well-known NFL insiders. He's always on top of the latest news and stories. So how much money does Schefter make?
Adam Schefter is considered one of the top reporters covering the NFL. He's been breaking news on the NFL since 1990 and been with ESPN for more than a decade. How did he reach such a pinnacle of success? And, how much money is he paid for his reporting?
How Adam Schefter's career got started
Adam Schefter was born on December 21, 1966, in Valley Stream, New York, and grew up in Bellmore, New York. After graduating from the University of Michigan, Schefter earned his master's degree from the Medill School of Journalism at Northwestern University.
He had an internship at the Seattle Post-Intelligencer and then began working first for the Rocky Mountain News in Denver and then for The Denver Post. He covered the NFL and the Denver Broncos for 15 years for these two papers. While working for The Denver Post, Schefter frequently appeared on ESPN's Around the Horn and the Sports Reporters.
In 2004, he moved over to the NFL Network, where he appeared on NFL Total Access plus worked as an analyst and a writer for NFL.com until 2008. Occasionally, he worked as an NBC sideline reporter as well.
Adam Schefter's work at ESPN
In August of 2009, Schefter officially joined ESPN, where today he is a Senior NFL Insider. He has appeared on NFL Live, Sunday NFL Countdown, Monday Night Countdown, SportsCenter, ESPNews, and other ESPN shows. In addition, he hosts an ESPN audio podcast called The Adam Schefter Podcast, and he contributes to both ESPN.com and ESPN Radio.
His contract was last extended in 2016 and runs for five years. This contract also expanded Schefter's role at ESPN to include his podcast and occasional NBA sideline reporting along with his NFL work.
A successful author
In addition to his reporting, Schefter is the author of several books. His titles include Romo: My Life on the Edge: Living Dreams and Slaying Dragons, written with Bill Romanowski, former Denver Broncos player; Think Like A Champion: Building Success One Victory at a Time, written with former Broncos head coach Mike Shanahan; and TD: Dreams in Motion: The Memoirs of the Denver Broncos' Terrell Davis, written with Terrell Davis.
He also wrote The Class of Football: Words of Hard-Earned Wisdom from Legends of the Gridiron. His most recent book is The Man I Never Met: A Memoir, written with Michael Rosenberg, about his wife's first husband, who died in the September 11 attacks.
Career achievements
Adam Schefter has received a number of accolades for his work over the years. In 2002 and 2003, he was the Colorado Sports Writer of the Year. He was included on Sports Illustrated's Power 40+ list in 2010 and Most Powerful People in Sports Media in 2013. He was also named the 2014 Media Person of the Year by Sports Illustrated's NFL site, The MMQB.
According to ESPN, Schefter is considered to be the first television commentator to popularize breaking stories on social media while appearing on TV. He has a large social media following, with more than 7.7 million followers on Twitter, 851,000 on Instagram, and 680,000 on Facebook.
In a 2017 interview with Business Insider's Morning Brew, Schefter gave some insight into what makes him good at his job, saying,
"I don't feel like I have any really discernible talents. But I care an awful lot. I'm driven. I've always been scared of falling short, not succeeding."
All this caring has paid off for Schefter. He has a salary of $1.2 million a year from ESPN. His net worth was reported to be $4 million in 2015, and his net worth grew to $9 million by 2018. Not bad for a man with no "discernible talents."