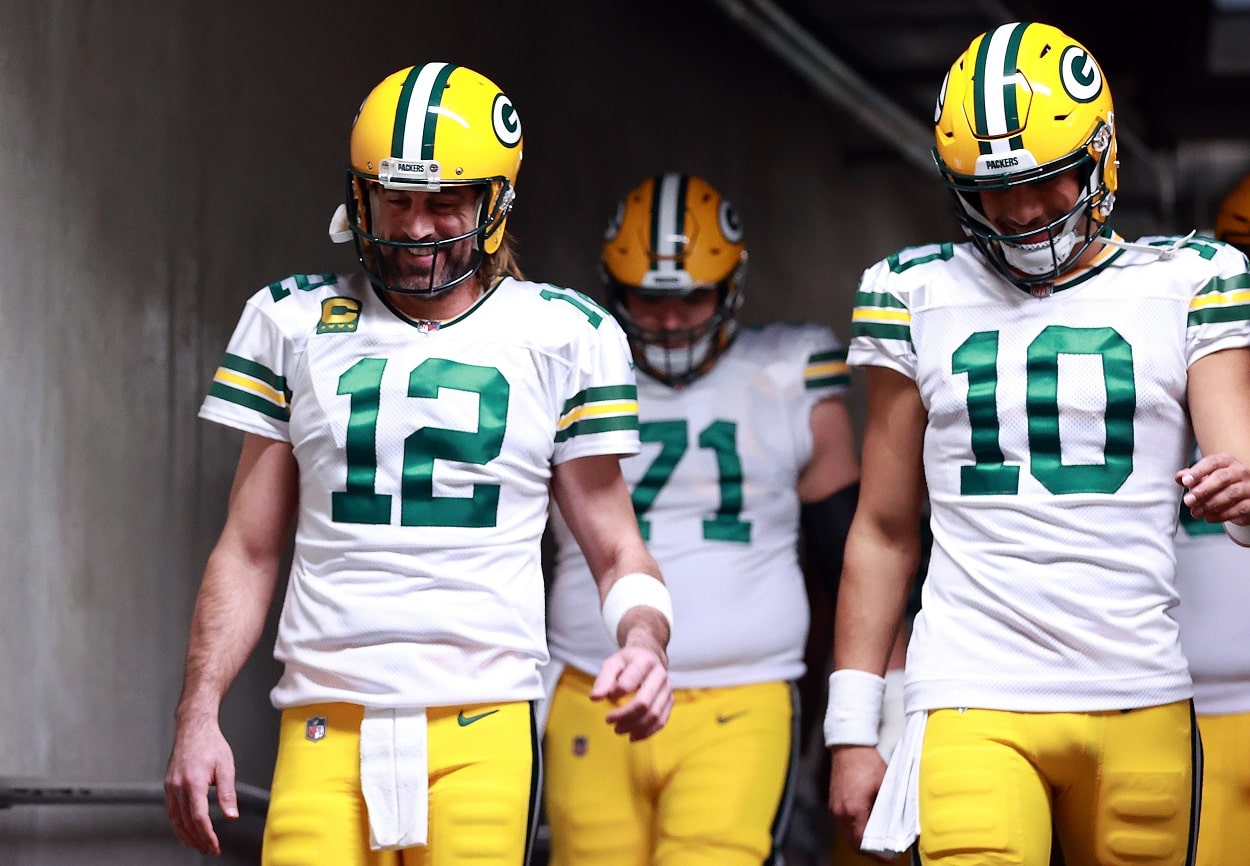 Aaron Rodgers' Average Salary Is the Highest in the NFL, but His Game Checks Will Be Lower Than Jordan Love's for the Next 2 Years
Jordan Love's game checks for the Green Bay Packers will actually be higher than those of Aaron Rodgers.
A little over a year ago, it seemed as if Jordan Love would get his shot to be the starting quarterback of the Green Bay Packers sooner than we all expected. Aaron Rodgers, if you recall, was quite unhappy with the franchise that drafted him with the 24th overall pick in the 2005 NFL Draft, and his future in Green Bay was in question.
Some of that discontent could have been because the Packers traded up to draft Love with the 26th overall pick in 2020. And I get that — to a point anyway. It's not as if Green Bay had plans to instantly replace Rodgers with Love. The franchise was simply setting itself up for the future.
It's no different than how Rodgers' tenure with the Packers began. When he was drafted, Brett Favre still had plenty left in the tank. But, again, the franchise was simply setting itself up for the future.
The two sides obviously worked things out, and Rodgers won his second consecutive NFL MVP and fourth overall while leading Green Bay to a 13-4 record and a third straight NFC North title. But the top-seeded Packers again disappointed in the postseason, losing in the Divisional Round at home to the San Francisco 49ers.
There was no such drama with Rodgers this past offseason. In fact, it was quite the opposite as the Packers signed the 10-time Pro Bowler to a three-year/$150.815 million restructured extension. The deal makes Rodgers the highest-paid player in the NFL in terms of average annual value (AAV) and obviously also impacts Love's future in Green Bay.
We obviously don't yet know how Love's future plays out, but one thing we do know is that he'll receive bigger game checks than Rodgers this year — and next.
Jordan Love will receive bigger game checks than Aaron Rodgers for the next two years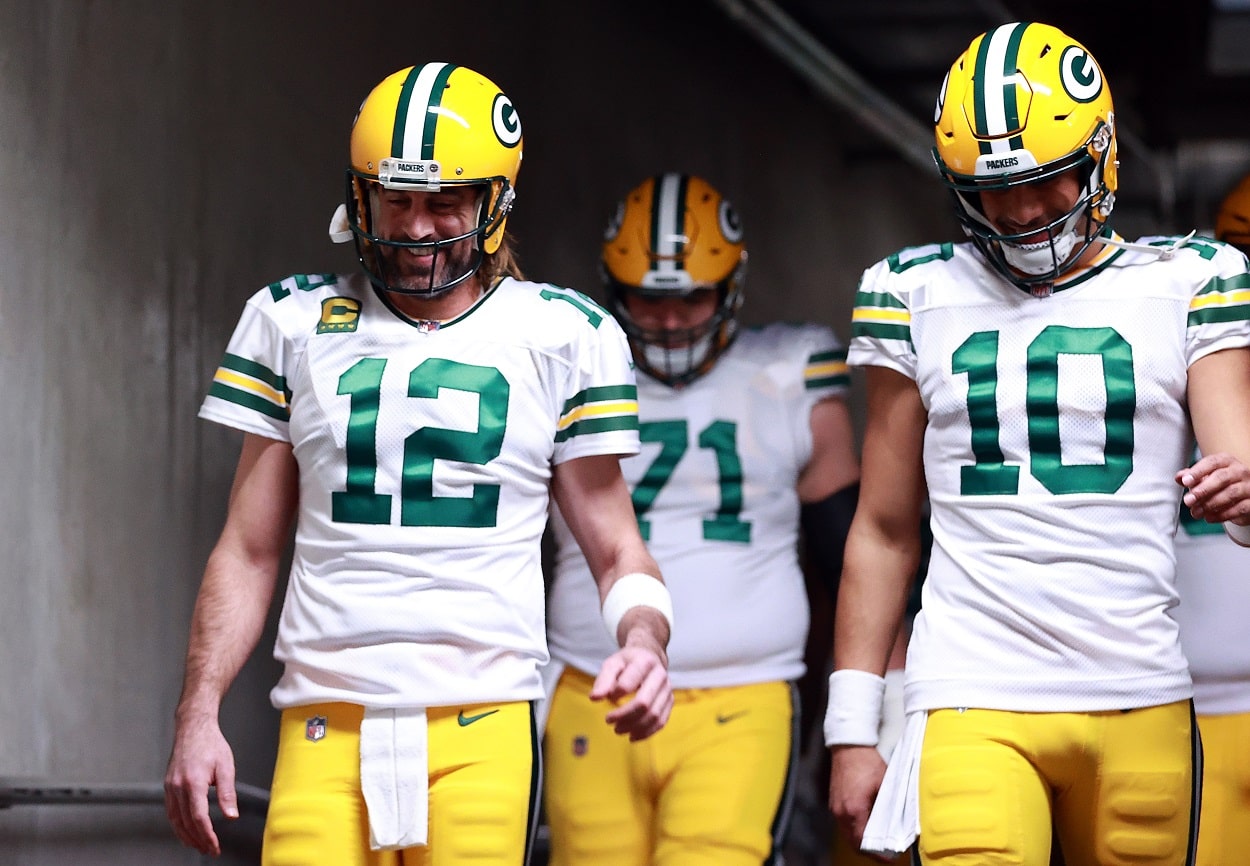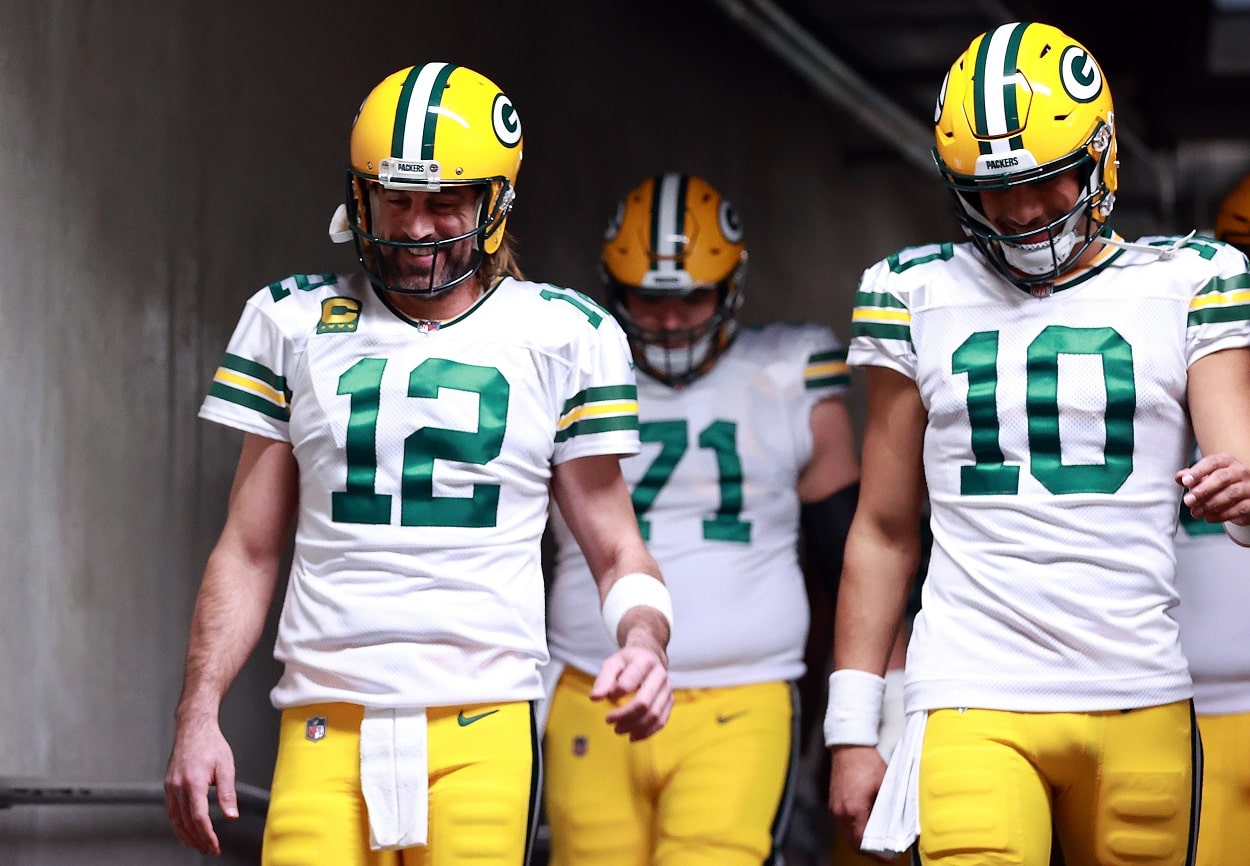 It's no secret that NFL contracts can get a little complicated. There's the matter of guaranteed money, signing bonuses, workout bonuses, roster bonuses, random clauses, and things of that nature.
So while it's easy to say Aaron Rodgers makes $50 million per year, that's actually not the case. In reality, the five-time All-Pro will collect $42 million in 2022. $40.8 million comes from a roster bonus that's being treated as a signing bonus.
Rodgers already collected $20.4 million of that on June 30, and he'll receive the other half on September 30. He'll also receive a separate $50,000 workout bonus. So that means Rodgers' actual base salary for the 2022 season is just $1,150,000. Divide that over the course of the regular season, and the Super Bowl 45 MVP will receive weekly checks of $63,888.89.
On the other hand, Jordan Love has a base salary of $1,735,768 as part of his four-year/$12,383,453 million rookie deal. So his weekly haul is actually higher than Rodgers' at $96,431,56.
And Love will collect bigger weekly checks next year as well. With his 2023 salary set at $2,298,652, Love receives $127,702.89 per week. Rodgers' base for next year is $1,165,000, putting his weekly check at $64,722.22. Of course, he'll also receive a $58.3 million bonus and another $50,000 workout bonus, giving him $59.515 million in total cash earnings next year. So, yeah, he's still got the edge in more ways than one.
Yeah, yeah, we know this was a silly exercise, but we needed something to pass the time before the season starts. And with Rodgers getting along with the Packers and seemingly with Love these days, he's not giving guys like me as much fun content to write about.
So just throw this knowledge out to your friends when Aaron Rodgers, Jordan Love, and the Packers kick off their 2022 campaign next Sunday against the Minnesota Vikings.
Stats courtesy of Pro Football Reference; Contract info courtesy of Spotrac
Like Sportscasting on Facebook. Follow us on Twitter @sportscasting19 and subscribe to our YouTube channel.