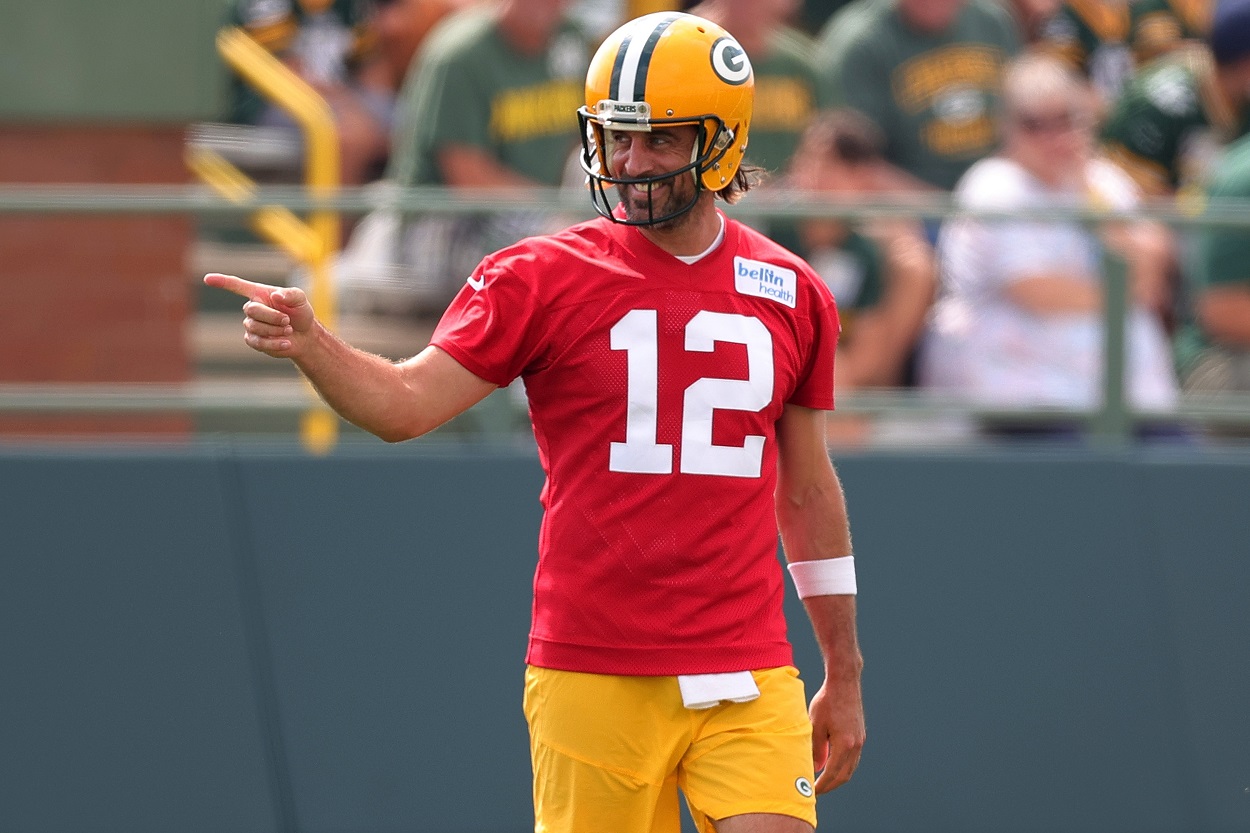 Aaron Rodgers Is Finally Happy With a Packers Draft Pick, One Who Has Some Pretty Big Shoes to Fill
Aaron Rodgers has been very impressed with rookie center Josh Myers during Green Bay Packers training camp.
Now that Aaron Rodgers has gotten everything out in the open on his relationship with the Green Bay Packers, it seems as if he can finally get back to answering normal, day-to-day football questions. Well, for now at least. We'll see what happens a couple of months down the line. Anyway, one of those normal questions came over the weekend when the reigning NFL MVP was asked to name a player who people may not be talking about much that could make a big impact once the 2021 NFL season begins. And his answer might shock some people as he went with rookie center Josh Myers.
Josh Myers was a two-time All-Big Ten selection at Ohio State
For those unfamiliar with Myers, the 6-foot-5, 310-pounder was born and raised in Miamisburg, Ohio. He played guard at Miamisburg High School and was a Division II All-State selection as both a junior and senior. Myers was also named a USA Today All-American as a senior in 2016 and was chosen to participate in the 2017 All-American Bowl, where he teamed with the likes of Chase Young, Tua Tagovailoa, and Donovan Peoples-Jones.
Upon graduation, he enrolled at Ohio State and redshirted his freshman year as he made the transition from guard to center. Myers appeared in 10 games as a redshirt freshman but moved into the starting role in 2019, a season in which he was named a Second-Team All-Big Ten selection as he helped the Buckeyes to the College Football Playoff.
He was named a team captain heading into the 2020 season and was named a First-Team All-Big 10 selection on the way to helping Ohio State to the national championship game.
Myers has impressed Aaron Rodgers during Packers training camp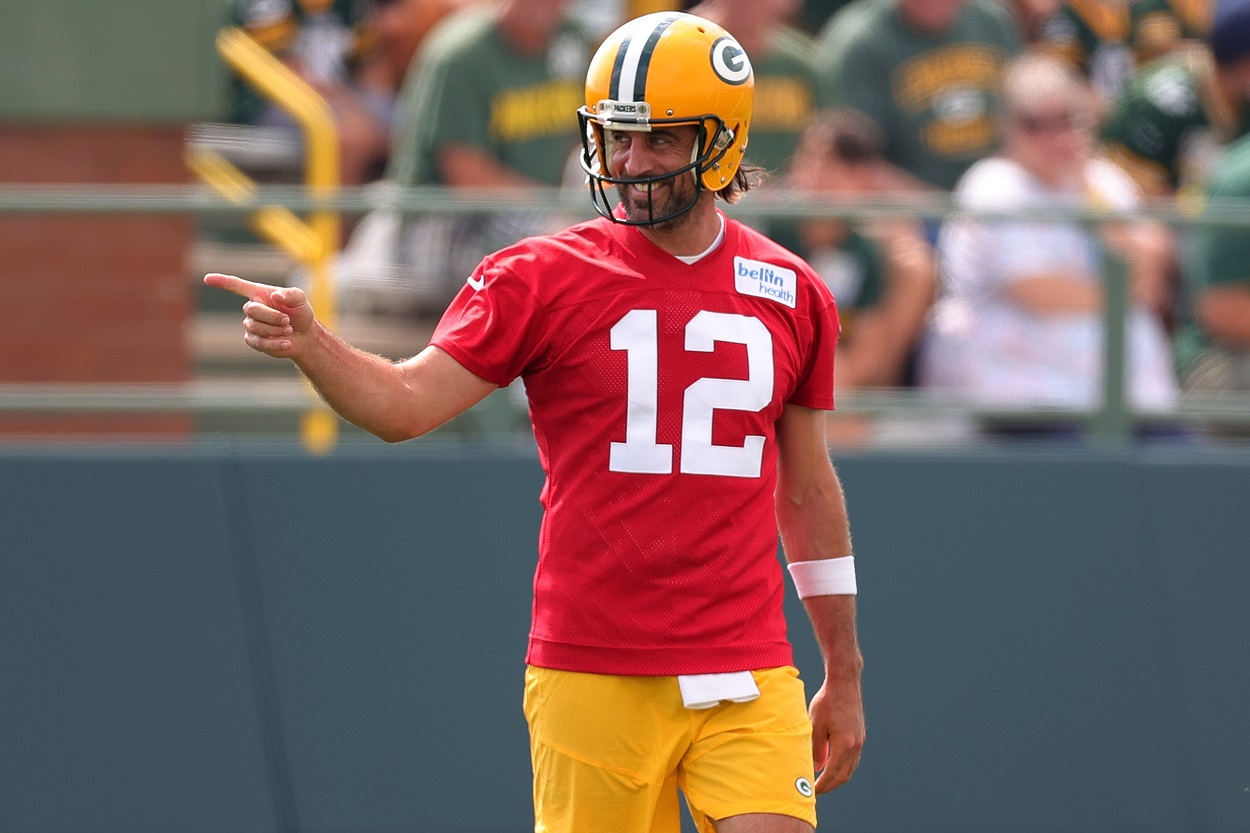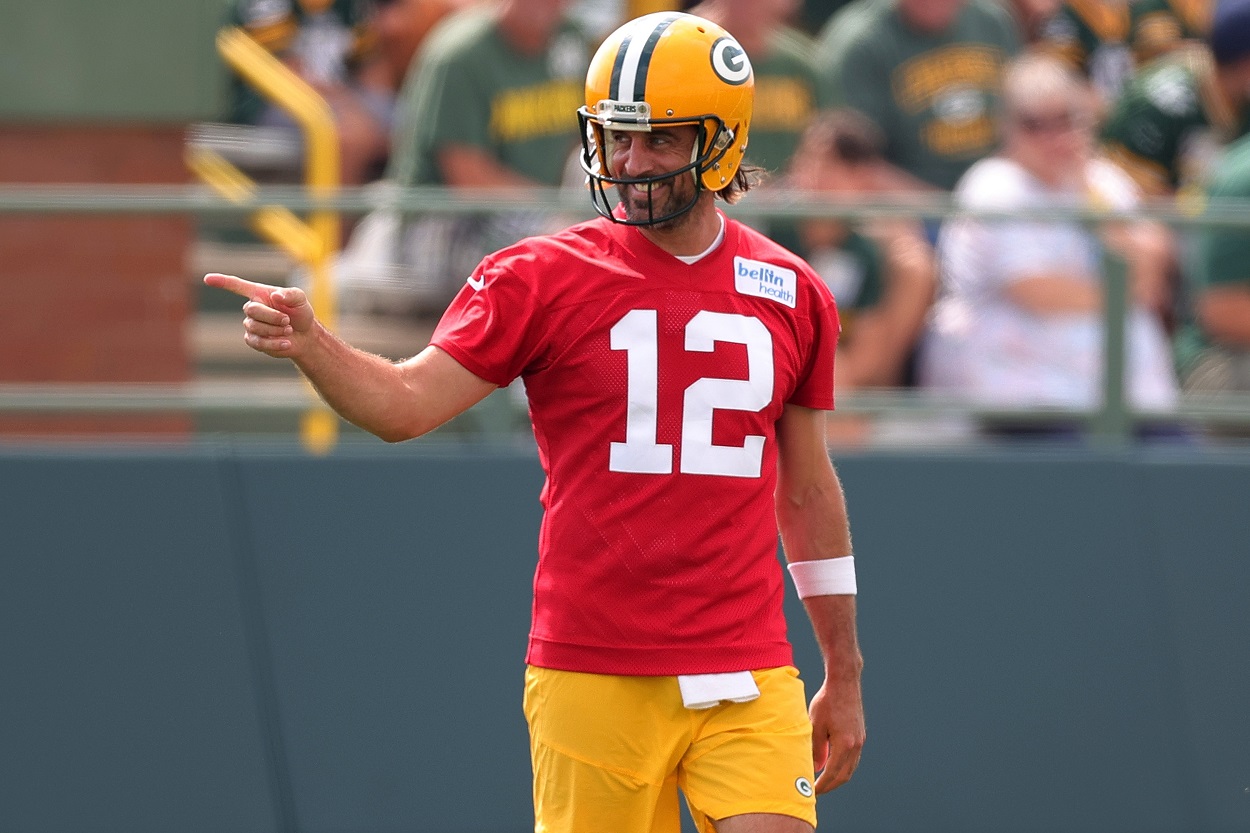 Myers chose to forgo his final year of eligibility in Columbus to enter the 2021 NFL Draft and was taken by the Packers in the second round with the 62nd overall pick. He's been getting more and more reps as training camp has gone on and has turned quite a few heads, including that of the man to whom he'll be snapping the ball.
Rodgers was asked over the weekend by NFL Network to name an under-the-radar play he believes could make an impact on the Packers' offense and chose his new center.
"I gotta say the center, Josh Myers. For a guy to come in as a draft pick, as a rookie, and to be that comfortable, it's pretty impressive."

Aaron Rodgers on Packers rookie center Josh Myers
As Rodgers has obviously had a few problems with some of the Packers' draft picks over the last few years, a comment like that certainly has to make Myers feel good, especially when he's got such big shoes to fill.
He's replacing another Ohio State standout
The Packers drafted Myers in the first place because they lost their starting center of the last seven years, Corey Linsley, who also played his college ball at Ohio State. Despite missing three weeks late in the 2020 season due to a knee injury, Linsley was named a First-Team All-Pro, which certainly helped him in free agency as he's now the highest-paid center in the NFL after signing a five-year/$62.5 million contract in the offseason with the Los Angeles Chargers.
So, again, Myers has some big shoes to fill, but it seems as if he's doing a good job of it thus far. And having a guy like Aaron Rodgers in your corner certainly doesn't hurt. The Packers play their first preseason game on Saturday, August 14, against the Houston Texans and open the league's first 17-game regular season on Sunday, September 12, against the New Orleans Saints.