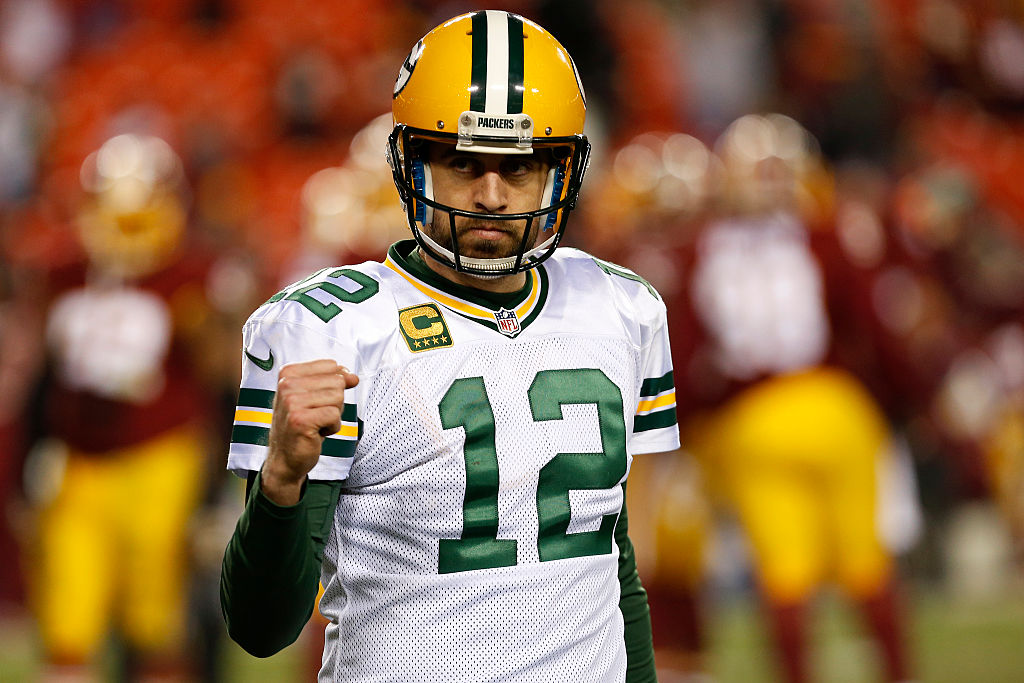 Aaron Rodgers Has Strong Feelings About the Packers Drafting a QB
Green Bay Packers quarterback Aaron Rodgers remains the team's best option for another return to the Super Bowl.
Aaron Rodgers has been on the other end before.

Back when Rodgers slipped to the 24th overall pick in the 2005 NFL draft, he patiently waited behind future Hall of Fame quarterback Brett Favre for his chance to shine in the NFL.
Now, Rodgers, a Super Bowl-winning quarterback himself, finds himself ready to begin his 16th NFL season at age 36. He knows the Green Bay Packers will soon be looking to find his replacement, but will it be in this year's NFL draft?
Aaron Rodgers is confident, but also understanding
With the 2020 NFL draft upcoming, Rodgers said he's 'realist' that the Packers might be looking to snag a quarterback this season.
"I'm a realist," Rodgers said, via ESPN. "I know where we're at as an organization, and I know where I'm at in my career."
While Rodgers understands the Packers' way of thinking, he's pretty confident in his own abilities. Rodgers said if a rookie is drafted, the newcomer may have to do what Rodgers did and sit for a while before getting an opportunity. Rodgers sat behind Favre for three seasons before getting his chance.
"I'm confident (he is) not going to beat me out anytime soon," Rodgers said about the potential rookie quarterback.
The future of the Green Bay Packers
Although Aaron Rodgers will be 37 by the end of the 2020 season, he hasn't shown any significant signs of slowing down.
Last season, Rodgers guided the Packers to the NFC Championship as the conference's No. 2 seed. He had yet another Rodgers-like season, tossing 26 touchdown passes with just four interceptions. He threw for better than 4,000 yards and completed 62 percent of his passes. His QB rating was 95.4.
Rodgers is signed trough the 2023 season, and with the way he's been performing, his job is certainly not in any jeopardy. The Packers do have 10 selections in the 2020 draft, so it might be wise for them to select a quarterback to groom for the future, but for now (and the immediate future), Green Bay is still Rodgers' team.
Rodgers is still the Packers' best chance to win a Super Bowl
The Packers offense, generally speaking, hasn't been the issue during Rodgers' NFL career. Rogers has managed to win a Super Bowl but has gotten his team to the NFC Championship Game four times.
Although he hasn't wowed in those title games, the blame can't be solely placed on Rodgers. In 2014, Rodgers had his team ahead 19-7 against the Seattle Seahawks with a little more than three minutes to play, but poor late defensive play, combined with a botched onside-kick recovery doomed the Pack, who went on to lose in overtime.
Against the 49ers last year and against the Atlanta Falcons, Rodgers and the Packers were down 20-0 and 24-0, respectively, due to a combination of poor quarterback play and shoddy defense. Against the 49ers, he recovered to finish with 326 passing yards and a 97.2 passer rating, but it was too late.
With so many draft selections this year, the Packers may take a shot at a quarterback, but, if anything, it would be for insurance if something happened to Rodgers. For now, Rodgers continues to be the best bet for the Packers to make another run through the playoffs.