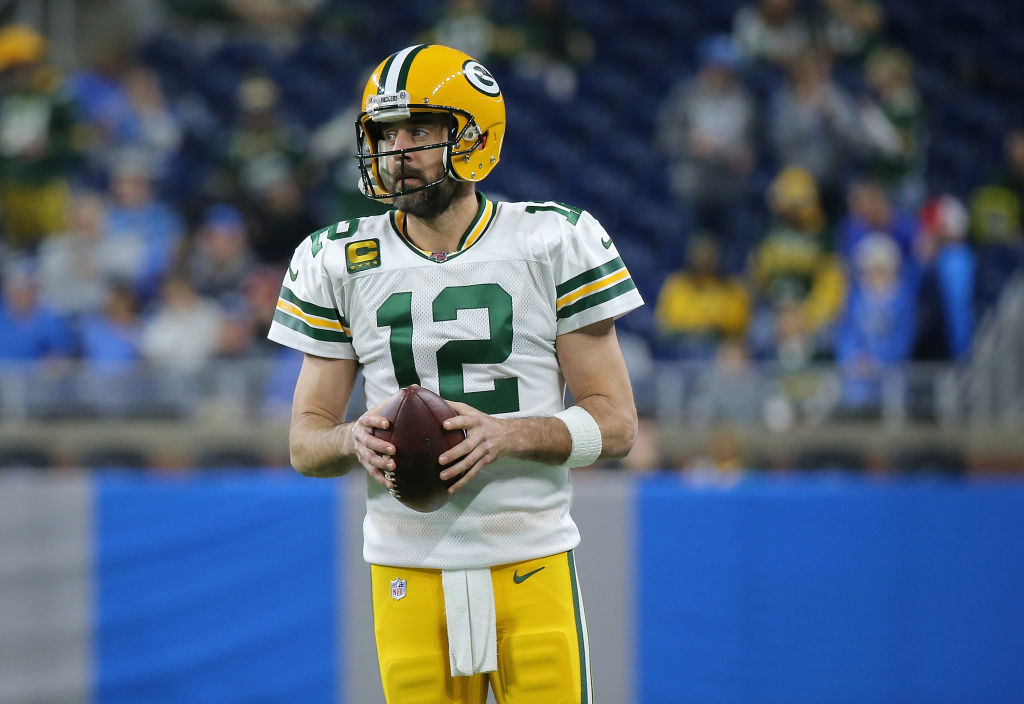 Why Aaron Rodgers Needs Another Super Bowl Win More Than Anybody
Everyone feels the heat during the NFL playoffs, but Green Bay Packers quarterback Aaron Rodgers is under a great deal of pressure.
While every NFL game is a pressure-packed situation, things ratchet up in the playoffs. When every play can make or break the entire season, every player needs to do their jobs perfectly. Green Bay Packers quarterback Aaron Rodgers, however, will be under some extra pressure to win the Super Bowl this postseason.For all of his previous success, Rodgers has been receiving his fair share of criticism this season. When the Packers take the field on Sunday night, their quarterback might feel the weight of his legacy on his shoulders.
Aaron Rodgers' career thus far
These days, Aaron Rodgers is one of the NFL's most recognizable quarterbacks. He didn't always seem destined for gridiron success and State Farm commercials, though.
While the quarterback shone in high school, he didn't receive a great deal of attention from Division 1 football programs; most schools felt that Rodgers was simply too short. He turned down a walk-on opportunity at the University of Illinois and almost gave up competitive football, but decided to give it one final shot at Butte Community College.
While he might not have been playing for the nation's most prestigious program, Rodgers still produced a strong freshman year. That was enough to earn him some attention from the University of California; after a few games on the bench, he stepped into the starting role. After an impressive junior season, though, Rodgers decided he was ready for the NFL.
After an infamous spell in the green room, Rogers ended up with the Green Bay Packers and spent three seasons sitting behind Brett Favre. When the veteran QB moved on, Rodgers was ready. While it's tough replacing a legend, Rodgers didn't miss a beat. He has thrown for 45,662 yards and 355 touchdowns in his NFL career; he's won a Super Bowl, been named Super Bowl MVP, and taken home two regular-season MVP awards.
Aaron Rodgers is still under pressure to win the Super Bowl
While Aaron Rodgers has had quite the NFL career, he hasn't quite hit the highest heights this season. The veteran's overall stat line still looks pretty good, but he doesn't seem to be the same star player under center. If anything, he's been more of a game manager than a game-breaker this season.
While Rodgers still might be a household name—he was elected to the Pro Bowl and constantly graces your television in State Farm commercials—he's also starting to feel the heat. The quarterback isn't getting any younger, and some are starting to question if he's part of the problem in Green Bay.
ESPN's Stephen A. Smith even stated that Rodgers has the most to lose during the NFL's Divisional Round. While the veteran has earned the benefit of the doubt during the regular season, no one gets a free pass in the playoffs. The postseason is a chance for the veteran to show everyone, whether they believe in his experience or doubt his abilities, who he really is. If Rodgers can carry the Packers to the Super Bowl, he'll reassert his place in the NFL pantheon; if he struggles and Green Bay bows out on Sunday, the murmurs about Rodgers' ineffectiveness will only get louder.
The Seattle Seahawks won't take Rodgers lightly, though
While Aaron Rodgers might not be the same quarterback that he used to be, the Seattle Seahawks won't be taking him lightly on Sunday. As far as they're concerned, he's just as dangerous as ever.
"It's ridiculous, he's so good," head coach Pete Carroll said. "Every aspect of the quarterback position, from reading the defense to getting his offense in the right plays to tempo to cadence, and the scrambling aspect, he's as good as it can get. He's a Hall of Famer."
Russell Wilson agreed. "He's the epitome of what success looks like in terms of making plays," the Seahawks QB said about Rodgers. "I love studying great players, and he's definitely one of those guys. He's got a great clutch gene. To be great you have to have that."
In professional sports, legends are born in the biggest moments. If Aaron Rodgers is able to rebound from a disappointing regular season with a dominant playoff push, that will surely add another flourish to his impressive legacy.