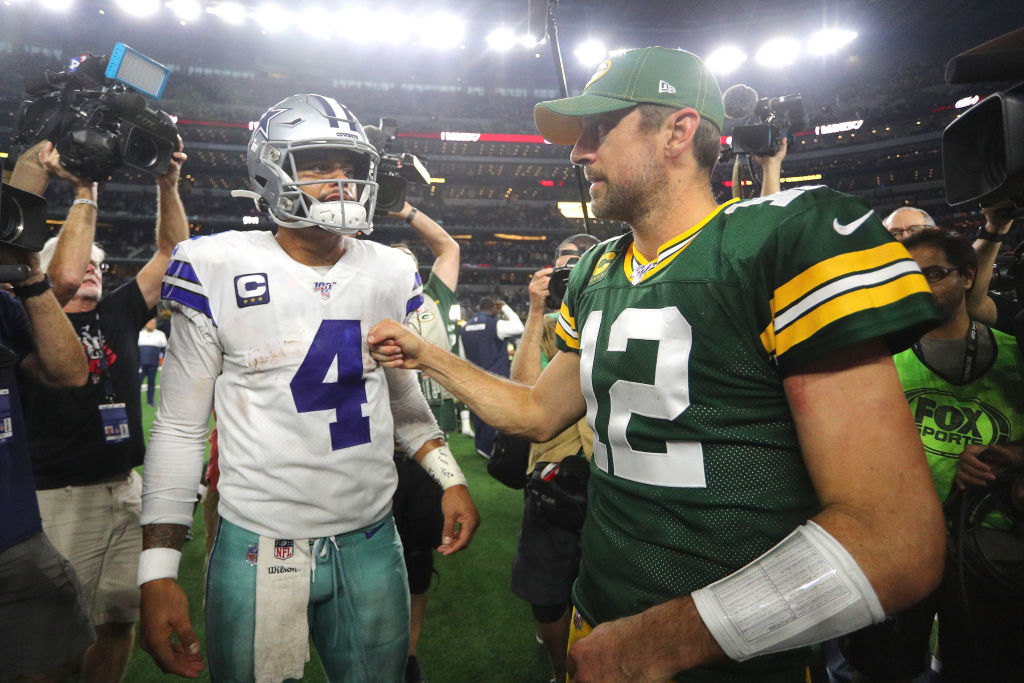 Despite the Dallas Cowboys' Struggles, Dak Prescott Deserved to Make the Pro Bowl Over Aaron Rodgers
Aaron Rodgers might be an all-time great, but he shouldn't have made the Pro Bowl roster over Dallas Cowboys quarterback Dak Prescott.
The NFL season is drawing to a close, which means that it's almost time to start arguing over individual awards. While we'll have to wait a little while for the MVP—which seems to be owned by one man—and Coach of the Year, the Pro Bowl rosters came out on Tuesday night. Although no one puts too much stock in the NFL's glorified exhibition game, Dallas Cowboys quarterback Dak Prescott deserved to make the team.
This year not much has gone right in Dallas. But, if you ignore the eternal drama consuming Jerry World, Prescott has been one of the league's best quarterbacks.
The Dallas Cowboys disappointing 2019 campaign
For a team like the Dallas Cowboys, ever season's goal is a Super Bowl victory. While the club's roster—with a stout offensive line protecting Dak Prescott and Ezekiel Elliott—looked ready for a playoff run, things haven't followed the game plan.
Dallas started the season with a three-game winning streak but crashed back to earth with three straight losses. They then rattled off two divisional wins, with one coming on each side of the bye week, but couldn't maintain momentum. After a loss to the Vikings and a win against the Lions, the Cowboys have dropped three out of four games. They only remain in the playoff picture due to the NFC East's general incompetence; Week 16's trip to Philadelphia will determine the fate of their entire season.
Between their coaching staff and general manager, the Dallas Cowboys have plenty of issues. Dak Prescott, however, hasn't been one of them.
Dak Prescott's season from a statistical perspective
While Dak Prescott might not be thought of in the same way as established veterans like Tom Brady and Drew Brees or exciting young players like Lamar Jackson and Patrick Mahomes, the Cowboys quarterback has been having a monster season.
Through 14 games of the season, Prescott has thrown for 4,334 yards and 26 touchdowns. Both of those are already career-highs for the quarterback, but his numbers are even more impressive when compared to the NFL at-large. Dak's total passing yards are second in the league, only trailing Jameis Winston; his passing touchdowns are tied for fourth overall. He also ranks favorably in overall completions (third), yards per passing attempt (fifth), and overall QPR (third).
The biggest knock against Prescott is his interceptions—the quarterback has thrown 11 picks this season, two short of his career-high—but there are some mitigating factors. Not only did six of those eleven interceptions come in a four-game span, but Dak is often forced to make aggressive throws while playing from behind.
Dak Prescott should have made the Pro Bowl over Aaron Rodgers
When the Pro Bowl rosters were released, all eyes went to the quarterbacks. While there weren't any major surprises in the AFC—Tom Brady missed the cut for the first time in forever, but that's more a sign of the times than a shocking upset—the NFC was a bit different. Drew Brees, Aaron Rodgers, and Russell Wilson are representing the conference.
There's no arguing with Wilson's credentials, but Brees and Rodgers are a different story. Both men have thrown for fewer yards and touchdowns than Dak Prescott; on a per-game basis, Brees pulls away in touchdowns, but Prescott leads Rodgers by over 50 yards and .2 of a touchdown per outing. The Saints quarterback is still having a strong season, barring his injury, but Rodgers has been more efficient than anything else.
At the end of the day, however, Pro Bowl voting is nothing to get worked up over; the game is meaningless, and one-third of the votes come from fans. But, based on the debacle he's been dealing with in Dallas, Dak Prescott deserved some recognition.