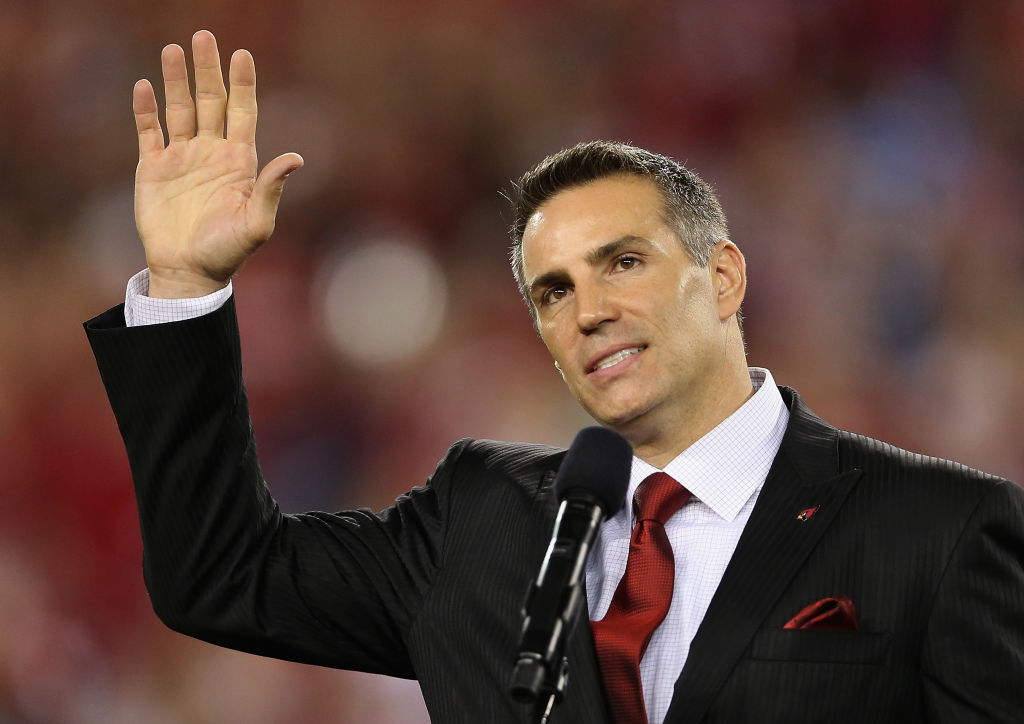 Kurt Warner Thinks Patrick Mahomes Could Already Be 'the Most Complete QB We've Ever Seen'
Kurt Warner thinks that Chiefs quarterback Patrick Mahomes could be the most complete QB ever. But how does that claim hold up to history?
As sports fans, we all love historical comparisons. While players and playing styles may come and go, the arguments about who was the best will never fade away. Former NFL quarterback Kurt Warner waded into the action this week, making a bold claim about Kansas City Chiefs quarterback Patrick Mahomes.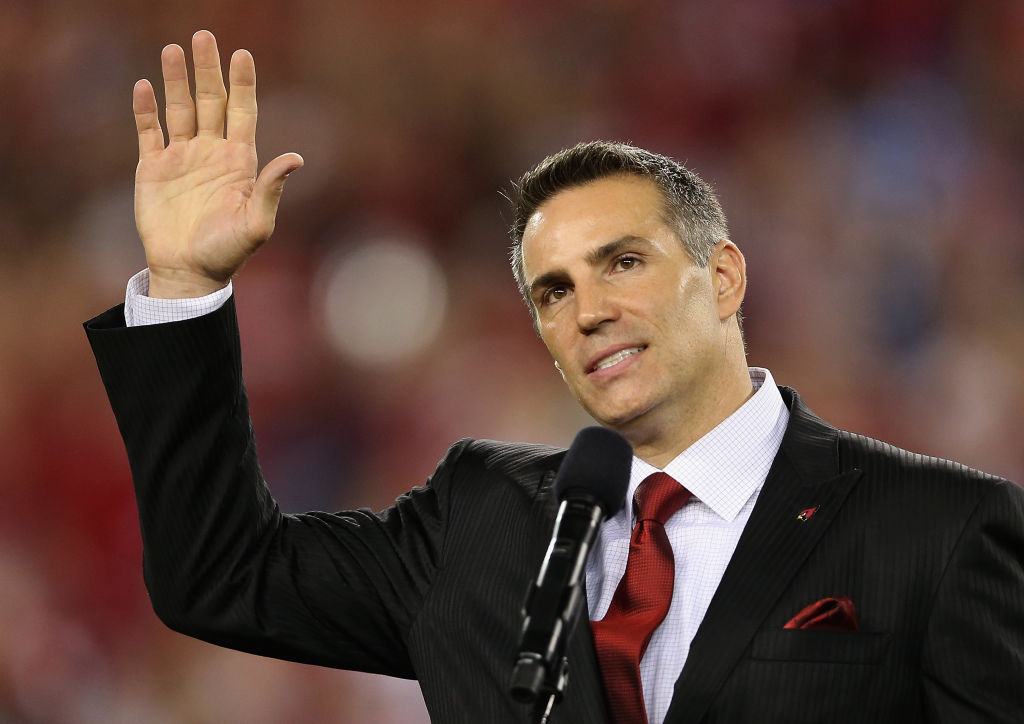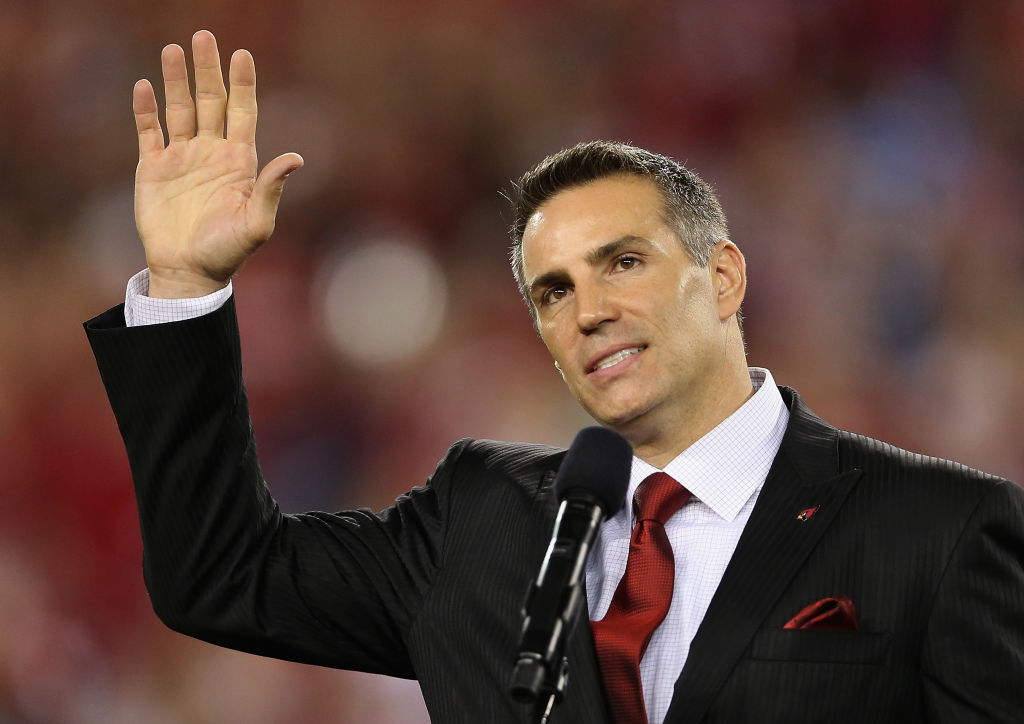 While Warner has seen plenty of football during his lifetime, and he isn't afraid to call things as he sees them. On Twitter, he proclaimed Patrick Mahomes "the most complete QB we've ever seen." But how does that claim hold up to history?
Kurt Warner's career
Despite his eventual success, Kurt Warner had a famously rocky start to his football career. He didn't start at the University of Northern Iowa until his senior year; after graduation, he tried out for the Green Bay Packers but didn't make the team.
Warner then famously stocked shelves at a local grocery store, before trying his hand in the Arena Football League. He put up massive numbers with the Iowa Barnstormers, and, in December 1997, signed a futures contract with the St. Louis Rams. He spent the 1998 season as the third-string QB and was promoted to back-up in 1999; when Trent Green tore his ACL in the preseason, Warner finally got his shot as a starter.
Taking the helm of "The Greatest Show on Turf," Warner led the Rams to a victory in Super Bowl XXXIV, claiming both the NFL MVP and Super Bowl MVP awards in the process. He would spend four more years in St. Louis before playing one season with the New York Giants; Warner would then move to Arizona and play five more NFL seasons in the desert.
Warner's praise of Patrick Mahomes
Given his NFL career, it's unsurprising that Kurt Warner moved into the media. He joined the NFL Network after hanging up his helmet for good and has taken to the job with his usual ease; the former quarterback was nominated for a 2019 Emmy award as an Outstanding Sports Personality – Studio Analyst.
Warner's analysis isn't confirmed to television, though. He shares plenty of insights on Twitter and recently dropped one nugget about Kansas City Chiefs quarterback Patrick Mahomes.
While the AFC West squad may have dropped their game against the Tennessee Titans, Mahomes impressed in his return from injury. "What @PatrickMahomes does mentally, sneaky physically, creating throws, understanding spacing & w/ his ridiculous arm talent is so phenomenal," Warner wrote. "I might argue he's most complete QB we've ever seen… I know it's early, I know we've had some amazing QBs & I don't say this flippantly!"
Is Patrick Mahomes already complete?
While calling someone the most complete quarterback ever is high praise, it seems like Patrick Mahomes has a legitimate shot at the title. His arm strength is already the stuff of legends and, between his improvisation and mobility, it's hard to catch him in a bad spot. While he's still guilty of making a few bad decisions, that will likely take care of itself in time.
Although Mahomes can run when he has to, he prefers to let his arm do the heavy lifting. Lamar Jackson and Deshaun Watson, however, provide more of a focus on the ground game. All three quarterbacks are remarkable complete for young players, but your preference will probably come down to which style of play you prefer.
Even if you don't think that Patrick Mahomes is already a historically great quarterback, the NFL currently has an impressive crop of young players under center. That's something that Kurt Warner surely appreciates.