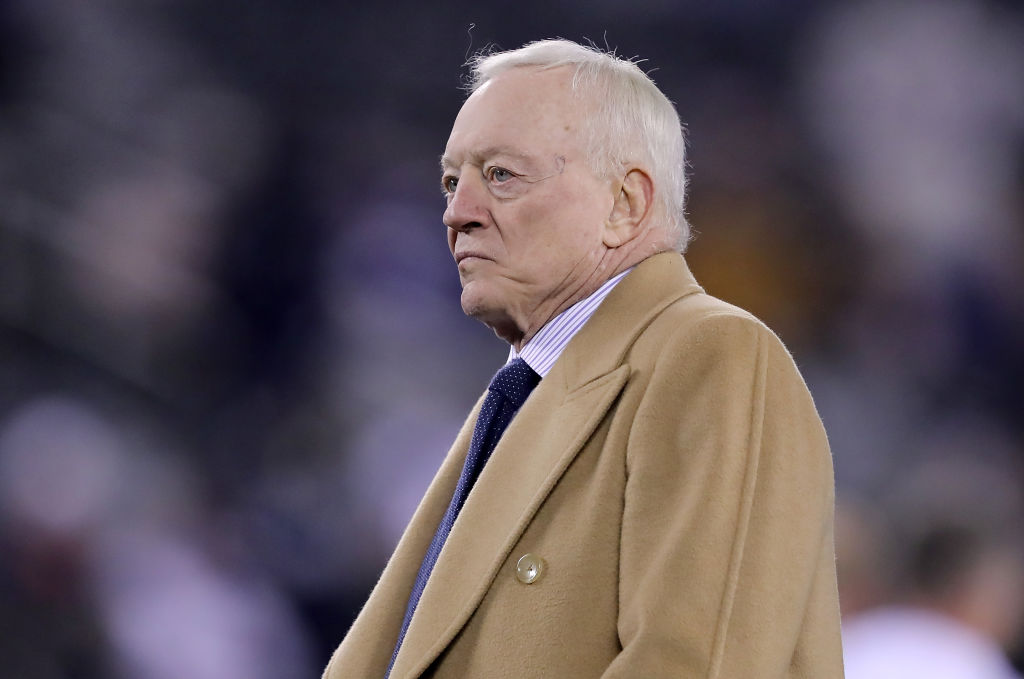 1 Reason Why Jerry Jones Won't Hire a General Manager Any Time Soon
Jerry Jones calls the shots in Dallas, and he's not going to cede power to Troy Aikman or anyone else.
Some sports franchises have a certain amount of prestige that comes with the territory. The New York Yankees, for example, have an unparalleled baseball history; the Montreal Canadiens have a similar panache on the ice. While there are plenty of historic franchises in the NFL, the Dallas Cowboys climbed to the top of the heap in the 1990s. At the time, it seemed like no one could touch Jerry Jones and America's Team.
In recent years, however, things haven't been going smoothly in Big D. No matter how bad the situation gets, however, Jerry Jones isn't going to let anyone help him turn the franchise around.
The Dallas Cowboys' 2019 struggles
When you're one of the league's marquee franchises, the goal for every season is a Super Bowl victory. While the Dallas Cowboys roster—with a strong offensive line supporting Dak Prescott and Ezekiel Elliott—looked equipped for a run at the title, things haven't clicked on the field.
While Dallas started the season with a three-game winning streak, the club quickly fell back to earth with three straight losses. Things seemed to have turned a corner after two divisional wins sandwiching the bye week, but things rapidly hit rock bottom. After a loss to the Vikings and a win against the Lions, the Cowboys have dropped three straight to slip below .500; they only remain in the playoff picture due to the NFC East's general incompetence.
While a team's general manager should theoretically be steadying the ship, Jerry Jones has just added gasoline to the fire. During the offseason, he allowed Jason Garret to become a lame-duck; since then, he's sent the coaching staff alternating threats and votes of confidence through the media. It's the last thing any team, let alone one fighting for a playoff spot, needs.
Jerry Jones has the power to fix everything in Dallas
It might be easy to write Jerry Jones off as an eccentric owner who always seems to find himself in front of the camera. That, however, would be overlooking a key aspect of his role.
Jones not only owns the Cowboys, he's also the team's general manager. While there's some logic behind the decision— the general manager and owner can't disagree if they're the same person—it also raises a significant issue: a lack of accountability.
In ordinary organizations, a general manager has a vision for the team and works with his staff to make it a reality; if he doesn't execute, he'll lose his job. Jerry Jones, however, isn't going to defer to someone else fire himself if his decisions don't pay off; he'll just keep hiring yes men, calling the shots and spending more money, hoping that things turn around.
Why Jerry Jones ask for external help
From a pure football perspective, it would make sense for Jerry Jones to hire a general manager. At the end of the day, though, this is about something more than on-field performance.
If Jones wanted to simply be an owner who anonymously sat in a luxury suite, he could have done that from the start. He bought the Dallas Cowboys in to run the club, rule over Jerry World, and savor all of the media attention that comes with it; it's not a coincidence that we see him on TV virtually every Sunday. Stepping back now wouldn't only limit his ability to take credit for the team's success, but it would be a tacit admission of failure. No one, including Troy Aikman, is going to get Jerry Jones to say "I was wrong" and take a step out of the spotlight.
Three Super Bowl titles established Jerry Jones' reputation as a winner. If he wants his team to get back to winning way, however, he's going to need some outside help.