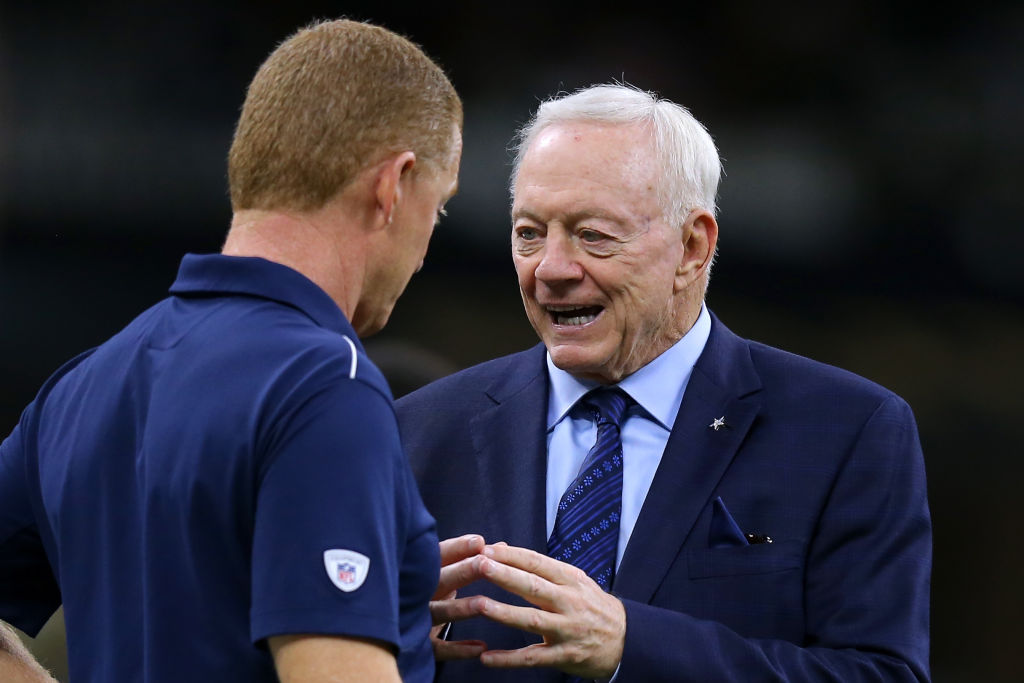 Jerry Jones Made His Bed with Jason Garrett, Now He Has to Lie In It
Dallas Cowboys head coach Jason Garrett is on the hot seat. Jerry Jones, however, also bears some of the blame for his team's struggles.
Certain sports teams always end up in the spotlight. In the NFL, it's impossible to look past the Dallas Cowboys. Recently, however, a soap opera has been brewing in Texas; Jerry Jones isn't happy with his team's performance, and head coach Jason Garrett is feeling the heat.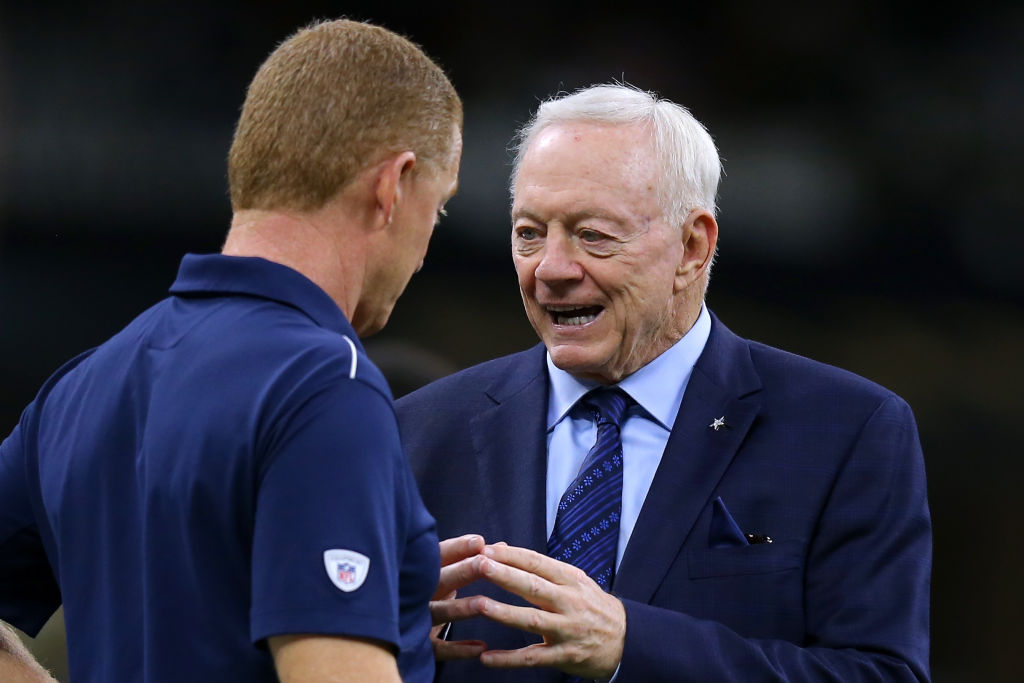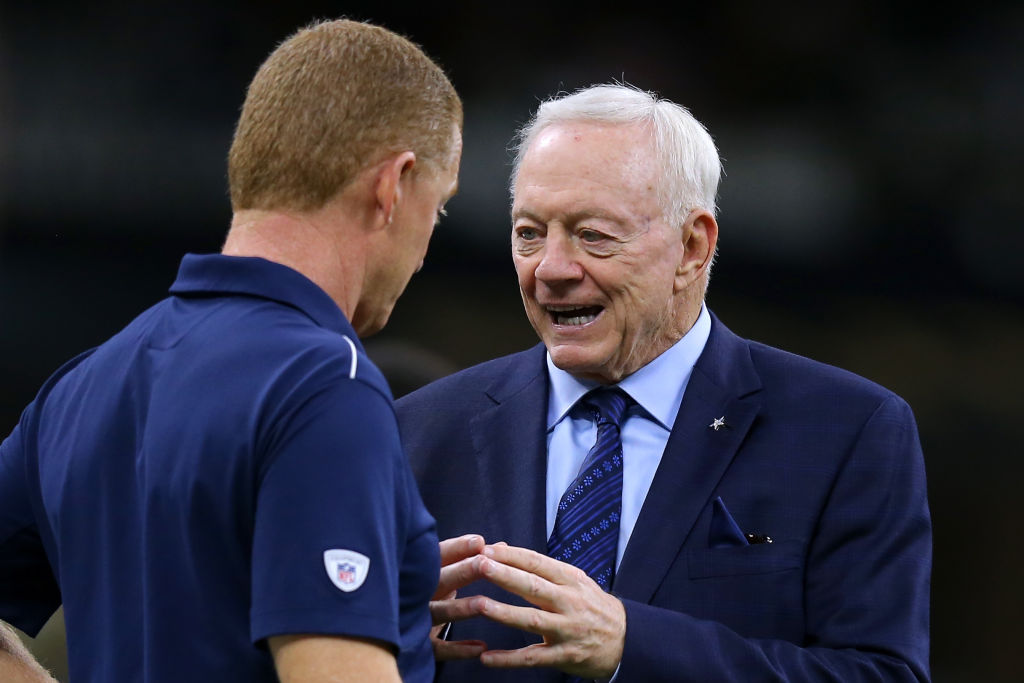 Speculations have been swirling about Garrett's job security, but the problem stretches far beyond the head coach's purview. Jerry Jones made this bed, now the Dallas Cowboys' owner has to lie in it for the rest of the season.
The Dallas Cowboys' struggles this season
At the start of the season, the Dallas Cowboys looked primed for a playoff run. They boasted a strong offensive line, a capable young quarterback, and a talented receiving corps; once Ezekiel Elliott ended his holdout, the Cowboys looked ready to contend for a title. In reality, things have turned out quite a bit differently.
After rattling off three straight wins to start the year, the Cowboys dropped their next three games, including a loss to the lowly New York Jets. They rebounded with a win over the Philadelphia Eagles and came out of the bye week with another divisional victory over the New York Giants, but Dallas couldn't find their stride; since then, they've alternated wins and losses, limping to a 6-5 record.
The Cowboys have shone statistically and lead the NFL in both total offense and passing offense, but can't seem to put everything together. Jason Garrett and Kellen Moore's offensive scheme doesn't seem to fit their personnel, and Dak Prescott is frequently forced to play from behind. There have also been special teams mistakes, bizarre coaching decisions, and everything in between.
Jerry Jones turns up the heat on Jason Garrett
During the offseason, Jerry Jones refused to give Jason Garrett a contract extension. While his deal expires at the end of this season, the head coach might not even make it that far.
After the Cowboys' loss in New England on Sunday, Jones promptly told the media that he was frustrated with the team's performance, given its collective talent; Jason Garrett and company are the ones in charge of ensuring the players are for each game. On Tuesday, the owner and general manager doubled down and reminded his coaching staff who's in charge.
"When you're general manager, which I am, those coaches are out there at my ultimate decision," Jones said. "It's very much within my realm of purview, if you will, to not only be standing there as an owner but be standing there as the general manager who put the staff there to begin with. People seem to think it's particularly harsh to have criticism and they think when you look at the other side of the field and call a job well done, that might mean that's extraordinary criticism of the job you've done on the other side of the field."
Jerry Jones is just as responsible as Jason Garrett
Given the Dallas Cowboys talent, the team shouldn't be one game above .500. While Jason Garrett has to get some of the blame as the head coach, Jerry Jones isn't innocent, either.
As mentioned above, Jones had a chance to make a change during the offseason. While he didn't extend Garrett's contract, he was content to let him coach for this season, albeit with a new offensive coordinator; no coach magically changes his scheme after 10 seasons on the job, so Jones knew what he was signing up for.
At this point in the season, firing a head coach will have a limited upside. While there might be a brief uptick in performances and some smarter decisions on the sidelines, you can't institute a new scheme in a matter of weeks. Even if the Cowboys make the playoffs, they're not going to win the Super Bowl; the club will just have to take their medicine and try to fix things in the offseason.
As the owner and general manager, most of this mess falls at the feet of Jerry Jones. For all of his talk about firing Jason Garrett, he could have moved on, and didn't in the summer. Right now, he's all hat and no cowboy.