Is Troy Aikman Right About the Cowboys Needing to Pay Dak Prescott?
When you think of an elite NFL quarterback, certain names immediately spring to mind. Guys like Tom Brady, Aaron Rodgers, and Patrick Mahomes are all near the top of any football fan's list. While Dak Prescott might not get the most praise, the Cowboys quarterback is having a massive season and getting some public support from Troy Aikman.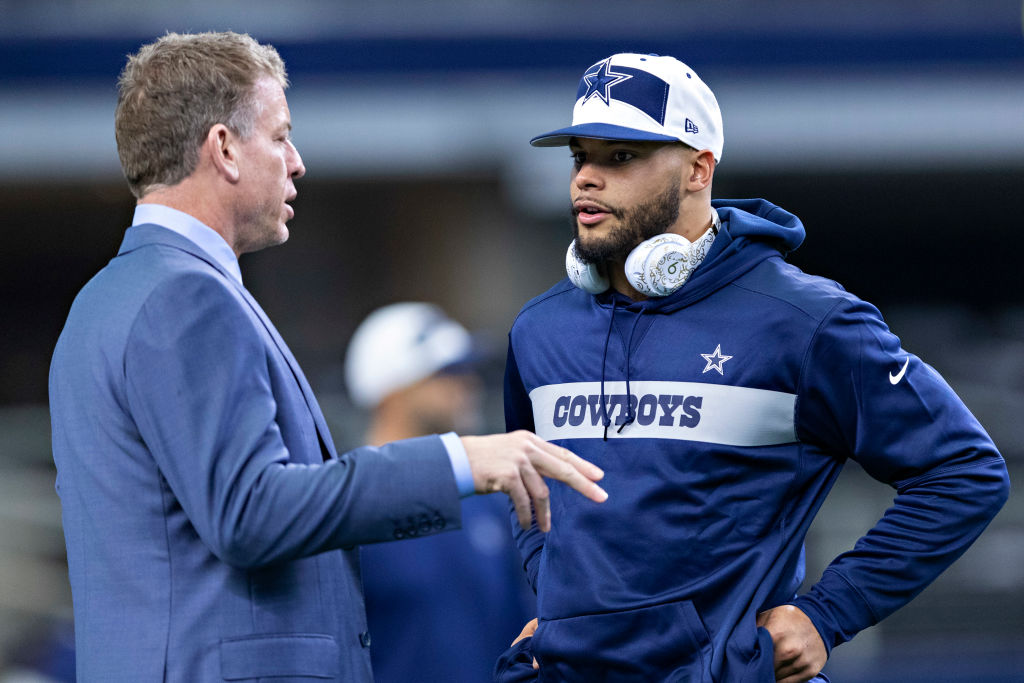 With Prescott's contract expiring at the end of this season, Aikman recently took to Twitter and called on his former club to "pay the man." But how much of a raise does the current Cowboys quarterback deserve?
Dak Prescott's strong 2019 season
Despite the Dallas Cowboy's inconsistencies this season, Dak Prescott hasn't been the problem. While Jason Garrett and his offensive coordinator would prefer to run the ball and control the clock, their quarterback is still putting up massive passing numbers.
Through the first 10 games of the season, Prescott has already thrown 3,221 yards and 21 touchdowns; during the entirety of last year, he found the end zone 22 times. The quarterback is also throwing for more yards per attempt than ever before; while the Cowboys frequently find themselves playing from behind, Prescott is managing to lead them back into the game.
While those stats look good in a vacuum, they're even more impressive when put into a broader context. This season, Dak Prescott is leading the NFL in passing yards; he's only two passing touchdowns behind Russell Wilson for the league lead. While Dak's nine interceptions are a bit higher anyone in Dallas would like to see, the number is a bit more understandable given the fact that he's thrown the sixth-most passes in the NFL this season.
The Cowboys' contract situation
When you look at most NFL team's salary breakdown, their marquee players are at the top of the list. The Dallas Cowboys, however, are constructed a little differently.
While Demarcus Lawrence and Ezekiel Elliott have the team's top two annual salaries, most of the Cowboys' money goes to their dominant offensive line. After them, you hit a few more defensive linemen, followed by Amari Cooper, Randall Cobb, and Jason Whitten. You might notice, however, that there's one name we haven't mentioned.
Since Dak Prescott is still on his first NFL contract, which he signed as a fourth-round pick who was backing up Tony Romo, he's earning comparative peanuts. His average annual salary of $680,848, sits below the Cowboys punter, fullback, and second-string offensive linemen. In terms of the entire NFL, Prescott is earning less than most team's back-ups. That's all due to change, though.
Troy Aikman is right about Dak Prescott's upcoming contract
After the Dallas Cowboys beat the Detroit Lions, Troy Aikman took to Twitter. He retweeted a post about Dak Prescott's impressive passing performance and simply added: "I say pay the man."
While there's no way that Prescott can't get a pay raise, Aikman's sentiments are right on the money. While there will be plenty of haggling over the final number, Jerry Jones has pledged that he'll get the deal done; when you have a quarterback leading the league in most passing categories, you do whatever it takes to keep him in town. At the end of the day, Jones will probably be shelling out a bit over $30 million per season for his starting quarterback.
The Dallas Cowboys have an elite offensive unit, but one key member isn't being paid like an elite player. Come the offseason, however, there's no doubt that Dak Prescott is going to see a nice boost to his paycheck.