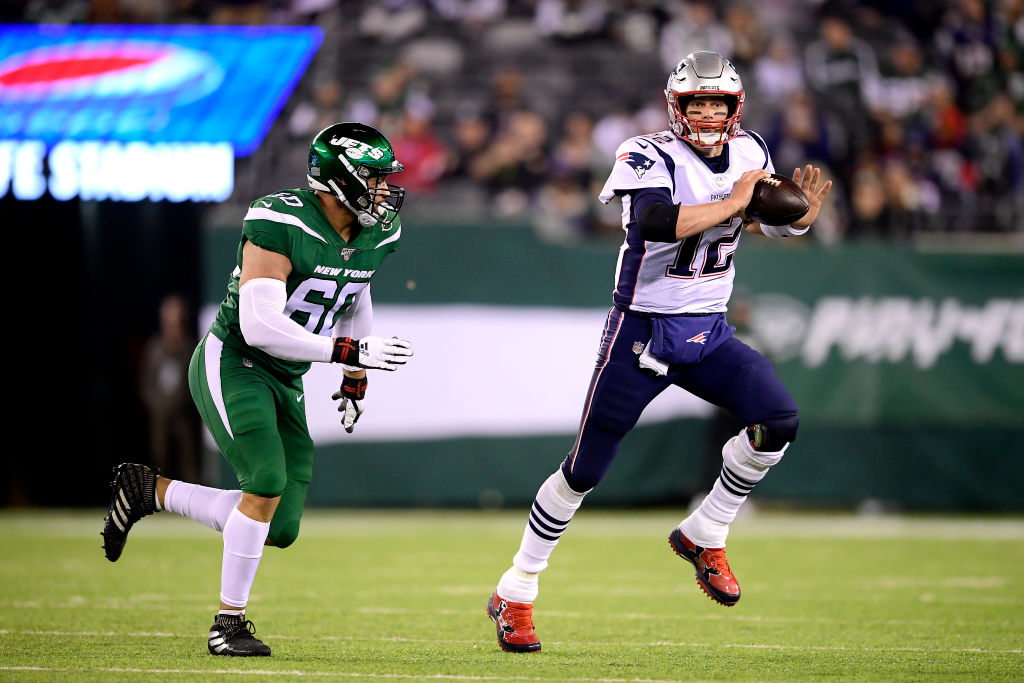 Can Tom Brady Play Himself Into the NFL MVP Conversation?
New England Patriots quarterback Tom Brady is an all-time great. But can he play himself into the running for this year's NFL MVP Award?
On the NFL gridiron, Tom Brady has done just about everything possible. Everyone is familiar with his resume; he's won six Super Bowls, three NFL MVP awards, and over 200 NFL games. The way this season is going, he could be adding some more silverware to his trophy cabinet.
The New England Patriots are currently the favorite to win the Super Bowl, but there's another award beyond the Lombardi Trophy. Could Tom Brady possibly play himself into the NFL MVP conversation?
The case for Tom Brady
The biggest feather in Brady's cap is that he is one of two main cogs in an incredibly consistent New England Patriots machine. No matter what seems to happen, he and Bill Belichick just keep winning games.
This season, the Patriots offense has been hit with a spate of injuries. Two starting offensive linemen and the first-choice full back are currently sitting on injured reserve; other tight ends, receivers, and running backs have been in and out of the medical room. But, even with those losses, the Patriots are currently undefeated and scoring with ease.
If the Patriots finish the year undefeated or 15-1, you can see some writers rewarding Brady's consistency. There could also be an element of "lifetime achievement," too. If the quarterback really does retire at the end of this season, he might score bonus points for his large body of success; it's not how the award really should work, but sportswriters are humans.
More valuable candidates
Despite Brady's status as an all-time great, his statistical numbers this season can't compare to other MVP candidates. The Patriots quarterback has thrown for 1,992 yards and 11 touchdowns so far; those are good numbers, but it's not like Brady has the entire team on his back.
Russell Wilson, for comparison, is currently the favorite for league MVP; he's posted 1,945 passing yards and 15 touchdowns, while only throwing one interception. Aaron Rodgers, who inserted himself into the conversation after the Packers' big win on Sunday, has passed for 2,019 and 13 scores. Carolina Panthers running back Christian McCaffrey has piled up 923 total yards and nine touchdowns in only six games.
Beyond the pure counting numbers, there's also a case that any of those players—not to mention Patrick Mahomes, if he wasn't injured—are more irreplaceable than Brady. The Pats have a great defense and Bill Belichick at the helm; we've all seen what a backup quarterback can do stepping into the New England system.
Does Tom Brady actually have a shot at MVP
Unless the New England Patriots magically fall off a cliff and start consistently losing, Tom Brady will remain around the edges of the MVP discussion. He might not be the favorite, but there's still a great deal of football left in the season.
The Patriots have had a fairly easy schedule to start the season, but that's due to change. After next week's game with the Cleveland Browns, New England will have to play the Ravens, Eagles, Cowboys, Texans, and Chiefs in a six-week span; if they can come out of those games undefeated, then we can revisit Brady's MVP credentials.