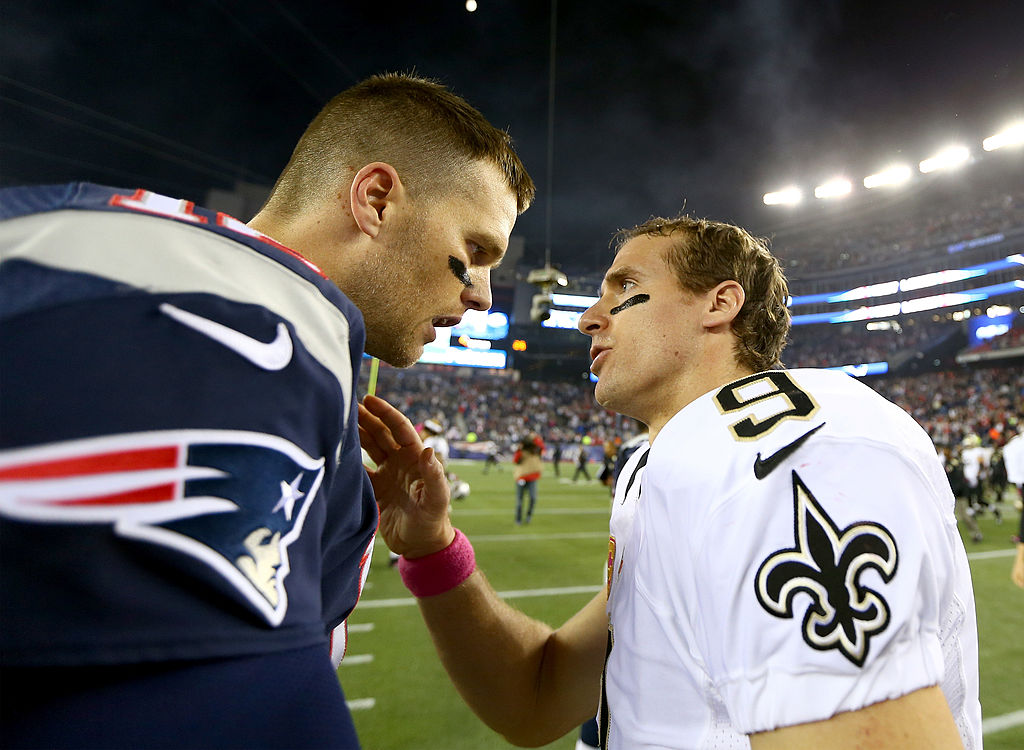 Tom Brady Isn't Taking Drew Brees' Record-Setting Performance Lying Down
On Monday night, Drew Brees set the all-time passing touchdown record. Tom Brady, however, isn't ready to give up the fight.
Modern NFL fans are spoiled by the amount of talent at quarterback. While young guns like Patrick Mahones and Lamar Jackson have been stealing the show, plenty of older players are still all-time greats. Two of those men, Drew Brees and Tom Brady, are currently locked in a battle for the NFL history books.
On Monday night, Brees overtook Peyton Manning's record for the most passing touchdowns in league history. Brady, however, isn't ready to back down from a challenge.
Drew Brees' record-setting night
While Drew Brees has had more than his share of doubters, he has established himself as one of the best quarterbacks in NFL history. On Monday night, he took another step towards confirming that legacy.
Brees entered the match-up with the Indianapolis Colts needing three passing touchdowns to take the all-time crown from Peyton Manning. The Saints quarterback not only broke the record but did so in dominant fashion; he completed 29 of 30 total passes, racking up 307 yards and four touchdowns.
While Brees wasn't happy with his one incompletion, the magnitude of the night still resonated. "It was special, everything about the night," the Saints quarterback said after the game. "It just kind of makes your whole life and career flash before your eyes, because I never thought I'd have a chance to be part of something like this."
Tom Brady sends his congratulations and throws down the gauntlet
As soon as Drew Brees broke the record, NFL greats of past and present started sending their regards over social media. One of those messages, however, came from a rival: Tom Brady.
Congrats drew!!" Brady tweeted. "Couldn't be more deserving. Passing Peyton in anything is an incredible achievement and your records will be tough to beat! But it's worth trying."
While we generally think of records as cut and dry things—a modern player surpasses a historical great, and that's the end of the story—the passing touchdowns situation is a bit different. Brees might have overtaken Peyton Manning, but Tom Brady is only three touchdowns behind the new high-water mark. For as long at the two quarterbacks are still playing, they'll be duking it out for the top spot in the history book,
Will Drew Brees or Tom Brady come out on top?
Picking between two all-time greats is never easy. When push comes to shove, however, Drew Brees will probably edge out Tom Brady for the passing touchdown record.
No one can doubt Tom Brady's place in NFL history, but the deck is currently stacked against him. Not only is he getting up there in years, but the Patriots offense has struggled this season; even the best quarterbacks can't succeed if they have no one to target downfield. While Brees isn't young, he'll only turn 41 in January. Combine that reality with the fact that he's more productive than Brady on a purely statistical basis, and Brees becomes the favorite.
The Saints quarterback, however, isn't going to take anything for granted. "He's such a stud. He's got a lot of rings and records," Brees said of Brady. "He's awesome."