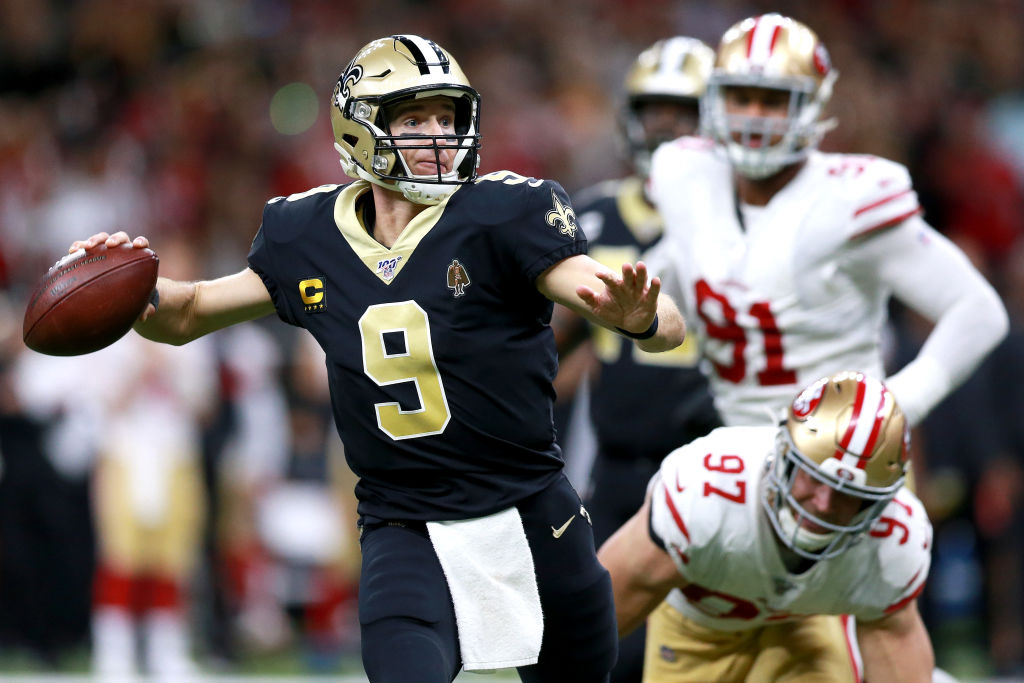 Will Drew Brees Prove Everybody Wrong Once Again?
Despite his strong career, Drew Brees has always had plenty of doubters. Can the Saints quarterback prove everyone wrong once again?
For most football teams, everything starts with a quarterback. While a stout defense or an exceptional running back can carry a franchise to success, it's hard to overlook the man under center; he, after all, has the ball in his hands on every offensive play. If you need someone to come up with a big play in a clutch moment, New Orleans Saints quarterback Drew Brees is your guy.
Despite his NFL success, though, Brees has always had his share of doubters. With the playoffs approaching, can he prove everybody wrong one more time?
Drew Brees' history of overcoming adversity
Growing up in Texas, Drew Brees played baseball, tennis, and football. Despite coming to the gridiron relatively late, he quickly established his quarterback credentials, leading Westlake High School on an undefeated run to the state title. No big-time colleges came calling, however. While he hoped to suit up for Texas or Texas, the quarterback settled for Purdue.
Brees suited up for the Boilermakers, but sat on the bench as a freshman; in his sophomore season, however, everything changed. Working Purdue's "basketball on grass" offense, the young quarterback started exploding. By the time he left Indiana, he had thrown for 11,792 yards and 90 touchdowns. Brees also led Purdue to a Rose Bowl appearance and received Heisman consideration during his junior and senior years; not too shabby for a quarterback who nobody wanted.
"There's always a little bit of personal satisfaction when you prove somebody wrong," the quarterback explained in a 60 Minutes interview.
Facing more challenges in the NFL
Based on his college performance, Drew Brees was projected to be a first-round pick. Concerns over his height scared some teams away, however; while he was still the second quarterback selected in the draft, he remained on the board until the start of the second round.
After heading to San Diego, things didn't get easier. While Brees eventually took over the starting job, the Chargers landed Philip Rivers in 2004; he was tall, dominant in the pocket, and tabbed as the franchise's quarterback of the future. Brees kept hold of the top job until when he tore his labrum and damaged his rotator cuff; suddenly, his career was in jeopardy.
After Brees' injury, the Chargers offered him a heavily-incentivized contract; when they refused to budge, the quarterback started looking for a new team. Two struggling franchises—the Miami Dolphins and the New Orleans Saints—came calling. Brees decided to head to the Big Easy, and the rest is history.
Can Drew Brees keep proving the doubters wrong?
Despite Drew Brees' impressive career, he still can't escape some doubters. Earlier this season, for example, Teddy Bridgewater's success under center inspired some questions about Brees' role in the offense; if the Saints can succeed with a back-up under center, maybe the quarterback isn't the key factor in New Orleans.
Brees, however, continues to prove that he's an elite player. While his counting numbers are down due to his thumb injury, the quarterback hasn't missed a beat; since returning to action, he's thrown for over 1,700 yards and 15 touchdowns, while leading the Saints to a 4-2 record. He's also on the verge of history, sitting only three touchdowns behind Peyton Manning's all-time passing touchdown record.
As of now, the Saints are sitting in the NFC's third playoff spot with a 9-3 record; that would give them a first-round date with the Minnesota Vikings followed by a trip to Green Bay, assuming favorites hold. While both divisions boast three or four legitimate Super Bowl contenders, the Saints currently have the second-best chance of winning the big game. If history has shown us anything, don't doubt Drew Brees in the postseason; he has a knack for proving people wrong.