The Mental Key to Drew Brees' Success in the Two-Minute Drill
New Orleans Saints quarterback Drew Brees is a master of the two-minute drill. One specific mentality helps him thrive under pressure.
While every professional athlete plays under pressure, NFL quarterbacks are under an extreme level of stress. That tension comes to a head in the two-minute drill; with the game on a line, the man under center can become a hometown hero or an object of scorn and ridicule. New Orleans Saints quarterback Drew Brees, however, thrives in the biggest moments.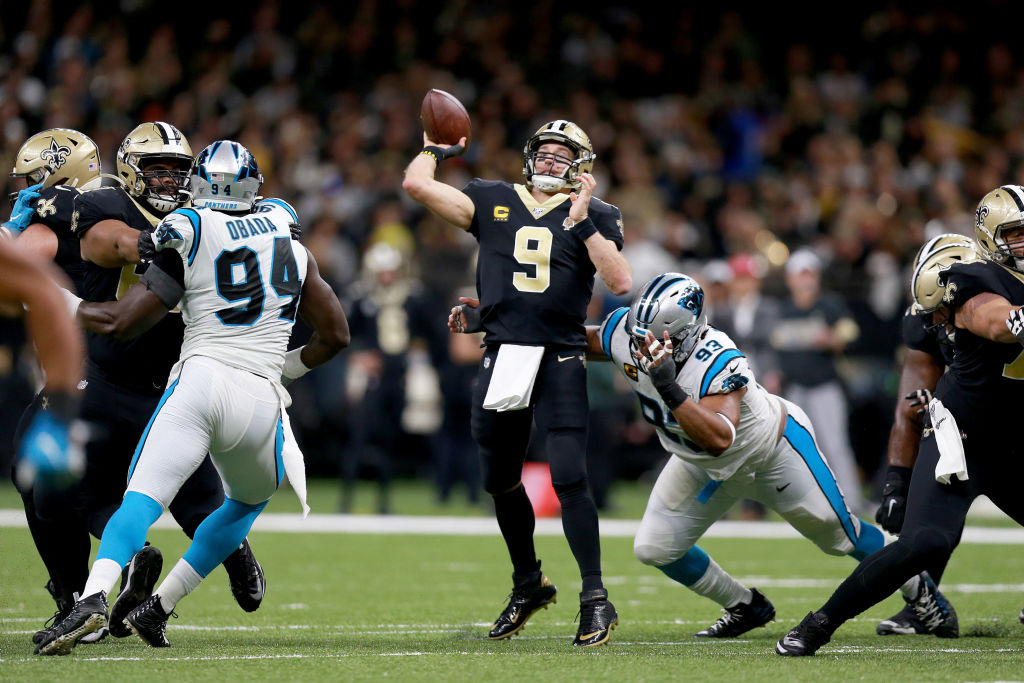 While Brees obviously possesses the physical skills to execute the hurry-up offense, he has another tool in his locker. There's one specific mental key to the quarterback's late-game success.
Drew Brees' quarterback career
While Drew Brees didn't start playing tackle football until high school, he didn't waste any time making an impact on the gridiron. He enrolled at Purdue and sat on the bench as a freshman; in his sophomore season, however, everything changed. Working in the Boilermakers' "basketball on grass" offense, Brees started posting massive numbers. By the time he graduated, the quarterback had thrown for 11,792 yards and 90 touchdowns. He led Purdue to a Rose Bowl appearance and received Heisman consideration during his junior and senior years.
Despite those numbers, many NFL teams were skeptical that Brees could succeed in a professional offense. The San Diego Chargers took a chance, however, and selected the QB with the 32nd overall pick of the 2001 NFL draft. Brees spent his first year in California backing up Doug Flutie, but took over the starting job in 2002; not everything went smoothly, though.
Despite a brief benching and the arrival of Philip Rivers, Brees proved himself to be a capable NFL quarterback. After signing with the New Orleans Saints in 2005, though, he took his performance to the next level. Working with Sean Payton, Brees emerged as one of the league's most prolific offensive players; since heading to the big easy, he's won a Super Bowl, picked up a passing triple crown, and has thrown for 63,696 yards and 184 touchdowns.
How Drew Brees comes up clutch in the two-minute drill
While Drew Brees frequently racks up massive passing numbers, he's not just padding his stats in garbage time. The quarterback has led 50 game-winning drives in his career, which is the second-most by any player since 1960. Playing in an explosive certainly helps, Brees also relies on a specific mentality to succeed when the chips are down.
"It is exciting and butterflies, but it is also confidence and unity," the quarterback explained after leading the Saints down the field to kick a winning field goal last Sunday. "We feel like everybody knows we have a challenge ahead. Everybody knows what we need to do in order to accomplish whatever we need to accomplish to go win the game. Everybody kind of just locks in and goes."
There's also an element of experience, too; when you've played 270 NFL games, it's easy to keep even the biggest moments in perspective. " [It's] just playing the situation," Brees said. "Knowing how much time you have, knowing we have one timeout, knowing that all we have to do is get in field goal range and we feel good about our chances. Just want a chance to win in the end."
Using that mindset against the Atlanta Falcons
On the surface, the New Orleans Saints should cruise past the Falcons tonight. The last time they met, however, Atlanta pulled off the upset; their defensive front made life difficult for Brees, sacking him six times and holding the veteran quarterback without a touchdown.
Given that prior performance and the spectacle of playing a prime-time game on Thanksgiving, it would be understandable. Brees, however, will have to rely on his two-minute drill tactics from the start. As long as he keeps things under control and doesn't try to beat the Falcons by himself, the Saints will have no problem coming out on top.