When Aaron Rodgers Joined Brett Favre on the Green Bay Packers, It was the 1st Time in His Life 'There Was Someone Who Was Actually Better Than Me at Quarterback in the Same Room'
In the first quarter of the Green Bay Packers' 24-22 Week 16 win over the Cleveland Browns during the 2021 NFL season, Aaron Rodgers threw a four-yard pass to a crossing Allen Lazard. The receiver caught the ball in stride, dove for the pylon, and scored the 443rd passing touchdown in Rodgers' career, surpassing former Packers signal-caller Brett Favre's record 442 with the franchise.
Ever since the Packers shockingly took a young quarterback out of Cal with the No. 24 pick in the 2005 NFL Draft, Rodgers and Favre have been inextricably linked. As Green Bay's current QB was preparing to break his franchise's TD record, he reflected on his time with Favre and how walking into a locker room with the Hall of Famer was a brand-new experience for the young passer.
The Green Bay Packers made a controversial pick in the 2005 NFL Draft
The 2005 NFL Draft featured two potential franchise quarterbacks: Utah's Alex Smith and Cal's Aaron Rodgers.
The San Francisco 49ers owned the first overall pick. Instead of taking Rodgers, the local product, the team selected Smith. After that, quarterback-needy teams like the Miami Dolphins and Cleveland Browns passed on him too.
Jon Gruden (then of the Tampa Bay Buccaneers) allegedly told Rodgers he'd take him at No. 5. However, Gruden took Auburn running back Cadillac Williams when the time came. Four-and-a-half hours after the draft started, the Green Bay Packers finally selected the 6-foot-2 signal-caller.
The only problem was that the team still had 35-year-old, three-time NFL MVP QB Brett Favre, who still wanted to play football.
The two coexisted in Wisconsin for three seasons — with Favre as the starter — before the team traded the veteran to the New York Jets and gave Rodgers the reins.
While their relationship started "icy," the two QBs eventually "developed a strong friendship," per USA Today. The reason for the tension at first was likely due to Favre feeling threatened and, as Rodgers shared recently, him being intimidated by the first superior signal-caller he ever shared a locker room with.
Aaron Rodgers says playing with Brett Favre was a wakeup call
During the week leading up to his record-breaking TD pass, Aaron Rodgers joined the Pat McAfee Show.
A discussion about the record turned to the fact that Rodgers threw his 443 TDs with 93 interceptions while Favre threw 286 picks on his way to 442. Rodgers said one of the major reasons he's avoided INTs over the years is that not throwing picks was "ingrained in my brain as a young player."
He said this idea hit home especially hard when he got to the NFL. That's when, after facing little competition in high school and good competition in JUCO and at Cal, he had a new experience when joining the Packers:
I didn't feel like I was ever in a situation where — until I got to Green Bay. … Being around Brett was the first time I realized there was someone who was actually better than me at quarterback in the same room. … I gotta take care of the football at all costs.

Aaron Rodgers on Brett Favre
While Favre may not have been a great mentor to Rodgers right off the bat, it is interesting to hear that his mere talent and presence were enough to make Rodgers a better QB.
In fact, Rodgers became so good after starting his career backing up Favre that he is now, undoubtedly, one of the best NFL QBs of all time. The question remains, though: Is he better than Favre?
Who was the better Green Bay Packers QB: Rodgers or Favre?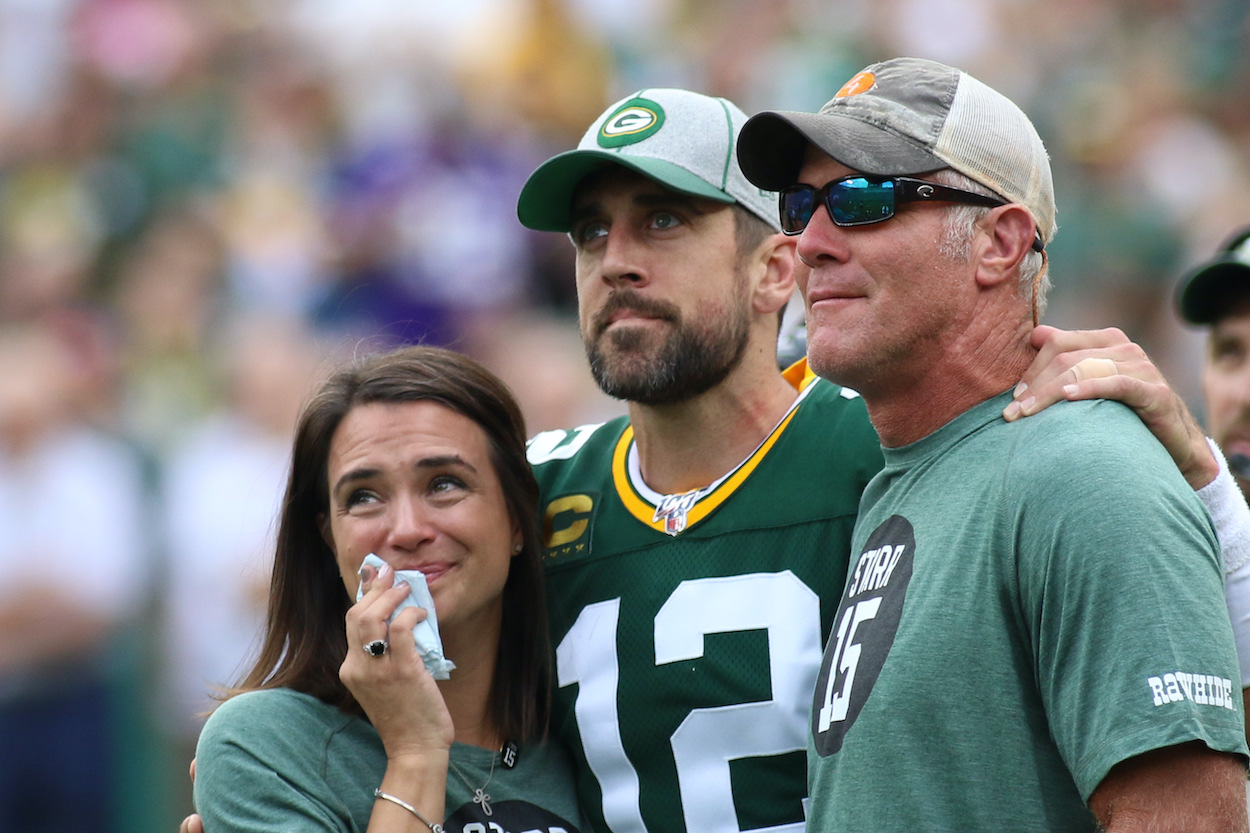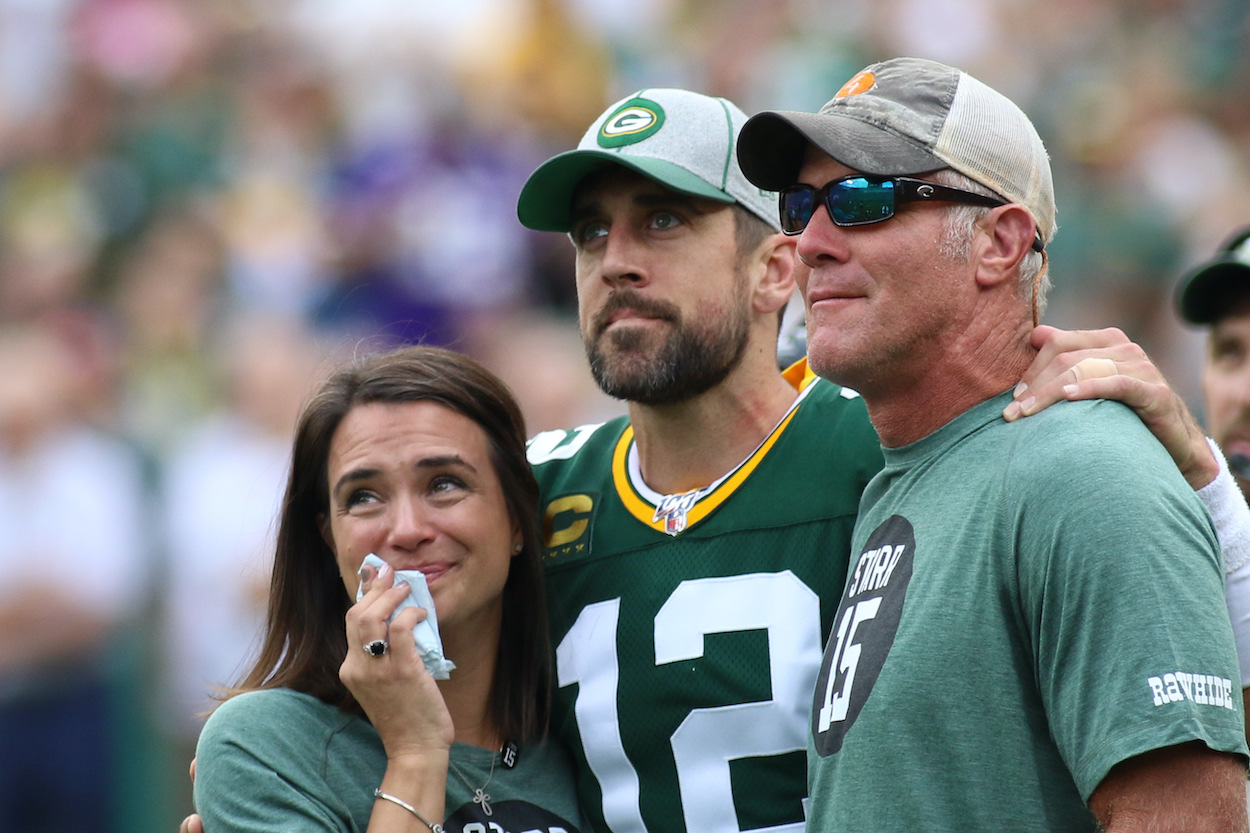 It is a question Green Bay Packers fans will likely debate until the end of time. Which legendary quarterback was better: Brett Favre or Aaron Rodgers?
The question is nearly impossible to answer because, as you can see in the table below, the two iconic signal-callers' stats are remarkably similar.
| | | |
| --- | --- | --- |
| | Brett Favre | Aaron Rodgers* |
| Seasons | 16 ('92-'07) | 18 ('05-'22) |
| Starts | 253 (consecutive) | 209 |
| Super Bowls | 1 win, 1 loss | 1 win |
| Playoff Appearances | 11 | 12 (as a starter) |
| Record as a Packers starter | 160-93-0 | 141-67-1 |
| Awards | 3 MVPs, 3 All-Pros, 9 Pro Bowls | 4 MVPs, 4 All-Pros, 10 Pro Bowls |
| Yards | 61,655 | 56,044 |
| Touchdowns | 442 | 453 |
| Interceptions | 286 | 95 |
* Through Week 3 of the 2022 season | All stats courtesy of Pro Football Reference
The answer likely comes down to a matter of taste, and, truly, you can't go wrong naming either Packer great.
If you like your QBs of the gun-slinger, Iron Man variety, the pick is Favre. He threw for around 6,000 more yards in his time with the team but threw nearly 200 more INTs. He also never missed a game as the Packers starter, which is truly amazing.
And, while Rodgers' four MVPs came in '11, '14, '20, and '22, which is impressive from a longevity standpoint, Favre's back-to-back-to-back MVPs in '95, '96, '97 make his peak more extraordinary.
For the Rodgers lovers, the longtime consistency is everything. In one more seasons as a starter, the former Cal Bear has the same number of Super Bowls, more playoff appearances, and an almost identical (but slightly more impressive) personal trophy case.
Plus, Rodgers might not be done.
As a Packers fan, whether you are a Favre or a Rodgers stan, the one thing you can agree on is that the football gods have blessed your franchise with probably the two best back-to-back franchise QBs in NFL history.
All stats courtesy of Pro Football Reference