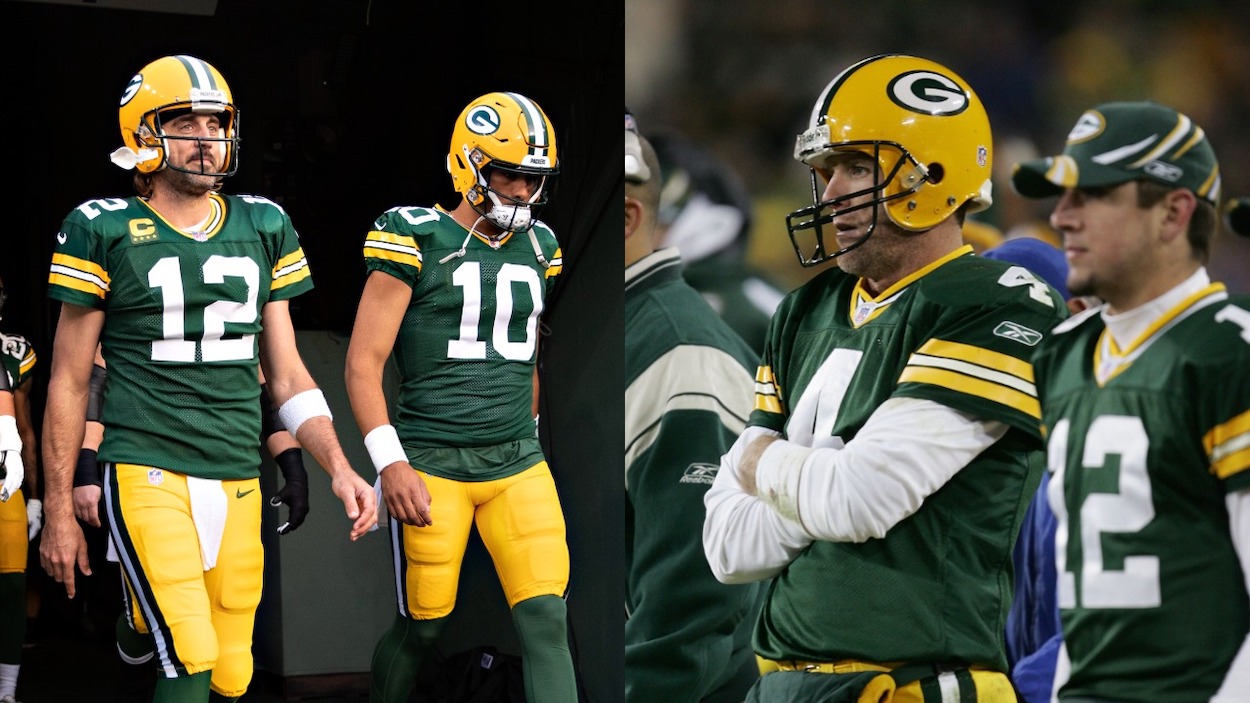 The GM Who Traded for Brett Favre Says There's a Major Difference Between Aaron Rodgers and Jordan Love: 'They Knew They Had Something Special With Aaron Rodgers'
When the Green Bay Packers drafted Jordan Love, they hoped it would go just like the Aaron Rodgers and Brett Favre transition went, but that's not the case according to a GM who was involved in the Favre/Rodgers situation.
It seems like a case of history repeating itself. In 2005, the Green Bay Packers drafted a young quarterback named Aaron Rodgers in the first round while it still had Hall of Famer Brett Favre on the roster and with a few good years in him. Fifteen years later, with Rodgers playing at an MVP level, the Packers did the exact same thing by drafting Jordan Love.
While the similarities are obvious, there is a big difference between how the organization felt a decade and a half ago and how it feels now. Mike Tannenbaum, then the general manager of the New York Jets, explained why there are different vibes coming out of Wisconsin in 2021 than there were in 2008.
Brett Favre vs. Aaron Rodgers vs. Jordan Love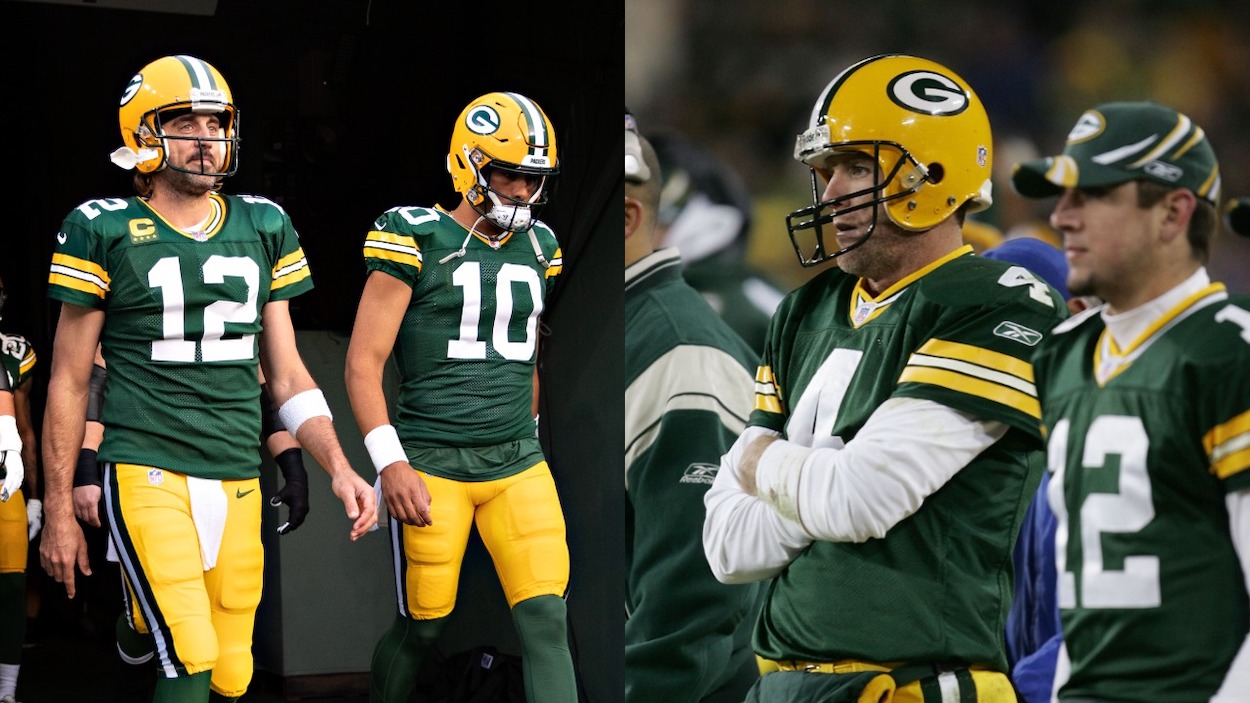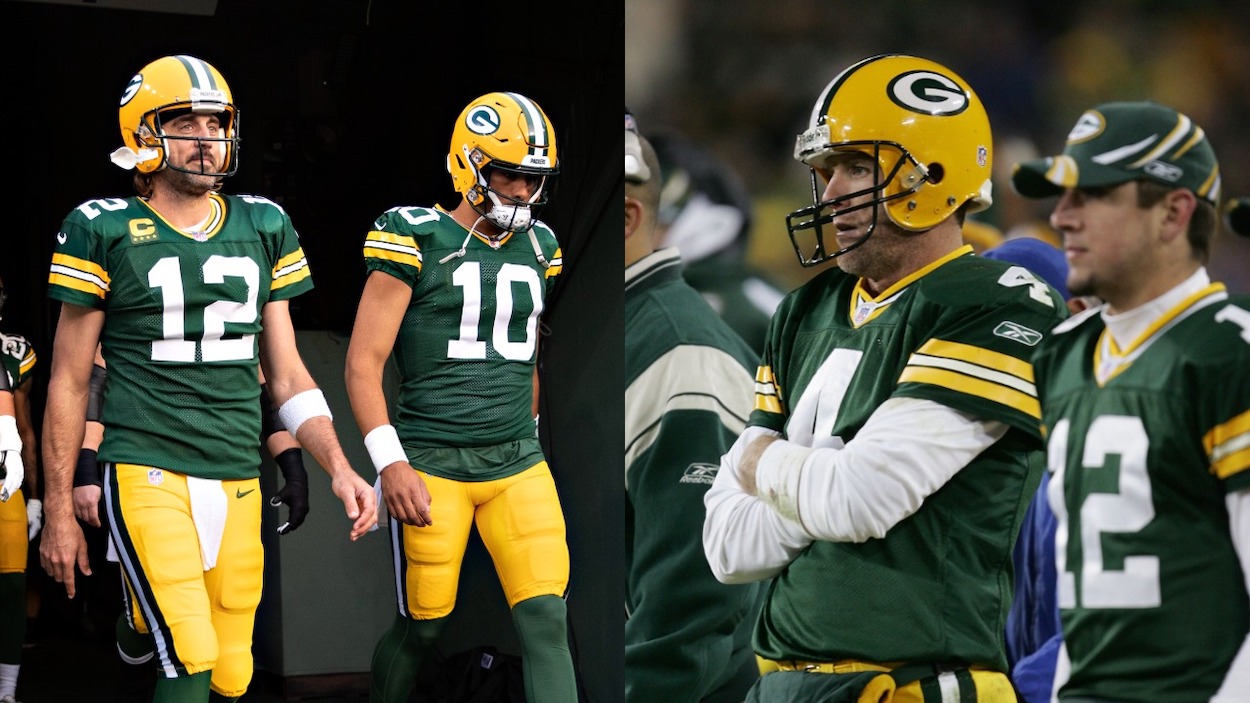 In 2005, Brett Favre was well into his storied Hall of Fame career. At that point, the signal-caller had eight Pro Bowls, three All-Pro nods, three NFL MVP Awards, and a Super Bowl championship under his belt.
At 36, he was getting up in age, but he still had a lot of good football left in him. He would eventually prove this fact by making the Pro Bowl in 2007, 2008, and 2009.
In the 2005 NFL Draft, Cal QB Aaron Rodgers fell on draft night to 24th, and the Green Bay Packers snapped him up, despite having Favre.
Favre kept his spot under center for three seasons, but with Rodgers nearing the end of his rookie deal, the team traded Favre to the New York Jets, and Rodgers took over.
The move paid off for the Packers. In the 13-plus seasons that followed Rodgers has a 133-64-1 career record with 53,139 yards and 429 touchdowns. Those stats have led to nine Pro Bowls, three All-Pro teams, three MVP awards, and his own Super Bowl title.
In a familiar-feeling move, the Packers traded up in the 2020 draft — despite Rodgers still playing at an MVP level — and picked Utah State QB Jordan Love No. 26 overall.
The move has caused drama between Rodgers and the franchise and, a year-plus into this QB replacement project redo, there is one big difference between the Rodgers experiment and the one going on with Love, according to the GM that took Favre off the Packers' hands almost 15 years ago.
Mike Tannenbaum says the Green Bay Packers current QB situation is different than their last one
In 2008, New York Jets general manager Mike Tannenbaum desperately tried to trade for Brett Favre. The team was winding down the Chad Pennington Era and were looking for a superstar QB to take his place.
The GM eventually got his man, but now, as an NFL analyst, Tannenbaum says it won't be so easy to pry Aaron Rodgers away from the Packers.
In Week 9 this season, with Rodgers out due to COVID-19, Jordan Love got his first chance to start, and it did not go well. He completed just 55.8% of his passes for 190 yards with a touchdown and an interception.
Tannenbaum joined the Dan Patrick Show and talked about what this performance meant for the Packers organization and how it differs from 2008:
I think [the Rodgers situation] is a massive opportunity for the Green Bay Packers. I'm running into Aaron Rodgers' house if I'm Brian Gutekunst, I'm knocking on the door, I'm saying, 'Hey, we got your back. We're going to handle the fines, all the noise. Go be a great teammate. Go win a championship. And I'll tell you this, Dan. Ironically, I traded for Favre back with the Jets. You could hear in their voice they knew they had something special with Aaron Rodgers. They don't have that with Jordan Love.

Mike Tannenbaum on Aaron Rodgers and Jordan Love
It's still early in Love's career, but it's damning to hear that Tannenbaum doesn't think that the organization has the same enthusiasm for him as they did for his predecessor. While things could still change, it does seem clear that the exact same smooth transition from Favre to Rodgers won't exist between Rodgers and Love.
Swapping out Rodgers for Love will mean a total rebuild in Green Bay
In 2007, the Packers went 13-3 and won the NFC North with Brett Favre at the wheel. In 2008, the team went 6-10 with Rodgers, but by 2009 they were 11-5, and in 2010 the team won the Super Bowl.
If Week 9's brutal loss to the struggling Kansas City Chiefs showed anything, it is that Jordan Love is not ready for primetime. Seeing him operate the Packers' offense made it hard to imagine that he could even go 6-10 (or the 17-game equivalent) in the next few years, and he definitely doesn't look like a looming Super Bowl signal-caller.
That doesn't mean he can't get there. It just means that the transition won't be as relatively seamless as it was in 2008.
Love is a season and a half behind where Rodgers was when he took over. Although he doesn't seem special now, he could in 18 months. If Tannenbaum is right, though, it will be at least that long before he's ready to be a winning NFL QB.
That means if the Packers can't convince Rodgers to come back for another year or two, it will be a full rebuild in Green Bay, the likes of which they haven't seen in almost three decades.
This will be a tough pill to swallow, especially when the team could have several more Rodgers-led winning seasons. If Tanenbaum is right about the franchise's feelings about Love, then he's also right about how Gutekunst needs to do everything in his power to keep Rodgers for 2022 and maybe beyond.
All stats courtesy of Pro Football Reference