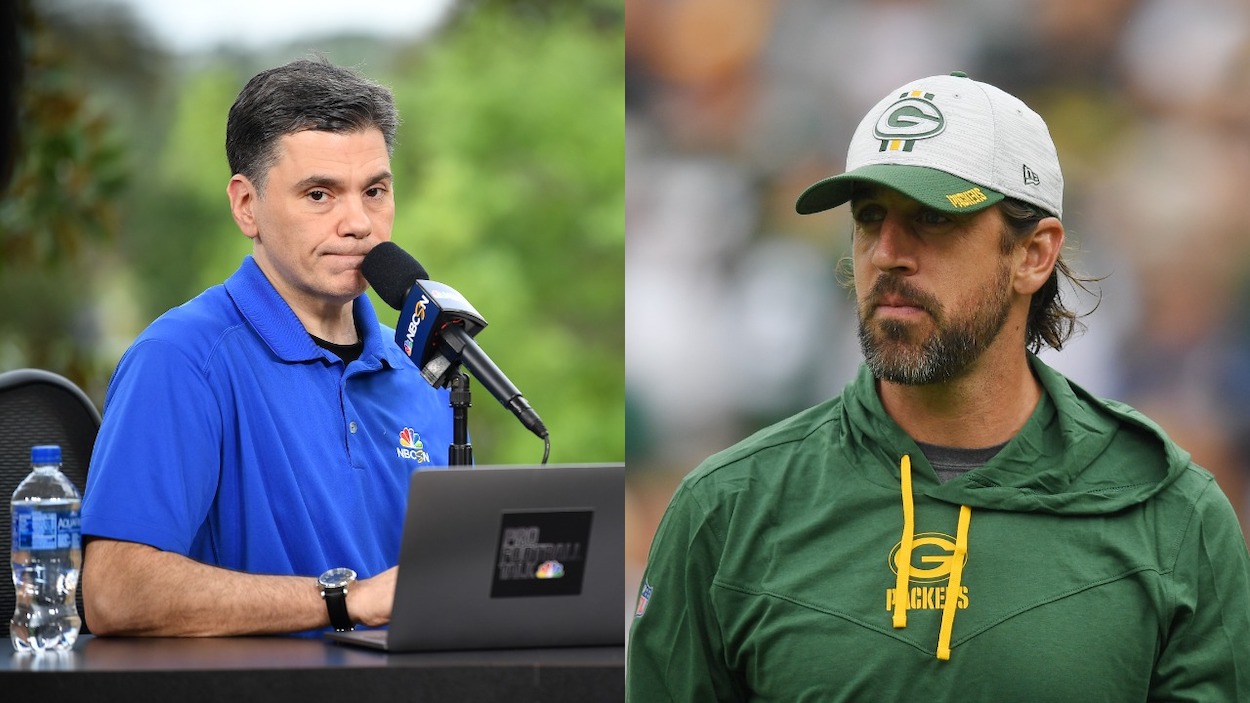 Aaron Rodgers' Secret Vaccination Status was Leaked to Mike Florio by an NFL GM a Month Ago: 'I Heard Something Crazy That I Believe Based on Who Told Me'
Mike Florio got a hot tip a month ago from an NFL GM that Aaron Rodgers was unvaccinated, but the QB hid it so well Florio didn't believe it.
The news that Green Bay Packers QB Aaron Rodgers was secretly unvaccinated rocked the sports world earlier this week. It seemingly came as a shock to the sports media because of Rodgers' own words and actions. However, one reporter got a tip a month ago about the signal-caller's deep, dark secret. The QB did such a good job concealing it, though, that Pro Football Talk's Mike Florio didn't believe it.
Aaron Rodgers was willfully trying to conceal the fact he is unvaccinated
On Wednesday, Nov. 3, news surfaced that Aaron Rodgers tested positive for COVID-19. The head-scratching part of this news was that the reports noted that he would definitely miss Sunday's game against the Kansas City Chiefs.
The only way this could be definitive on Wednesday is if Rodgers was an unvaccinated player.
This was the shocking part because, when asked directly by a reporter in a press conference on Aug. 26, "Are you vaccinated?" Rodgers replied, "yeah, I've been immunized."
As an unvaccinated player, there are protocols in place that Rodgers has to follow, per NFL rules, that he hasn't been when in public view.   
There are three main areas where Rodgers seemingly knowingly violated the protocols. He was on the sidelines in street clothes during a preseason game without a mask, he has given indoor press conferences without wearing a mask, and, at a Packers Halloween party, it appears he was around more than three Packers players outside the facility.
If this is the case, the NFL should have (and still could) issue both the Packers and Rodgers significant fines.
After Rodgers' words and actions, it is easy to see why it stunned so many media members that the defending NFL MVP is unvaccinated. There is at least one media member to whom this didn't come as a total surprise, and he has a theory as to why Rodgers did it as well.
Pro Football Talk's Mike Florio heard the Packers QB was unvaccinated a month ago but didn't believe it
Shortly after the Aaron Rodgers bomb dropped on Wednesday, Pro Football Talk founder and editor Mike Florio convened an emergency edition of his PFT PM podcast.
During the episode, Florio shared a story with PFT writer Myles Simmons about how a high-ranking NFL source tipped him off about Rodgers' vaccination status a month ago:
I've got my phone here. October 5, can't tell you who it was, but I can tell you it was one of the NFL's general managers. I can be that specific regarding generalities. Text out of the blue, 'I heard something crazy that I believe based on who told me,' and yada-yada, back and forth. 'Aaron Rodgers is not vaccinated.'… I was stunned by this. Even though I was told back in early October that he wasn't vaccinated, I'm still stunned that he was able to pull it off and that he lied about it the way that he did.

Mike Florio on Aaron Rodgers
After he got the news, Florio said he checked pictures of Rodgers on the sideline in the preseason. He didn't see the player in a mask there or during any other type of media availability. For these reasons, the pundit didn't give enough credence to his source's tip.
Now that Florio knows the truth, he has a scathing theory as to why Rodgers was so cagey (at best) about his vaccination status.
Florio has a theory on why Rodgers hid his vaccination status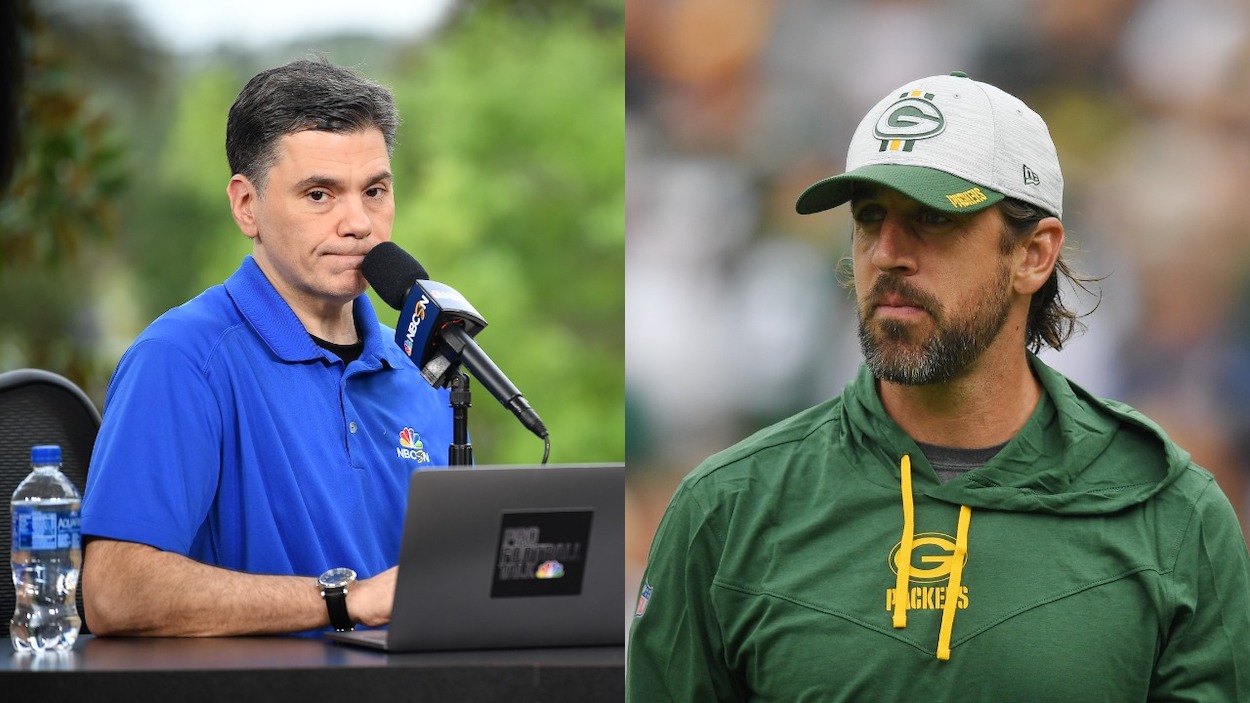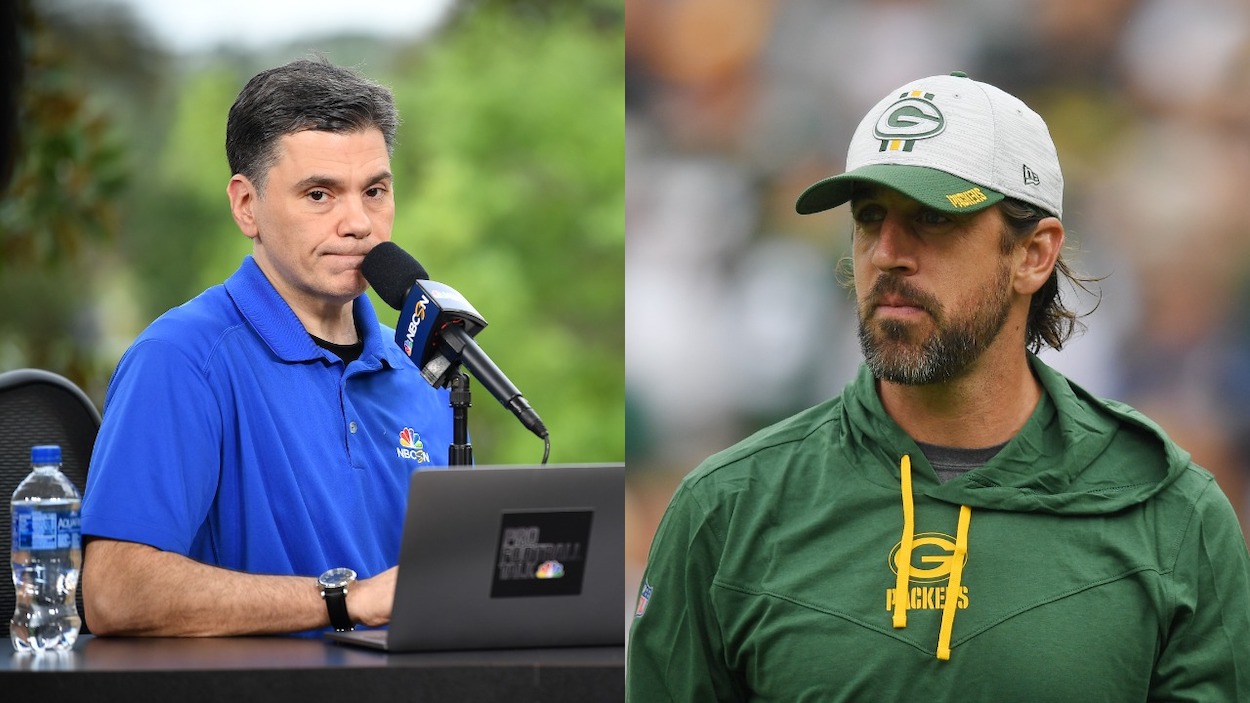 The news about Aaron Rodgers' vaccination status didn't come entirely out of the blue to Mike Florio. And, it also doesn't surprise the PFT founder that the QB lied about his status.
Florio offered his theory as to why Rodgers wasn't forthcoming about his choices, and it comes down to the Packers' signal-caller overall persona when dealing with the media:
Here's my very simple Occam's Razor explanation as to why he's lying. He doesn't want to get vaccinated, but he also doesn't want to be criticized for not being vaccinated because the man hates criticism. The man is so sensitive. He's sensitive about being called sensitive. … He wants all the fame, all the glory, all the notoriety on his terms. He wants no one to criticize him.

Mike Florio on Aaron Rodgers
Florio goes on to say that he believes that Rodgers saw what happened to publically unvaccinated players like Kirk Cousins, Cole Beasley, and Carson Wentz and decided to hide his vaccination status.
We'll never know for certain whether Florio is correct or not about Rodgers' true thought process behind hiding his status.
In more tangible news, the NFL analyst also said he's reached out to the league to see what, if any, disciplinary actions or fines the NFL office has imposed on Rodgers or the Green Bay Packers, but hasn't heard back.
This story keeps growing and, even after Jordan Love makes his NFL debut Sunday, the Aaron Rodgers Saga will just keep going.
Like Sportscasting on Facebook. Follow us on Twitter @sportscasting19