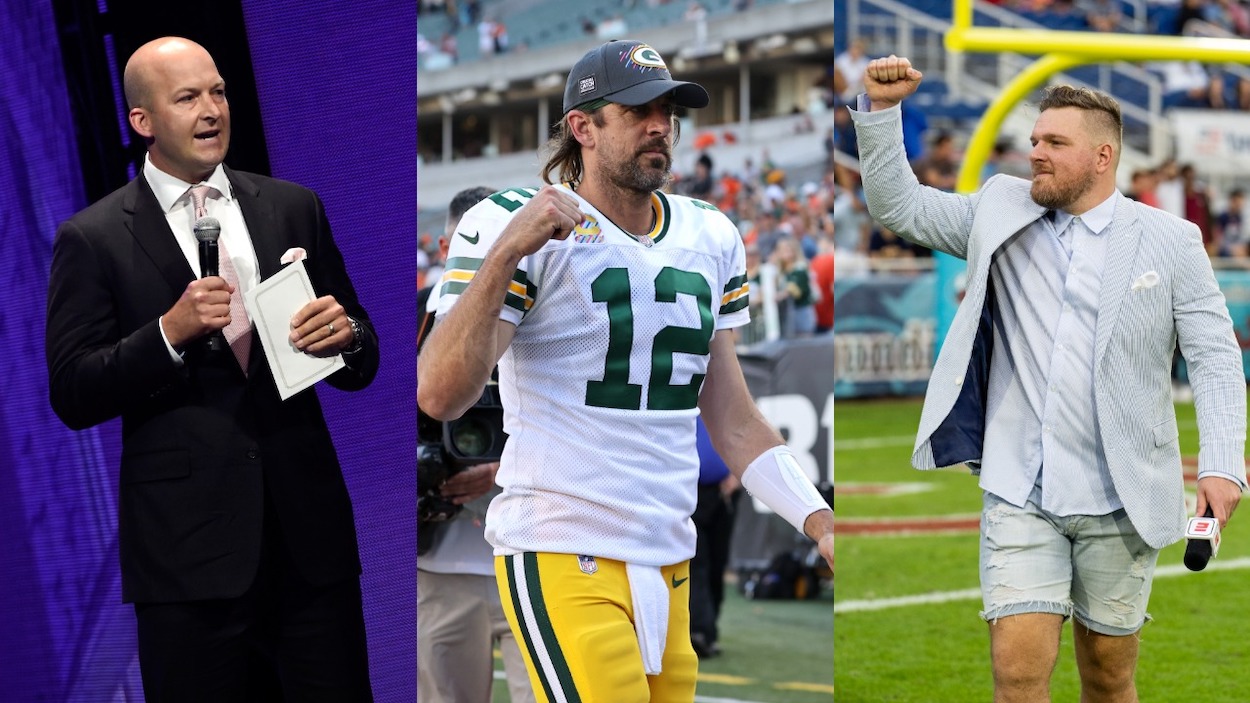 ESPN Commentator Fires Shot at Aaron Rodgers and His Talk Show Host Buddy: 'The Worst Thing to Happen to the Packers This Year Has Been Pat McAfee.'
Tim Hasselbeck says that as well as Aaron Rodgers and the Green Bay Packers are playing, their biggest problem is the QB's chats with talk show host Pat McAfee.
After an ugly 38-3 loss to the New Orleans Saints in Week 1, the pitchforks came out for Aaron Rodgers and the Green Bay Packers. Since then, the Packers have ripped off five straight wins, and the Rodgers-led offense hasn't scored fewer than 24 points in a game. Everything would be perfect in Cheesehead Land right now if it weren't for NFL-punter-turned-talk-show-host Pat McAfee. At least according to ESPN's Tim Hasselbeck.
Aaron Rodgers has a weekly spot on Pat McAfee's show
Aaron Rodgers spent his offseason trying to get out of Green Bay. Reports emerged right before the 2021 NFL Draft that the 17-year veteran wanted a trade away from Wisconsin. However, football fans didn't hear much from the signal-caller himself until he reported to camp.
That's when Rodgers gave an epic press conference in which he aired his grievances with the Packers front office — specifically GM Brian Gutekunst.
Since then, Rodgers has delivered a few more press conference drive-bys. However, the place he shares most of his thoughts is on The Pat McAfee Show 2.0. Every Tuesday, he joins Pat McAfee, the former Indianapolis Colts punter, to discuss a wide range of topics. He even gives book recommendations as part of the "Aaron Rodgers Book Club."
This week, McAfee explained that the segment came about when the two, who didn't know each other well prior, had a long chat while partaking in a few adult beverages during a rain-delayed golf tournament in the Bahamas.
"I'm so fortunate for this platform, especially this one, to be on here talking to you guys. It means a lot to me," Rodgers told McAfee and his crew. "Because I think people get to see me in a little bit of a different light."
He also said that being able to speak freely on McAfee's show helps him "keep sane," "speak the truth," and "actually set the record straight on some of these things."
The appearances are definitely great for McAfee's audience and seemingly great for Rodgers' mental health. Although, another former NFL player who has a platform on ESPN says it's not so great for the Packers. 
Tim Hasselbeck says the Green Bay Packers' biggest problem is Rodgers' talking 
Tim Hasselbeck had a four-year NFL career during which he appeared in 12 games. He wasn't as successful on the field as his three-time Pro Bowl brother, but he's transitioned to broadcasting and become an accomplished NFL analyst following his playing days.  
The former Boston College Eagle joined ESPN'S Get Up morning show this week to discuss Rodgers on the heels of the quarterback's most recent appearance with McAfee. During the chat, the 5-1 signal-caller explained his now-famous "I own you" comments to Chicago Bears fans and took the opportunity to attack "the woke mob" and "cancel culture."
Hasselbeck told the Get Up hosts:
I think the worst thing to happen to the Packers this year has been Pat McAfee. I mean, let's be honest. Think about this. Whether it's a conversation about Mike Tomlin, whether it was back in the offseason when Adam Schefter was like, 'Hey, if you can just give Aaron Rodgers a truth serum…" It's like, no, he doesn't need a truth serum. He needs a scotch and Pat McAfee! And he's going to tell you exactly what he is thinking, and it's going to cause a talk about everything about his future: Does he want to be there? How mad is he still at the organization?

Tim Hasselbeck on Aaron Rodgers and Pat McAfee
Hasselbeck did admit that Rodgers is "playing at a ridiculously high level." Still, he believes that the QB's conversations with McAfee are becoming a distraction for the team that could hurt its chances for long-term success in the 2021 season.
Like any good shock jock, McAfee responded to the comments head-on.  
McAfee says he's fine with Hasselbeck's assessment
Pat McAfee's first response to Tim Hasselbeck's comments was on Twitter. The former punter tweeted a GIF of Peter Griffin from the Family Guy, saying, "Woah, woah, woah."
On the following day's show, McAfee addressed the comments on the air:
We'd like to let everyone know, we're friends with Tim Hasselbeck. … Him saying we're a menace on Get Up, I think that was supposed to all be in jest. … I appreciate everyone that follows this show telling them to go f*** themselves — which, by the way, I'm all about people telling people to go f*** themselves if they deserve it or whatever — but I think Tim, Greeny [Mike Greenberg], and them, I think we have friends over there.

Pat McAfee on Tim Hasselbeck and Aaron Rodgers
He also noted that he understood the point Hasselbeck was trying to make. It is that "if you're a Packers front office member, you have to hold your breath, I'd assume, every Tuesday that Aaron comes on here."
And, in all this, that is the best point of all. No one ever knows what Rodgers is going to say when chatting with McAfee, and that has to be terrifying for the Packers organization.
In the first six weeks of the NFL season alone, Rodgers has touched on his love of the Pittsburgh Steelers organization, the state of media in 2021, Jon Gruden, Urban Meyer, Deflategate, UFOs, and so much more.
Whether Tim Hasselbeck (or the Packers) likes it or not, tuning in to listen to Aaron Rodgers talk to Pat McAfee is one of the greatest pleasures of the 2021 NFL season.
Like Sportscasting on Facebook. Follow us on Twitter @sportscasting19