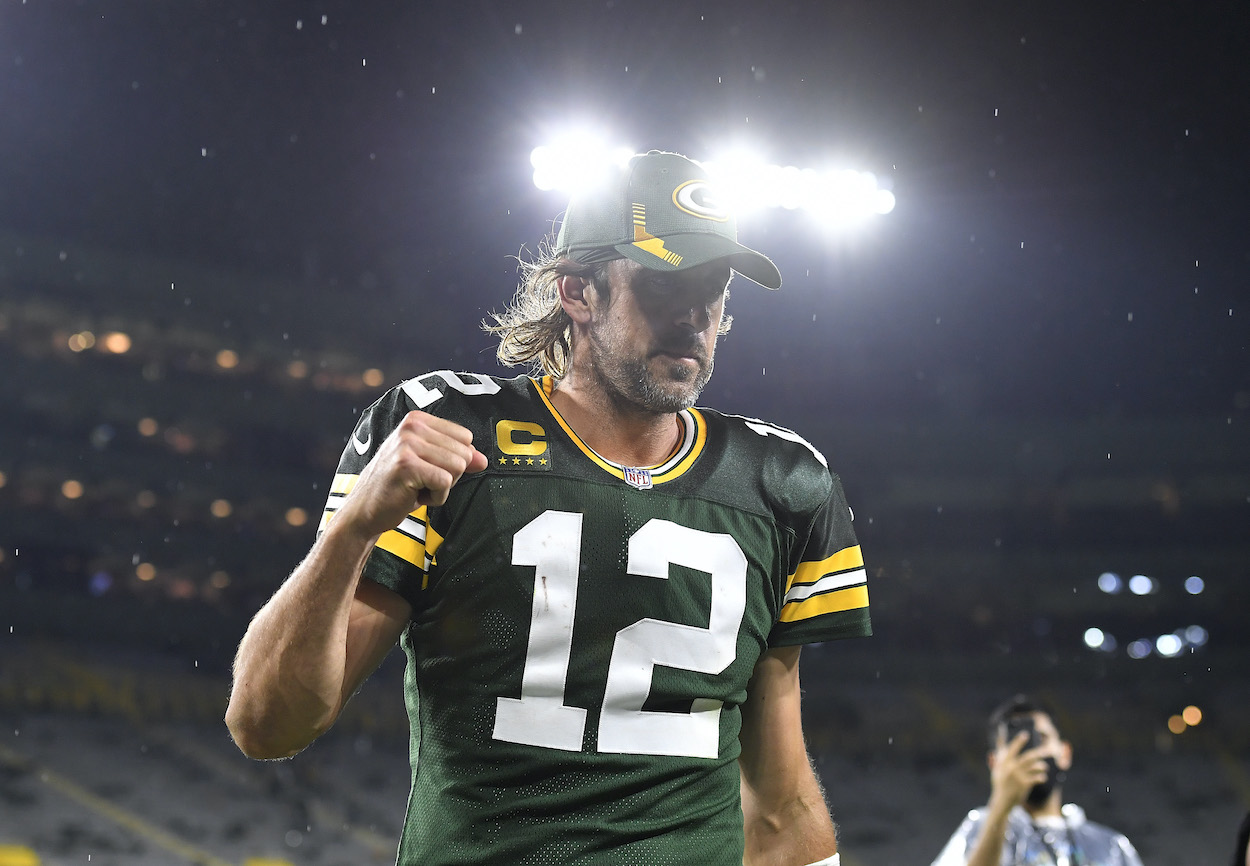 Aaron Rodgers Destroys Media Members Saying He Doesn't Care About Football Because of His 'Zen' Offseason: 'It's Absolute Horses*** to Give a Platform to People Who Have No Idea What They're Talking About'
Aaron Rodgers joined 'The Pat McAfee Show 2.0' to talk about the narratives surrounding his season so far, the state of the media, and even give book recommendations.
Aaron Rodgers led his Green Bay Packers to an easy-looking 35-17 win over the Detroit Lions on Monday Night Football. In postgame interviews, Rodgers seemed happy and relaxed. He mostly stayed focused on his team and the game they just won. It was slightly disappointing for NFL fans hoping for more Rodgers scorched-earth press conferences.
On his weekly appearance on Pat McAfee's show the next day, Rodgers got back to doing what Rodgers does best lately: crush everyone he's got a problem with. This week's targets were media members who said the QB didn't care after the Packers' Week 1 loss to the New Orleans Saints.  
Aaron Rodgers called out media members who comment on his 'mental state' with no information to back it up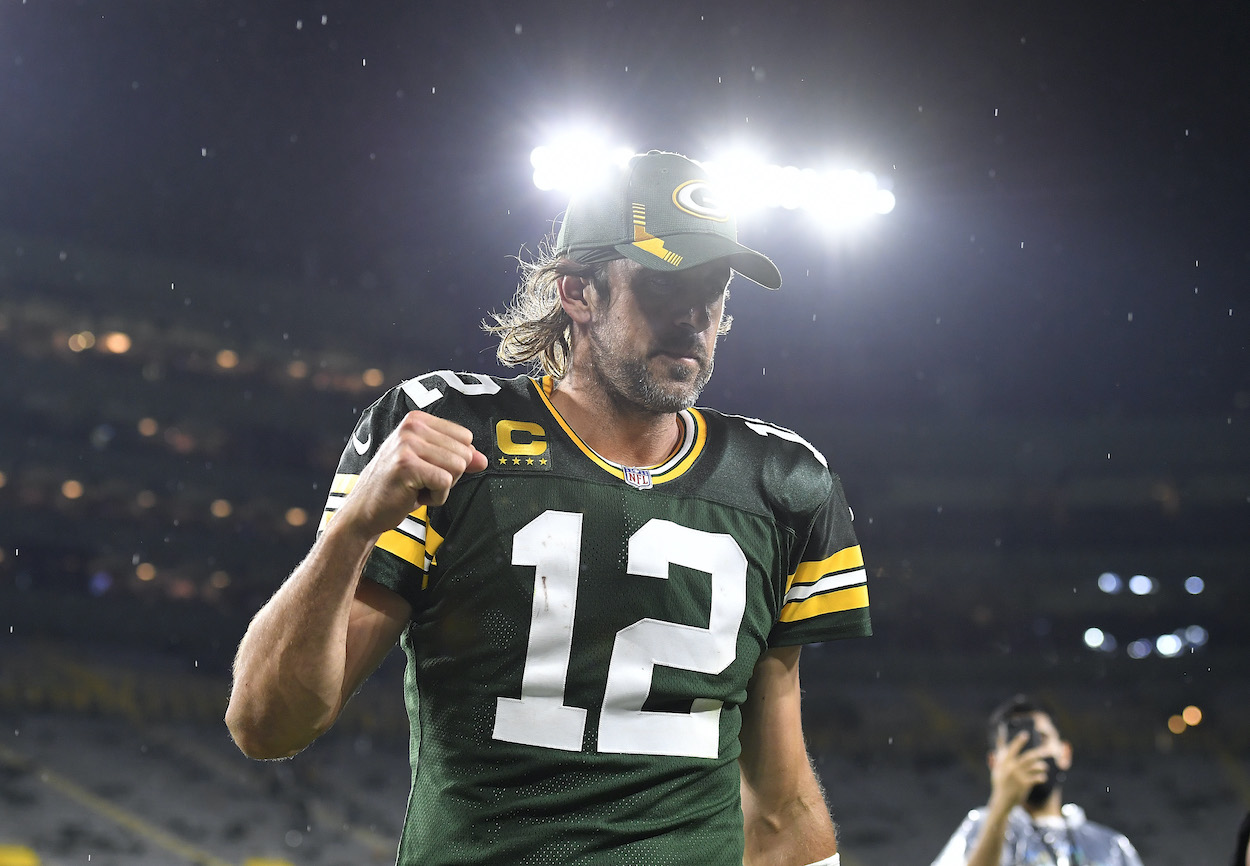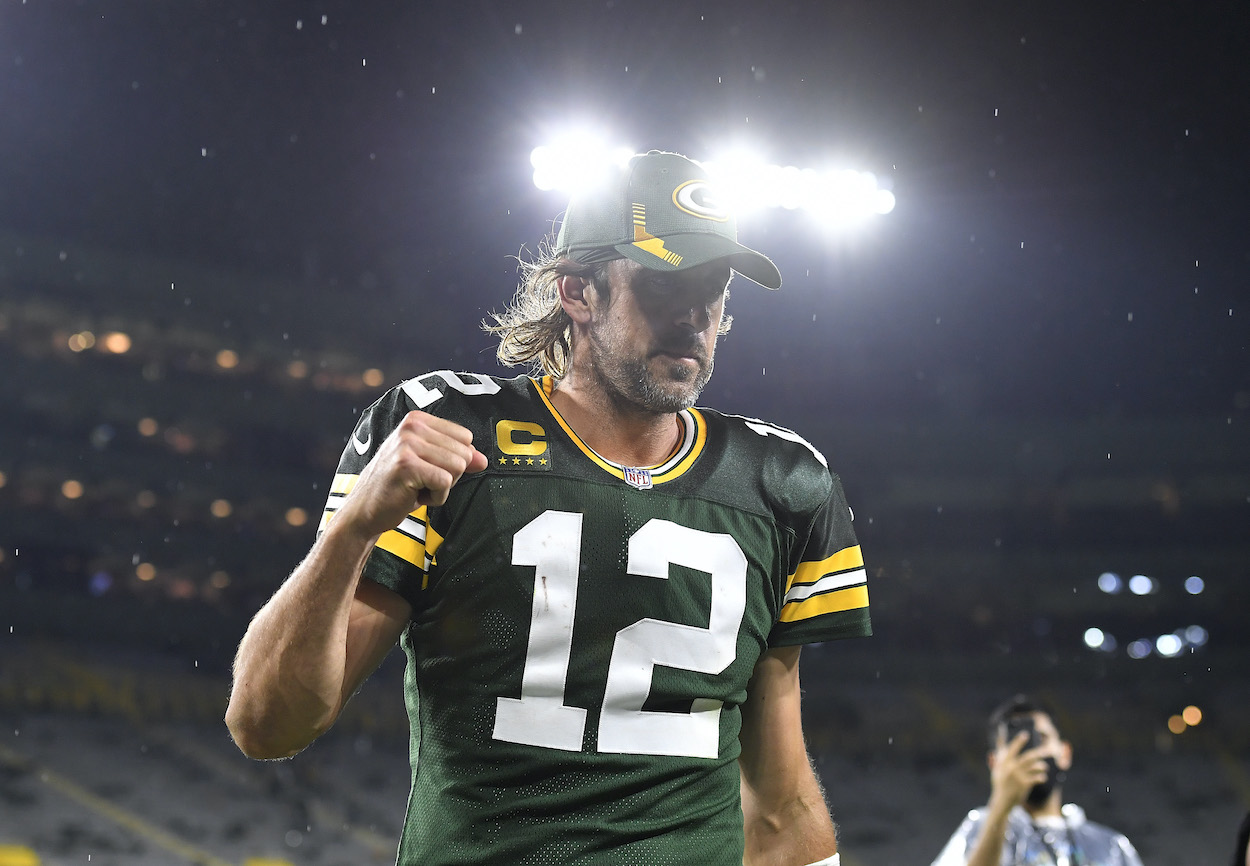 Rodgers now does a weekly Tuesday spot on The Pat McAfee Show 2.0. It seems to be one of the places that the former Cal Bear goes to get things off his chest.
After 15 minutes of football talk Tuesday, one of McAfee's co-hosts teed Rodgers up about his latest issue: the media.
Co-host Ty Schmidt prefaced his question to Rodgers by talking about the media narrative following Week 1. Specifically, that he didn't care about football this season. The host pointed out the weirdness of pundits having these takes, then reversing them after he throws a touchdown strike to tight end Robert Tonyan and then celebrates.
"Is it one of those things where it's still outside noise, and you don't give a s***," Schmit asked. "Or is it like, 'what the f*** are these guys talking about?'"
That's when Rodgers took on the talking heads and writers he has beef with:
To be honest with you, it's a combination of both. On one hand, it's absolute horses*** to give a platform to people who have no idea what they're talking about as far as my mental state and my focus, my work habits. People that have not been around me, they're not in my life, I don't have communication with them, they're not in the locker room, I mean that's just chickens***. … For that to become some sort of narrative that's out there, that now somehow, I don't care about ball because of my Zen attitude in the offseason, that's the bulls*** I was talking about last night.

Aaron Rodgers on media narratives
While Rodgers didn't name names, he added, "it's often the same people, giving the same tired rhetoric," expressing these opinions and pushing these narratives.
The quarterback also gave his critique of the current media landscape 
As he is apt to do these days, Rodgers didn't just stick to speaking about his specific situation. The 37-year-old passer got philosophical and discussed the overall state of the media these days:
In this day and age of media, it's all about clicks and hits and views, and one second counts as a view. So, the opinions garnering the most attention are the most outlandish. It's not even overreaction Monday or Tuesday anymore, it's overreaction every time a microphone is in your face. … It's who can say the most outlandish things because that's gonna give you the most hits. That's the media we live in.

Aaron Rodgers on the state of the media
Rodgers has always been a thoughtful interview subject. He makes it clear that he is very in touch with the world surrounding and outside of football. Since the drama of this offseason, the QB has been even more interested in pontificating on things happening off the field, and this is a perfect example.
McAfee's free-flowing, sometimes off-the-rails radio show/podcast is the perfect place for this. In the span of one interview this week, Rodgers talked all about football and the Packers' win over the Lions, crushed his haters, and even offered listeners a suggestion on what book to pick up and read.
That last part is something he now does regularly on McAfee's show.
The Aaron Rodgers Book Club is now a thing
In keeping with his interest in things outside of football, Rodgers and McAfee are teaming up this season to present the Aaron Rodgers Book Club to the listeners.
The idea behind the project is to encourage people to read and to show off the signal-callers favorite books. Rodgers has added three tomes to his book club in three appearances on the former NFL punter's show so far in the 2021 season.
The first pick Rodgers gave out was The Alchemist by Paulo Coehelo. It is a novel about a boy named Santiago's quest through the Egyptian desert to find a treasure. Along the way, he meets a host of fascinating characters and learns lessons about himself.
In week two, the QB recommended Where Men Win Glory: The Odyssey of Pat Tillman by Jon Krakauer. This is the true story of NFL-safety-turned-Army-Ranger written by the author of such modern classics as Into the Wild and Into Thin Air. Tillman gave up his NFL dream to follow his heart after 9/11 and fight for his country, only to die by friendly fire in Afghanistan. 
This week's Rodgers pick is another novel, The Giver by Lois Lowry. The book's plot may give some insight into the way the QB feels about his life in the NFL. It is about a boy who finds that his utopian society is actually a dystopian world where no one can express their individuality. 
As illuminating as Rodgers' comments on McAfee's show are, the Aaron Rodgers Book Club may give even deeper insights into where the star's head is at during the Green Bay Packers 2021 season. 
Like Sportscasting on Facebook. Follow us on Twitter @sportscasting19