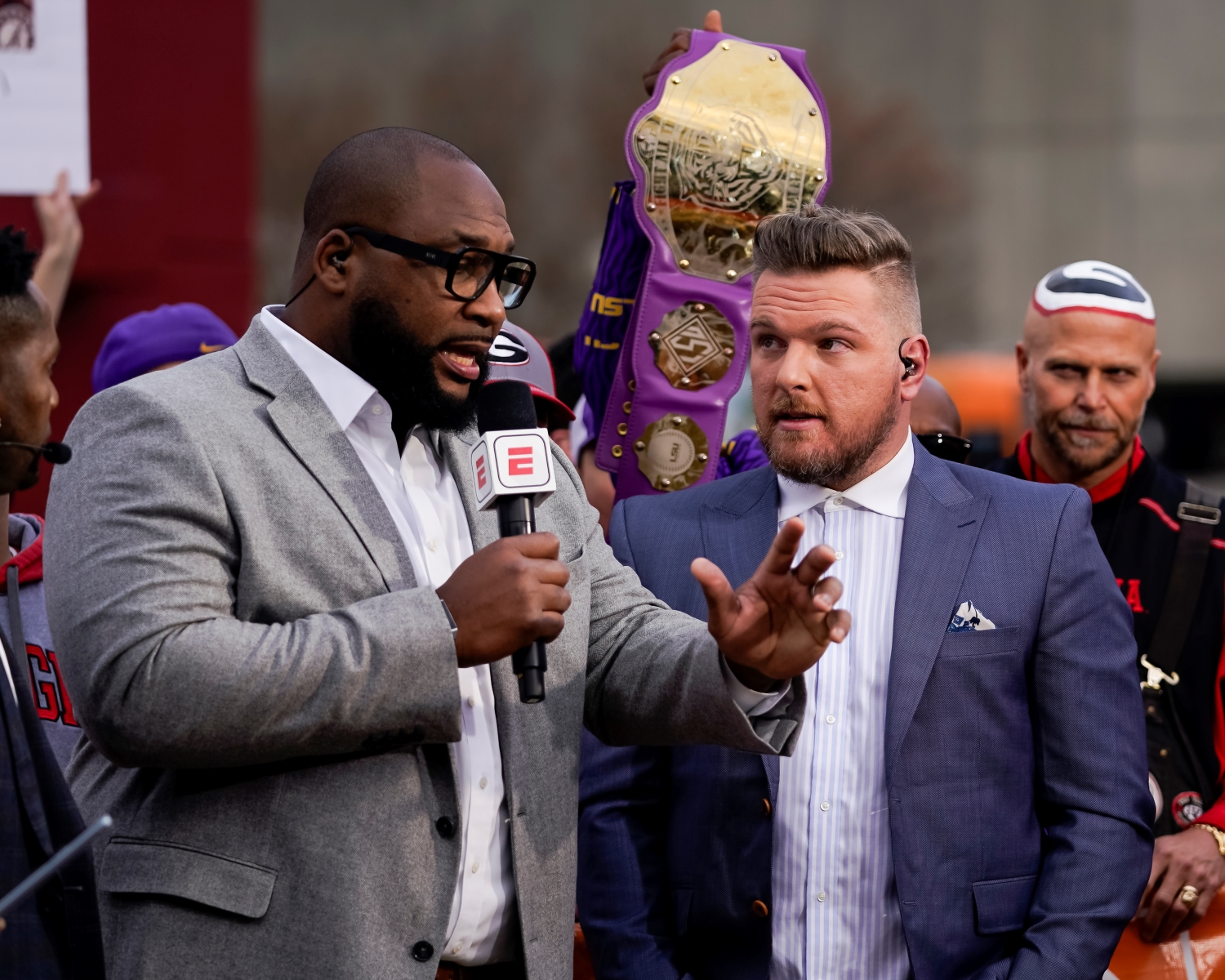 Former NFL Punter Turned Sports Media Star Pat McAfee Just Announced His Major Career Move With the WWE
Former NFL punter Pat McAfee just made a life-changing announcement about a new role that should make WWE fans very happy.
For almost a decade, Pat McAfee got paid to punt footballs for the Indianapolis Colts. Since he retired from the NFL back in 2016, the 33-year-old has carved out a reputation as a sports media star.
Luckily for his loyal listeners/viewers, they will have a chance to watch McAfee put his talents to use on a weekly basis for the WWE.
Pat McAfee has become a sports media star since retiring from the NFL
Pat McAfee spent his entire NFL career with the Colts. After entering the league as a seventh-round pick in 2009, he served as the team's starting punter for 127 games. During that span, McAfee earned two Pro Bowl berths and one first-team All-Pro selection.
Despite leading the NFL with a 49.3 yards-per-punt average in his age-29 season, he elected to go out on a high note. McAfee retired after playing eight seasons in the league. And it didn't take him long to find a new gig at which he could excel.
The charismatic kicker joined Barstool Sports, where he quickly proved he belonged in the sports media world. However, McAfee departed in 2018 due to concerns about business dealings within the company. That gave him the opportunity to build his own brand. Over the last three years, he has become an increasingly popular figure thanks to his unfiltered approach on The Pat McAfee Show.
A true entertainer with a knack for captivating an audience, McAfee also started to dabble in the WWE world, too.
McAfee just took his WWE career to the next level
Although he may no longer be a pro athlete, Pat McAfee still remains heavily involved in the sports sphere. And while the WWE falls more toward the entertainment side, there's no doubt the performers put in tons of work to prepare for what takes place in the ring. So it shouldn't be surprising that the retired NFL player has a passion for the world of pro wrestling.
And on Friday, McAfee took to Twitter to deliver some big-time news about the next step in his burgeoning WWE career.
"A dream has come true. I'm joining the incredibly talented folks of Friday Night Smackdown (live on Fox at 8 PM EST every week) working alongside Michael Cole on commentary," he said in a statement seen in his announcement video.
McAfee also gave a direct shoutout to his new boss.
"I'm beyond pumped and grateful. Big thanks to Vince McMahon for the decades of entertainment, the opportunity, AND.. agreeing to appear in this video announcement. Let's do the damn thing….. BAYBAY," he wrote.
The former Colts punter joins a long list of football players who got involved in pro wrestling
Pat McAfee will embark on his new analyst role on Friday, April 16. But he certainly isn't the first football player to cross over to the WWE.
Dwayne "The Rock" Johnson stands out as the most obvious success story. Although he never made it to the NFL, he managed to make much more money by following in his father's footsteps in the pro wrestling world. Ironically, Johnson has built such an incredible net worth from the WWE and acting that he bought the XFL back in August 2020.
Brock Lesnar served as the face of Vince McMahon's company for quite a while. However, he didn't exactly find it so easy to dominate opponents when he tried his hand at playing pro football. The Minnesota Vikings cut Lesnar about a month after signing him.
Other recognizable WWE figures with gridiron experience include Goldberg (appeared in 14 NFL games), Roman Reigns (earned first-team All-ACC honors as a senior at Georgia Tech), and Mojo Rawley, who signed with the Green Bay Packers after going undrafted out of the University of Maryland.
All statistics courtesy of Pro Football Reference.