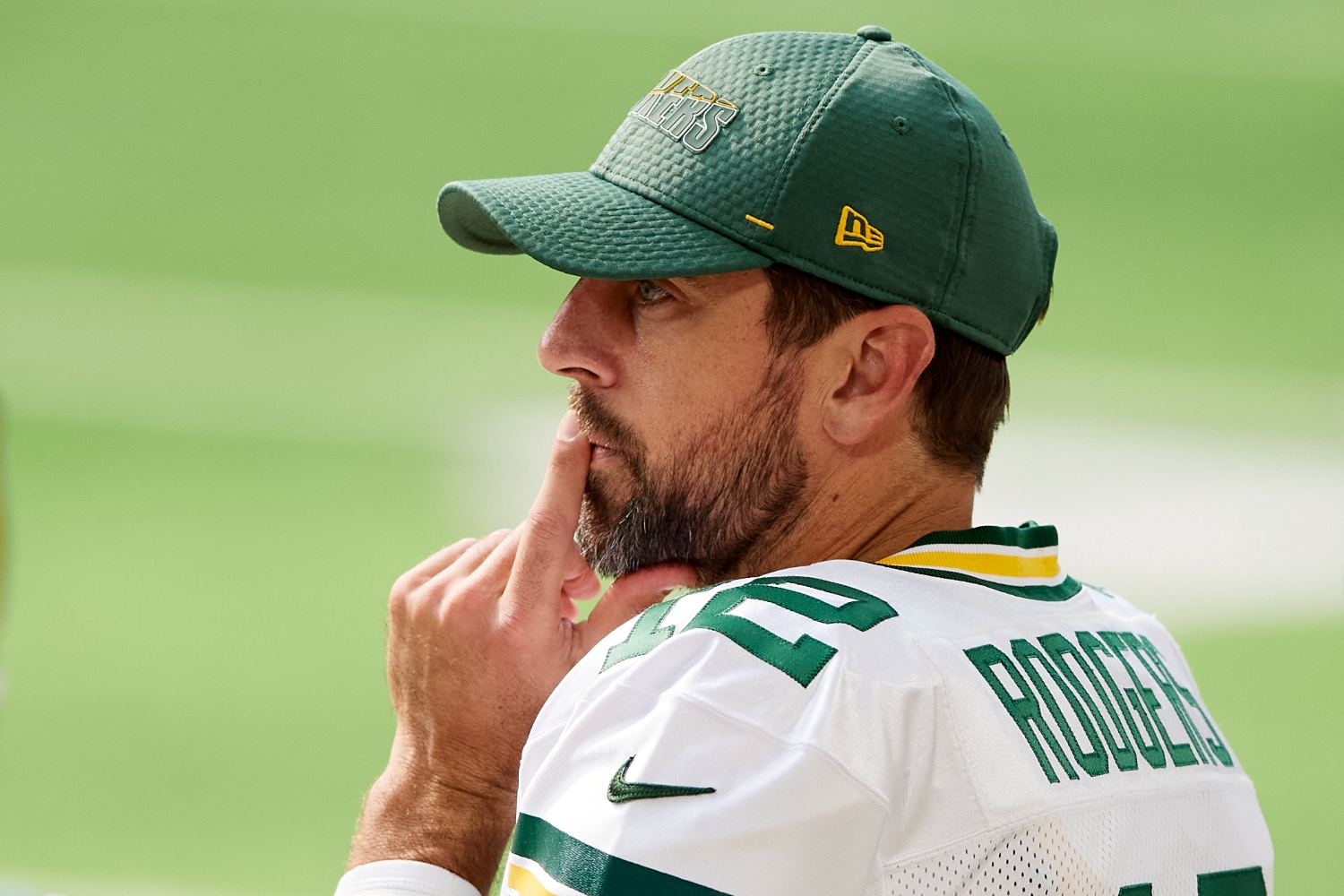 Aaron Rodgers Raises More Doubt About His Packers Future by Making an Honest Admission to Pat McAfee
Aaron Rodgers raised even more doubt about his future with the Green Bay Packers during his honest discussion with former NFL punter Pat McAfee.
Even before the Green Bay Packers lost to the Tampa Bay Buccaneers in the NFC title game, Aaron Rodgers already faced an uncertain future with the franchise. After all, general manager Brian Gutekunst moved up in the 2020 NFL draft to take a quarterback rather than a weapon for his most important player.
Speculation surrounding the reigning MVP's long-term outlook in Green Bay has persisted during the early stages of the offseason. And during a recent discussion with Pat McAfee, Rodgers raised more doubt about his future with the only team he's ever played for.
Aaron Rodgers may not be around much longer in Green Bay
Although Aaron Rodgers has three years remaining on his contract, he may not play out the rest of his $134 million deal in Green Bay.
While his 2021 dead-cap hit charge of $38.4 million ensures he will remain atop the depth chart for one more season, the Packers can move on from Rodgers next offseason if they can tolerate a $17.2 million hit to their cap. It seems counterintuitive to replace one of the greatest quarterbacks of all time, but the front office has the incentive to do so.
Green Bay brass raised eyebrows around the league last April by trading up to select Jordan Love. Rodgers responded with arguably the most dominant campaign of his Canton-worthy career. So after spending his entire rookie season on the bench, Love shouldn't expect to see the field in 2021, either.
But considering they invested a first-round pick on him—combined with Rodgers' tolerable 2022 dead-cap hit—the Packers seem inclined to hand the keys to the franchise to Love a year from now.
Rodgers raises more doubt about his Packers future with honest admission to Pat McAfee
For Aaron Rodgers, the 2020 NFL season ended in heartbreaking fashion. After the game, Rodgers raised doubt about his future in Green Bay.
"A lot of guys' futures, they're uncertain—myself included," he said. "That's what's sad about it most. Obviously, there's going to be an end to it at some point, whether we make it past this or not. Just the uncertainty is tough and the finality of it all."
More than two months later, Rodgers sounded eerily similar when speaking about what lies ahead. During his recent appearance on The Pat McAfee Show, the Packers legend raised more doubt about his future with his honest admission to the retired NFL punter.
"Even my comments directly after the last game—and we talked about it on this show—some thought or made assumptions based on what I said, but nothing's really changed," Rodgers explained. "My future is, really, a lot of it is out of my control. That's why I've used the phrase like 'beautiful mystery,' because it is quite uncertain which direction things are going to go."
Reading between the lines, it certainly sounds like the three-time NFL MVP knows his time in Green Bay will soon come to an end.
"All I can do is play my best, and I feel like last year I did do that," Rodgers said. "That may have thrown a wrench into some timelines that may have been thought about or desired, but ultimately things haven't really changed on that front."
Will the reigning MVP win a second Super Bowl ring before his team moves in a different direction?
Based on all the factors in play, Aaron Rodgers appears destined to finish his NFL career elsewhere. But can he achieve his goal of winning another Super Bowl ring before he finds himself on the trade block?
The answer to that question hinges largely on what the Packers do in the 2021 NFL draft. Beyond signing star running back Aaron Jones to a $48 million contract extension, the team largely sat out of free agency. That doesn't mean, however, that the reigning NFC North champions don't have work to do.
Looking at their current depth chart, the Packers need to add another receiver to the mix. Davante Adams turns 29 in December, and he hasn't played all 16 games since 2016. Oh, the four-time Pro Bowler is also scheduled to become a free agent after the 2021 season.
Green Bay would be smart to use the 29th pick on a receiver who can not only draw some attention away from Adams but perhaps replace him in the future. Even if the Packers wait until the second round, they definitely need to devote a high pick on a playmaker who can help Rodgers try and bring the Lombardi Trophy back to Green Bay before his time runs out.
All contract data courtesy of Spotrac.