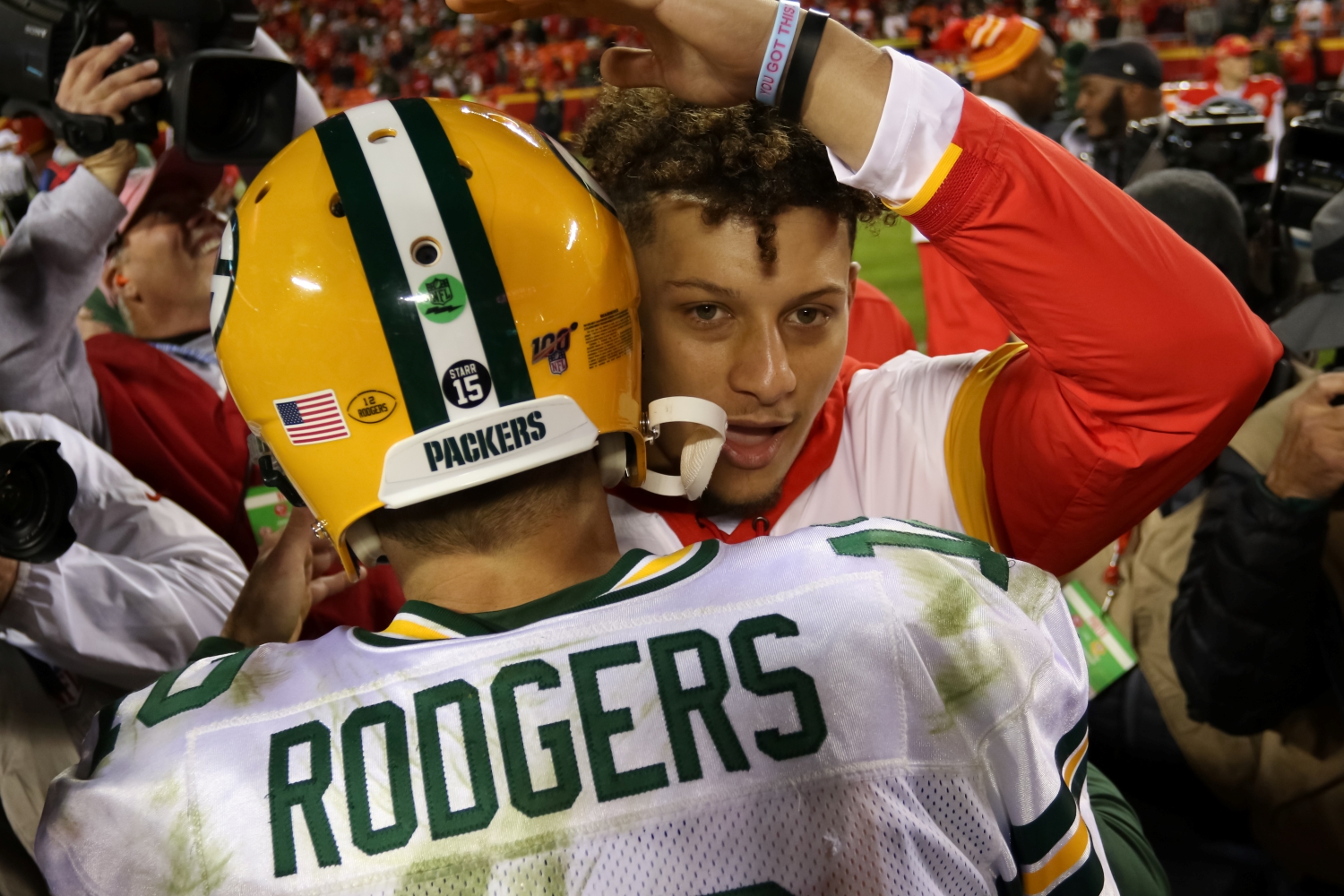 Aaron Rodgers Officially Has a New Obstacle to Overcome in What Could Be His Final Season With the Packers
If the Packers move on from Aaron Rodgers after the 2021 season, his final regular-season adversary will be none other than Patrick Mahomes.
Coming off an MVP season that ended with another premature playoff exit, Aaron Rodgers still has just one Super Bowl ring to his name. And considering the Green Bay Packers drafted his potential successor last year, time may be running out for the future Hall of Famer to bring the Lombardi Trophy back to the state of Wisconsin.
But thanks to a significant change to the 2021 NFL season, Rodgers officially has a new obstacle to overcame in what could be his final season with the Packers.
Aaron Rodgers faces an uncertain future after a decade-long Super Bowl drought
Aaron Rodgers entered the 2020 season with extra motivation to dominate defenses. And boy did he do just that.
After watching the Packers trade up in the first round to draft Jordan Love, Rodgers responded by putting together arguably the most impressive year of his decorated career. The 37-year-old quarterback completed a career-high (and NFL-leading) 70.7% of his attempts. He also threw a league-high 48 touchdown passes.
However, Rodgers' MVP season ended in disappointing fashion. Both he and head coach Matt LaFleur made some questionable decisions at the end of the NFC Championship that potentially cost the Packers a Super Bowl berth.
Although he technically has three years left on the lucrative extension he signed back in 2018, Rodgers faces an uncertain future in Green Bay. Set to count $37 million against the cap this year, he has no reason to worry about losing his starting job in 2021.
On the other hand, the Packers can move on from their biggest star next offseason. Green Bay can cut ties with Rodgers by taking on a $17.2 million dead-cap charge.
For now, though, the focus for both parties remains on trying to win a Super Bowl title in 2021.
The reigning NFL MVP officially has a new obstacle to overcome in what could be his final season with the Packers
Aaron Rodgers has seen the NFL undergo many changes during his lengthy career. After all, he entered the league all the way back in 2005.
Already facing enormous pressure to win a Super Bowl before Green Bay transitions to a new starting quarterback, Rodgers officially has a new obstacle to overcome in what could be his final season with the Packers.
On Tuesday, NFL owners approved the expansion of the regular-season schedule from 16 to 17 games. The move will not only generate revenue but also give fans an opportunity to see teams square off in cross-conference battles.
This season, AFC teams will host NFC teams for the added game.
Unfortunately for Rodgers, schedule makers didn't do his team any favors.
Green Bay will have to travel to Arrowhead Stadium to take on the Kansas City Chiefs during the 2021 season. That puts Rodgers in line to face Patrick Mahomes for the first time ever. Back in 2019, the Packers star threw three touchdowns in a 31-24 victory against a Chiefs team that did not have Mahomes available due to injury.
While it remains to be seen when exactly the matchup will take place, having to beat the best player in the NFL on the road represents a stiff challenge for the Packers and their star quarterback. So not only does Rodgers have to play another regular-season game but he also has to find a way to defeat an opponent he's never squared off against before.
Can Rodgers secure a second ring before his time in Green Bay runs out?
Considering the Packers elected not to restructure his contract last week, Aaron Rodgers may only have one more shot at winning a second Super Bowl ring before Green Bay moves on from the three-time MVP.
Now tasked with trying to win 17 regular-season games, including a marquee matchup against Mahomes and Co., Rodgers has a major obstacle to overcome as he tries to silence critics who point to his lack of postseason success.
Can the aging NFL star carry his team to a championship in his age-37 campaign?
If the Packers don't make major improvements on defense, nothing Rodgers does will matter. So if they want to give their longtime quarterback the best chance at hoisting the Lombardi Trophy next February, they have to land some instant-impact defenders in the 2021 NFL draft.
Then again, after watching Green Bay draft his likely replacement last April, should Rodgers even trust the front office to set him up for success?
All statistics courtesy of Pro Football Reference.