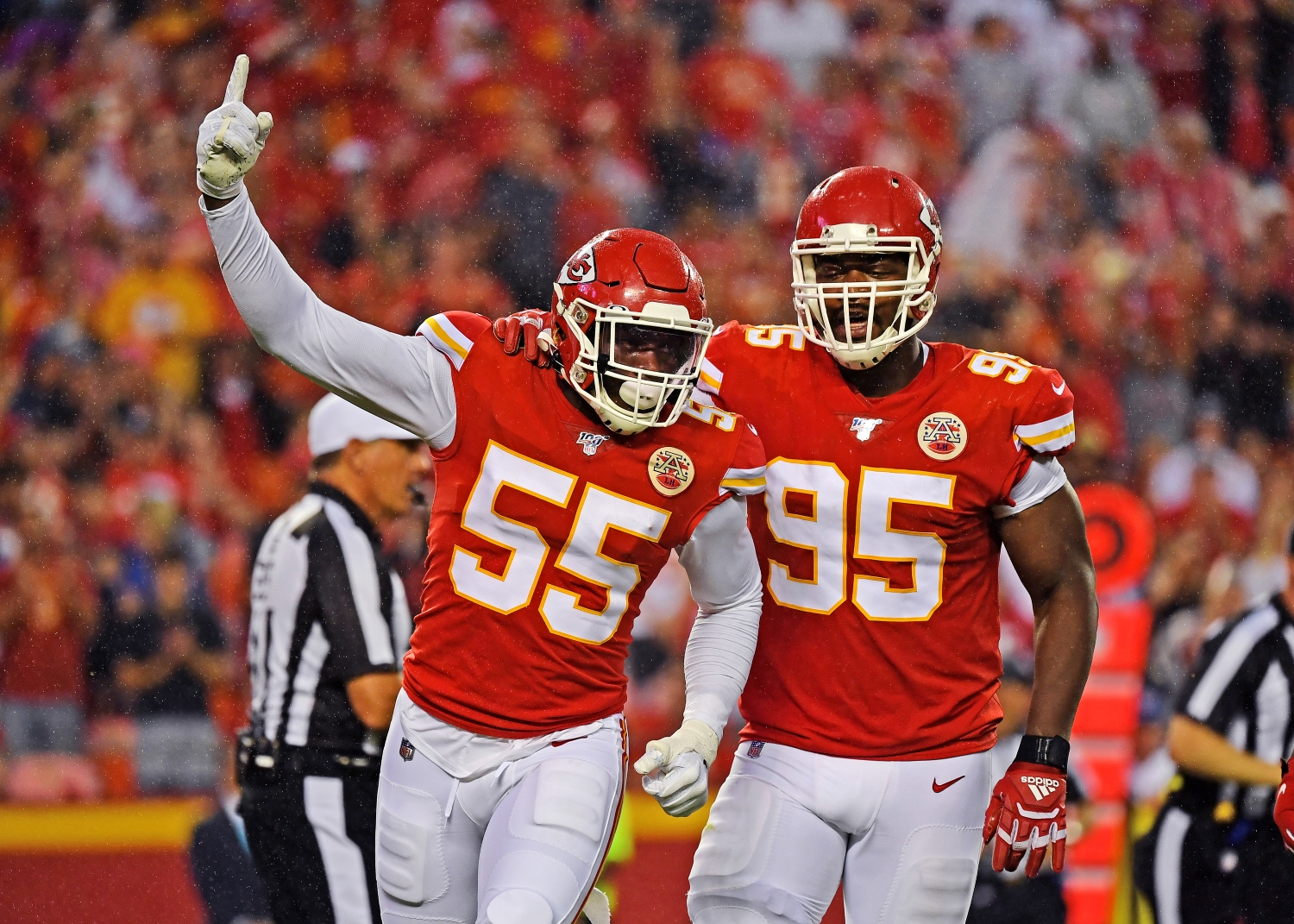 The Kansas City Chiefs Just Made a Dangerous $5 Million Addition to Their Star-Studded Defensive Line
The Kansas City Chiefs have taken a $5 million plunge into free agency to bolster their star-studded defensive line.
The Kansas City Chiefs already boast two stars along their defensive line. But even with Chris Jones and Frank Clark in the fold, that hasn't stopped general manager Brett Veach from investing more financial resources on a position group that didn't exactly live up to expectations last season.
Luckily for the Chiefs, they didn't have to pay a premium price to add a player with a proven history of getting after the quarterback. In fact, the reigning AFC champions committed just $5 million in guaranteed money to secure a coveted free agent who recently hit the market.
Kansas City's defensive line didn't dominate as expected in 2020
Despite having two established stars anchoring their defensive line, the Chiefs only totaled 32 sacks last season.
Fresh off signing an $85 million contract extension, Chris Jones finished one quarterback hit shy of matching his career-high of 29. However, the 6-foot-6, 310-pound interior lineman only totaled 7.5 sacks in 14 starts. During his breakout All-Pro campaign in 2018, Jones recorded 15.5 in just 11.
Meanwhile, Frank Clark once again failed to live up to his own lucrative contract. After signing a five-year deal with nearly $64 million guaranteed in 2019, the former Seattle Seahawks defensive end only totaled eight sacks and 14 quarterback hits a year removed from posting 13 and 27, respectively. And even though he played one more game in 2020 than he did in 2019, he actually recorded two fewer sacks.
The Chiefs certainly expected more bang for their buck when they traded a huge haul for Clark and proceeded to make him one of the highest-paid defensive players in NFL history.
Then again, Clark still accounted for a significant percentage of the team's pass-rush production. Beyond their two big-name stars, the Chiefs had just one player record at least 10 quarterback hits. Alex Okafor also represented the only defender on the roster other than Clark or Jones who totaled more than 2.5 sacks.
The Chiefs just made a dangerous $5 million addition to their star-studded front four
With a clear need for more help up front, the Chiefs just made a dangerous addition to their roster.
According to Jeremy Fowler of ESPN, Kansas City agreed to terms on a one-year deal with defensive tackle Jarran Reed. Although he can make up to $7 million, the 28-year-old only received $5 million in guaranteed money.
Of course, he made much more than that in 2020.
Seattle signed the talented interior lineman to a two-year, $23 million contract extension last offseason. Reed responded by totaling 6.5 sacks and 14 quarterback hits in 16 games.
The Seahawks released the former second-round pick on March 26. But by committing $5 million in guaranteed money, the Chiefs reportedly beat out seven NFL teams for Reed's services.
Ironically, his best season also came in 2018. In his third year in Seattle, Reed set career-highs in tackles (50), sacks (10.5), quarterback hits (24), and tackles for loss (12). Fittingly, he posted those monster numbers playing alongside none other than Frank Clark.
By reuniting with his former teammate, and by joining forces with Chris Jones, Reed enters an enviable situation. With offensive lines focused on keeping Kansas City's two best defensive linemen at bay, he should have plenty of one-on-one pass-rush opportunities. And if Reed gets home at a higher rate than he did in 2020, the Chiefs should boast one of the top defenses in the AFC.
The Jarran Reed signing gives the Chiefs more flexibility heading into the 2021 NFL draft
By winning the bidding war to sign Jarran Reed, the Chiefs added a proven defensive playmaker at a fairly reasonable price. After all, his $5 million minimum payday ranks well below what Kansas City will shell out for Jones and Clark this year.
With their defensive line stacked with three big names, the Chiefs now have more flexibility to address their other needs in the 2021 NFL draft. Rather than needing to use an early-round pick on a pass rusher, they can target offensive linemen and receivers who can make Patrick Mahomes' life a little easier.
Slated to pick 31st, Kansas City should still be in a good position to land an instant-impact playmaker. Florida's Kadarius Toney, Minnesota's Rashod Bateman, and Mississippi's Elijah Moore could all hear their names called during the back half of the first round. If the Chiefs have a high grade on any of those wideouts, it wouldn't be surprising to see them select another weapon for their star quarterback.
On the other hand, offensive tackle remains a major need. After moving on from both Eric Fisher and Mitchell Schwartz, Kansas City needs to invest significant draft capital to find plug-and-play replacements.
So while the Chiefs now boast a truly scary defensive line, they still have plenty of work to do on the other side of the line of scrimmage.
All contract data courtesy of Spotrac. All statistics courtesy of Pro Football Reference.