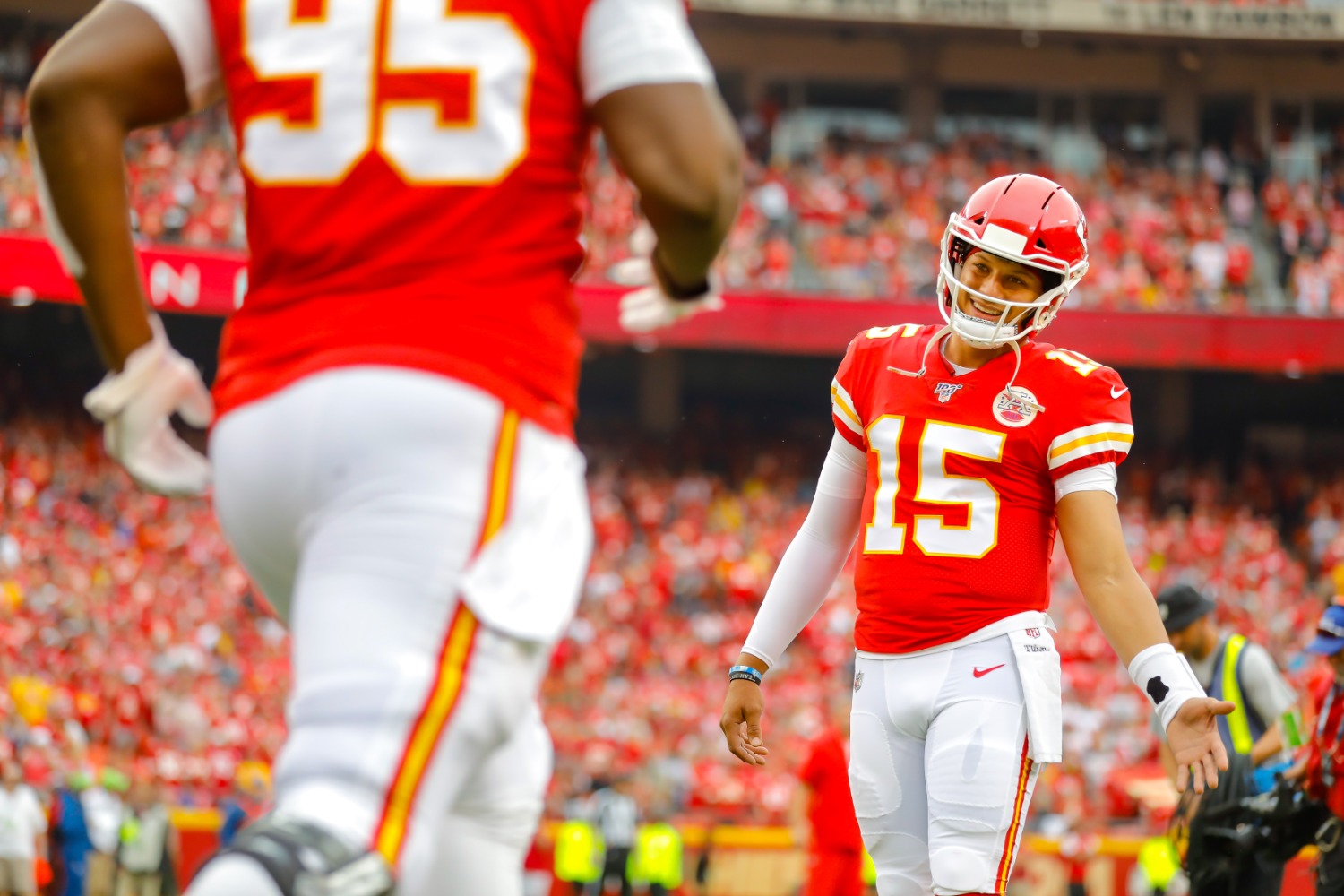 Patrick Mahomes Made Stunning Sacrifice to Help Chris Jones Secure an $85 Million Payday
Patrick Mahomes made a stunning sacrifice to help Kansas City Chiefs teammate Chris Jones secure an $85 million contract.
When Patrick Mahomes signed his $503 million contract, it represented a massive investment by the Kansas City Chiefs. Naturally, that led to speculation about how that record-setting contract would affect the team's ability to retain star defensive tackle Chris Jones. In the end, the Pro Bowler still secured a lucrative deal of his own thanks to his Mahomes.
Patrick Mahomes signed a record-setting contract extension
It certainly hasn't taken long for Patrick Mahomes to take over as the face of the NFL. Drafted 10th overall in 2017, the freakishly talented signal-caller spent a season behind Alex Smith before taking over starting duties in 2018.
Everyone knew he possessed a rocket right arm and above-average mobility. However, nobody could have predicted Mahomes would throw for 50 touchdowns and nearly lead the Chiefs to a Super Bowl berth in his first year as a starter. Despite falling short, that simply set Mahomes up for an even more rewarding 2019 campaign.
Despite seeing his regular-season numbers decline due to injury, the former Texas Tech star lit it up in the postseason. Showcasing incredible resiliency and the ability to score seemingly at will, Kansas City stormed through the playoffs thanks to their star QB. Mahomes earned Super Bowl MVP honors after staging a fourth-quarter comeback against the San Francisco 49ers.
That positioned the 24-year-old up for a pivotal offseason. As the NFL's biggest star, Mahomes obviously needed a raise and a long-term commitment from the Chiefs. He got both in the form of a 10-year contract extension worth up to $503 million. Of course, his deal set the stage for another Chiefs star to score his own lucrative extension.
Chiefs also locked up Chris Jones for $85 million
Like Patrick Mahomes, Chris Jones joined the Chiefs as a supremely talented prospect with question marks about his NFL future. The former Mississippi State defensive lineman didn't put up tremendous pass-rush production in college. However, given his incredible combination of size, strength, and explosiveness, he still went 37th overall in the 2016 NFL draft.
Kansas City's gamble has more than paid off. Since entering the league as a second-round pick, Jones has quickly developed into one of the premier players at his position. In his second season, he recorded 6.5 sacks, 13 quarterback hits, four forced fumbles, and seven passes defended despite starting just seven games.
Ironically, the 6-foot-6, 310-pounder enjoyed his breakout campaign right alongside his talented quarterback. In 2018, Jones racked up a career-high 15.5 sacks to go along with 29 quarterback hits. And like Mahomes, Jones didn't achieve quite the same level of statistical success last season due to injuries, but he put on his best performance in Super Bowl 54.
Thanks to his stellar play under his rookie deal, Chris Jones secured an $85 million contract from the Chiefs less than two weeks after Patrick Mahomes signed his record-breaking deal. And he can thank his star quarterback for that.
Mahomes made a stunning sacrifice to facilitate Jones' deal
The Chiefs smartly locked up their most important stars on both sides of the ball within a 10-day span. With Mahomes securing a half-billion dollars, it seemed like Kansas City would have little financial resources left to get a deal done with Jones. But Terez Paylor dropped a bombshell via Twitter about the role Mahomes played in helping his teammate secure that deal.
"When Pat's deal got done, Pat texted me and said 'Let's get this thing done. I left some on the table, let's get this thing done.' And that's when I had the security that me & the Chiefs were going to work something out."
By Jones' admission, it looks like Mahomes made the ultimate sacrifice to ensure the Chiefs could still get a deal done with his All-Pro teammate. By leaving money on the table, he gave Kansas City valuable wriggle room to sign Jones to an expensive contract that makes him one of the highest-paid defensive players in the NFL.
For Mahomes, leaving money on the table might turn out to be a bad decision. His highly-hyped contract actually looks like a team-friendly deal upon closer examination. He will only make $63 million across the first three years of the deal. If Dak Prescott plays his cards right, he can obliterate that number without locking himself into a 10-year commitment.
Still, it's tough to complain about scoring the largest contract in sports history. And if Chris Jones continues to play at an elite level, Patrick Mahomes won't worry about a couple million left on the table when the Chiefs hoist the Lombardi Trophy again.