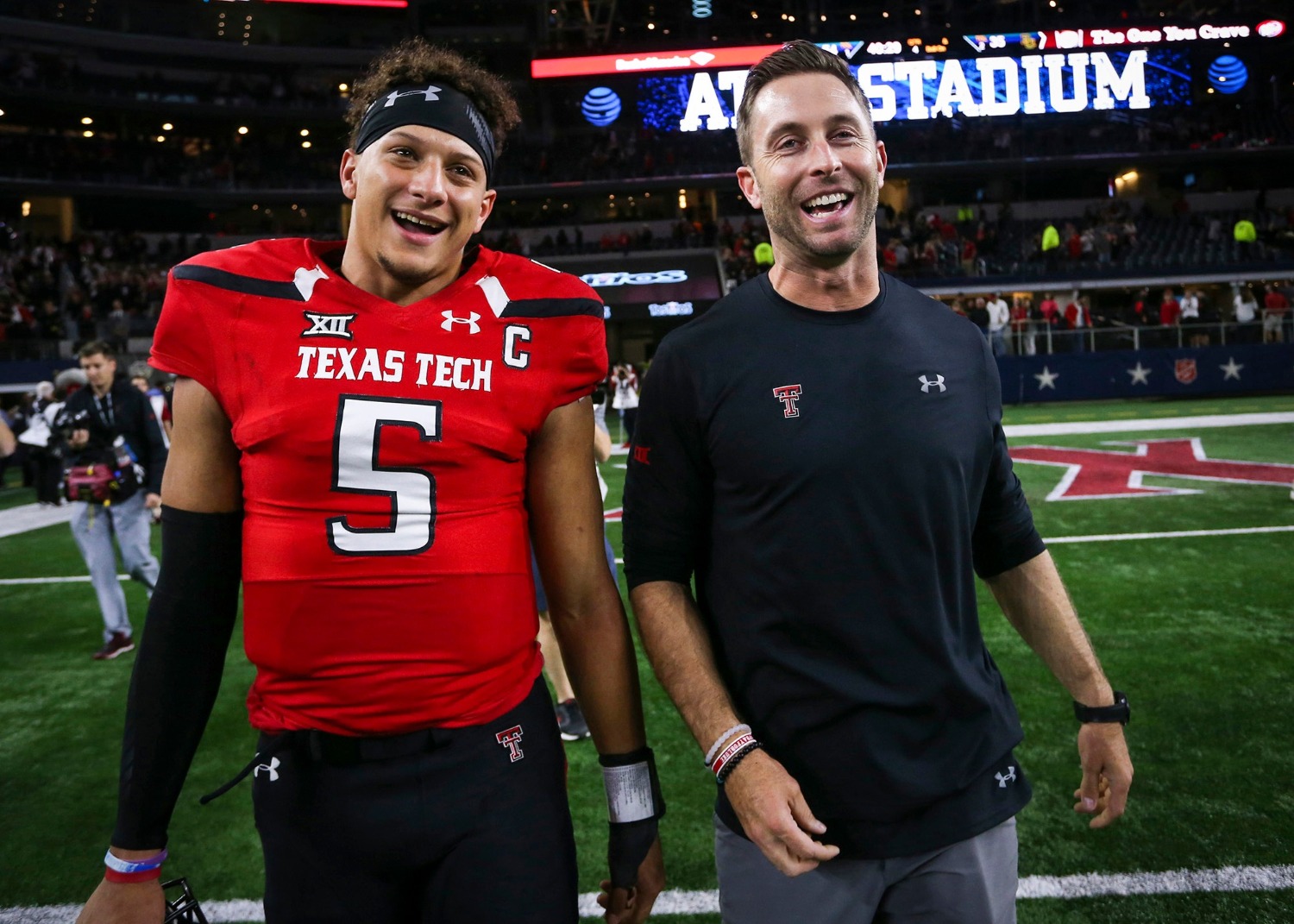 Kliff Kingsbury Made a Stunning Prediction About Patrick Mahomes' Contract Before His First NFL Start
Patrick Mahomes just made Arizona Cardinals head coach Kliff Kingsbury look like Nostradamus based on his accurate prediction from 2018.
While the rest of the NFL clearly had reservations about Patrick Mahomes coming out of college, perhaps we should have listened more closely to Kliff Kingsbury. The Arizona Cardinals head coach spent three years working with the prodigiously talented quarterback well before he became a member of the Kansas City Chiefs.
Even as Mahomes sat on the bench as a rookie, Kingsbury knew he had a bright future ahead. In fact, he made an incredibly bold prediction about his former quarterback's NFL future. And on Monday, Patrick Mahomes just made Kliff Kingsbury look like Nostradamus.
Patrick Mahomes signed a record-setting contract extension on Monday
After spending his first year holding a clipboard for Alex Smith, Mahomes took over as the Chiefs' starting quarterback in 2018. While he entered the season with plenty of buzz, he obliterated expectations from the get-go. Sixteen games later, the 6-foot-3, 230-pound gun-slinger became just the second QB in NFL history to throw for 50 touchdowns and 5,000 yards in a season.
Though he took a step back statistically in 2019, Mahomes elevated his game in the playoffs. The kid drafted eight picks after Mitch Trubisky showed everyone why they made a mistake passing on him in the 2017 NFL draft. Mahomes led the Chiefs to their first Super Bowl victory in half a century and entered the offseason primed for a big payday.
Following months of speculation, the Chiefs finally locked up their franchise player to an industry-changing contract. Mahomes signed a 10-year, $477 million contract extension that includes another $26 million in incentives. That means the reigning Super Bowl MVP can make up to $503 million through the 2031 season.
And by scoring the largest contract in sports history, Patrick Mahomes just made Kliff Kingsbury look like a very smart man.
Kliff Kingsbury looks like Nostradamus
If anyone should have the inside scoop on Mahomes, it's Kingsbury. After all, Tom Brady's former backup coached the uber-talented QB for three years at Texas Tech. And while the two failed to lead the Red Raiders to a national title, they became attractive commodities to the NFL.
So when Kingsbury watched his former QB land with the Chiefs, he knew Mahomes had a bright future ahead. But based on his 2018 prediction from before No. 15 ever took over starting duties, Kingsbury looks like the modern-day version of Nostradamus.
In an appearance on the ThomaHawk podcast hosted by former NFL players Joe Thomas and Andrew Hawkins, Kingsbury offered an insanely accurate prediction on how Mahomes' career would play out.
"His arm talent is the best I've ever seen as far as just being able to throw from different platforms, different angles, off-balance. So I think the sky's the limit," Kingsbury said. "I got to watch him three years in practice and he just made throw after throw. I truly believe he'll be the highest-paid player in the history of the game when his contract comes up. He's that good."
Well, it looks like Kliff Kingsbury nailed that take. But will Mahomes live up to his record-setting extension? And what does his deal mean for the long-term future for the Chiefs?
Will Mahomes turn the Chiefs into the NFL's next dynasty?
With the best player in football locked up for 10-plus years, the Chiefs have an opportunity to become the NFL's next dynasty. Of course, Mahomes has gone about it a little differently than Tom Brady.
However, the Chiefs actually made out well on the deal. So where does this leave Kansas City moving forward?
On paper, Andy Reid's squad boasts the best offense in the NFL. Mahomes has a diverse cast of young, fast weapons, highlighted by Tyreek Hill and Travis Kelce. Throw in Sammy Watkins and Mecole Hardman and you have a terrifying array of pass-catchers. Plus, rookie Clyde Edwards-Hilaire should excel as a dual-threat back in Reid's scheme.
It's difficult to imagine a team having the personnel to match up against those talented targets. Of course, the Chiefs will have to stop opposing offenses, which could get difficult if star defensive tackle Chris Jones gets traded. But with Tyrann Mathieu and Juan Thornhill at safety and Frank Clark up front, the team still has some top-end talent on defense.
Ultimately, Patrick Mahomes has already led the Chiefs to a Super Bowl victory in just his third NFL season. If he lives up to the hype that Kliff Kingsbury and many others have placed upon him, don't be surprised to see the Chiefs dominate for a decade as the NFL's next dynasty.