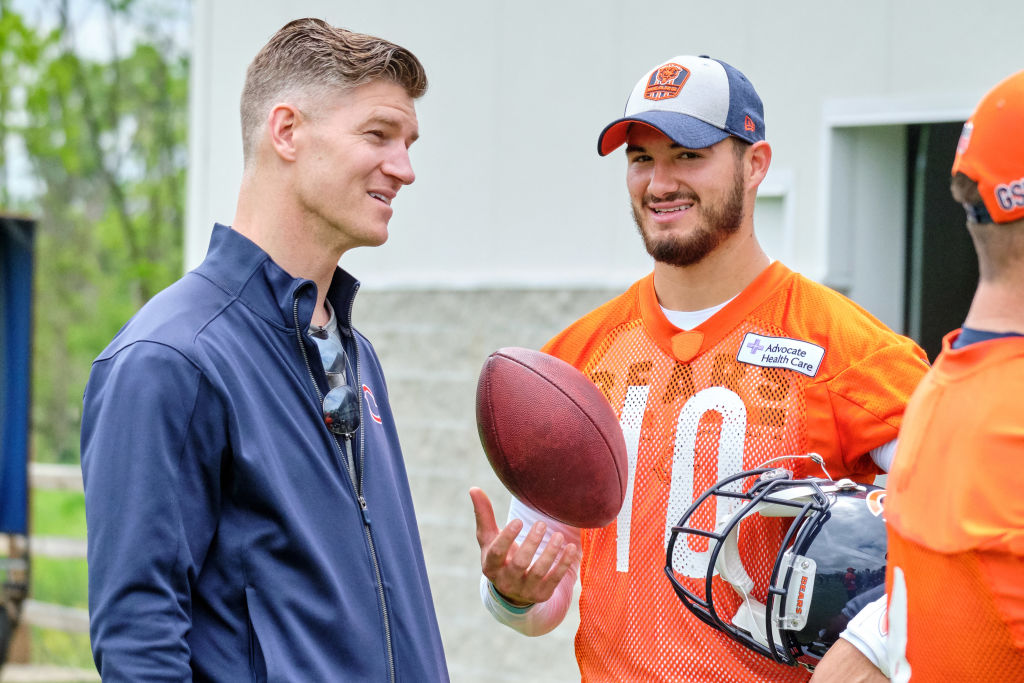 Ryan Pace's Arrogance Cost the Bears $62 Million
Chicago Bears general manager Ryan Pace blew $62 million on three quarterbacks who have massively failed to live up to expectations.
Finding a franchise quarterback should be the No. 1 priority for any NFL general manager. But there comes a point where you must re-evaluate your methods and practice fiscal responsibility. Apparently Chicago Bears GM Ryan Pace missed that memo.
Since taking over as the head personnel man for one of the NFL's most historic teams, he's managed to arrogantly blow through $62 million and a boatload of draft picks in search of a franchise QB. Yet, the Bears passed over Patrick Mahomes and Deshaun Watson and still don't have a real quarterback. And with another bone-headed trade, Ryan Pace has overtaken Bill O'Brien as the worst GM in the NFL.
Ryan Pace wasted $16 million on four games of Mike Glennon
Bears fans suffered through nearly a decade of disappointment from Jay Cutler. So when Ryan Pace came on board as GM in 2015, it represented a fresh start for a franchise that had gone years without a legit QB1. Let's just say Pace's first quarterback acquisition didn't work out so well.
Despite losing his job to Jameis Winston in Tampa, Mike Glennon somehow secured a three-year, $45 million deal from the Bears. That contract included $18.5 million guaranteed—a startling number for a quarterback who had spent the last two seasons on the bench. Still, that didn't preclude Pace from dishing out a huge chunk of cash for the 6-foot-7 signal-caller.
Ultimately, the Glennon signing proved to be a terrible investment. The veteran opened the season as the starter and went just 1-3. Glennon tossed five picks and registered an ugly quarterback rating of 76.9. Just one year into his deal, the disappointing free-agent signing found himself back on the market. Of course, the Mike Glennon story can't be told without mentioning another one of Ryan Pace's handpicked quarterbacks. And in this case, the NFL's most embarrassing GM made an inexcusable draft-day trade for a quarterback whose Bears career will likely end after this season.
Bears GM inexplicably traded up to draft Mitchell Trubisky ahead of Patrick Mahomes and Deshaun Watson
Even after signing Glennon just months before to a starter-level contract, Ryan Pace doubled down on his efforts in the 2017 NFL draft. That's not the problem. After all, Glennon was far from a sure thing. And as Aaron Rodgers taught us, even first-round quarterbacks benefit from developing on the bench before assuming the starting role.
However, Pace's 2017 draft-day disaster should serve as a cautionary tale for future GMs. His arrogance and complete ineptitude at both scouting and understanding the value of draft picks has literally cost the Bears millions. Chicago entered the draft with the No. 3 overall pick. After the Cleveland Browns took Myles Garrett with the No. 1 pick, the Bears traded their 2017 third- and fourth-round picks, plus a 2018 third-rounder to move swap spots with the San Francisco 49ers.
Pace not only wasted valuable draft capital to move up one spot ahead of a team that ultimately took a defensive lineman but he also managed to choose the wrong quarterback. With Patrick Mahomes and Deshaun Watson on the board, he inexcusably took Mitchell Trubisky. While the two QBs Pace passed over displayed dazzling talent in college, Trubisky had started just one year at North Carolina after spending years on the bench behind a quarterback who didn't even get drafted.
Pace traded for Nick Foles and his bloated contract this offseason
The sins of Ryan Pace's arrogance resulted in the Bears passing over the next Tom Brady and another equally fascinating talent in Watson. Now, if Trubisky had developed into even a solid starter, the Chicago GM could defend the move. But literally no one can stand in his corner today.
In three years with the Bears, Trubisky has started 41 games and thrown just 48 touchdowns and 29 interceptions. He's barely topped 3,000 passing yards in each of the past two seasons, and he actually regressed mightily from a decent second season. Even Pace finally realized his error by declining to pick up Trubisky's fifth-year option. However, assuming the Bears move on from the former No. 2 pick after the 2020 season, Trubisky will have made $29 million as one of the biggest NFL draft busts of all time.
To make matters worse, Ryan Pace demonstrated he has no place being an NFL GM this offseason by bailing out the Jacksonville Jaguars. Pace traded a fourth-round pick for Nick Foles, who lost his starting job to sixth-round pick Gardner Minshew. And although Foles restructured his expensive contract, the Bears still owe him $17 million in guaranteed money.
Ryan Pace's arrogance and utter incompetence cost the Bears two franchise quarterbacks. Instead, he blew $62 million on Mike Glennon, Mitchell Trubisky and Nick Foles. Let's see how much longer the Bears employ the NFL's worst GM.