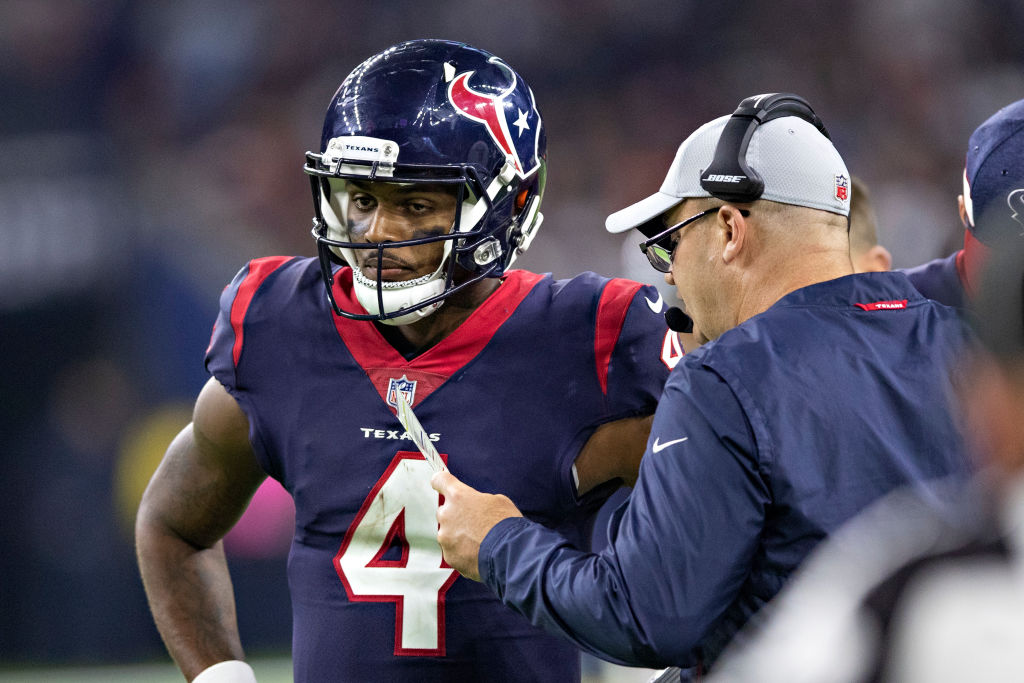 Bill O'Brien Just Destroyed Deshaun Watson's Career
Bill O'Brien managed to ruin Deshaun Watson's career this offseason. The Texans coach/GM traded away DeAndre Hopkins for a poor return.
Bill O'Brien and Deshaun Watson should have been a marriage made in NFL heaven. Unfortunately, the Texans' head coach couldn't live up to his marital vows. What a shame for an organization that finally found a franchise quarterback after years of ineptitude at the position. Even though O'Brien coaxed playoff berths out of journeyman quarterbacks, he seemed to have hit the jackpot when he landed Watson in the 2017 NFL draft.
Since that fateful pairing, the Texans have made back-to-back playoff appearances. Houston's 21 wins over the last two years rank fourth in the AFC behind only the Chiefs, Ravens and Patriots. Yet, instead of forging ahead, O'Brien's bizarre personnel decisions have shattered the foundation he built. Unfortunately, the power-hungry coach/GM has compromised his best player's career. And if Deshaun Watson has any hope of living up to his immense potential, he should file for divorce from the Texans sooner than later.
Bill O'Brien traded away Deshaun Watson's top receiver
Bill O'Brien already faced major questions over his in-game decision making. But essentially forcing his way into power, he made the worst trade in NFL history earlier this offseason. The Texans' shot-caller shipped DeAndre Hopkins and a fourth-round pick to the Arizona Cardinals for running back David Johnson, a 2020 second-rounder and a 2021 fourth-rounder.
There simply isn't any reasonable explanation as to how O'Brien got such a stunningly poor return. Even if Hopkins wanted a raise with three years remaining on his deal, that doesn't excuse the horrific trade return. Johnson had a terrific 2016 campaign, but the former third-round pick has never come close to repeating that success.
On the other hand, Hopkins has annually ranked as one of the NFL's top receivers since the Texans took him with the 27th pick in 2013. Despite spending the early portion of his career with lackluster quarterbacks, he still put up monster numbers as the clear-cut WR1. Sure, his receiving numbers dropped last year from 115 catches, 1,572 yards and 11 TD in 2018 to 104/1,165/7, but that doesn't explain why O'Brien couldn't fetch fair market value in a trade. Trading his favorite target for pennies on the dollar should signal to Watson that O'Brien is not the right long-term fit.
Texans coach mortgaged the future with Laremy Tunsil deal
Of course, the Hopkins trade fiasco wasn't the first puzzling move O'Brien pulled off. The Texans entered last offseason with major issues on the offensive line. Houston smartly spent its top two draft picks fortifying Deshaun Watson's protection. Yet, that didn't stop O'Brien from throwing away valuable future draft picks to patch a hole at left tackle.
Right before the start of the season, O'Brien shockingly traded two first-round picks plus a second-rounder to the Miami Dolphins in a package deal that brought back Laremy Tunsil and Kenny Stills. While Tunsil filled a glaring need, he represented a significant resource drain.
There's no doubting Tunsil's talent. But O'Brien's short-sighted move could end up costing the Texans even more in the long run. Houston won't have a first-round pick until 2022. To make matters worse, Tunsil's rookie deal expires after the 2020 season. And considering the premium price Houston paid for him, you can bet he'll expect to become the NFL's highest-paid offensive lineman. That could prove problematic given Watson himself will need a new deal.
Let's also not forget that a day after the Tunsil deal, Bill O'Brien traded away former No. 1 overall pick Jadeveon Clowney for a paltry return. Talk about mismanaging a major asset.
O'Brien's latest trade blunder
It's as if Bill O'Brien can't get out of his own way. On Thursday, he traded the 57th overall pick for Brandin Cooks. The former Los Angeles Rams receiver carries a huge contract and has dealt with five concussions in six NFL seasons. Oh, he also set career-lows across the board with 42 catches, 583 yards and two touchdowns.
Houston's "leader" clearly has no understanding of a key part of sustained NFL success: value. Instead of using that second-round pick on a historically deep receiver class, he traded a prime asset for a declining one. That only compounds what's been an absolutely disastrous two-year run of personnel moves.
Deshaun Watson needs to save his own NFL career
So where does that leave Deshaun Watson? Well, he'll be playing out the fourth year of his rookie deal this season. Barring another O'Brien curveball, the Texans should pick up his fifth-year option and look to work out a long-term deal. But if you're Watson, can you really entrust your NFL future with a man who traded away your best receiver and burned precious resources that could have been better maximized?
Watson has the talent to compete with Patrick Mahomes and Lamar Jackson as the face of the NFL for the next decade. He's a proven winner, an excellent leader and one of the most dynamic playmakers at the position. To his credit, he hasn't come out and openly bashed his coach. But like any relationship, there are mistakes that cannot be forgiven. Maybe the power has gotten to Bill O'Brien's head. Maybe he's trying to do everything he can to outduel his former boss. Whatever his rationale is, O'Brien's string of personnel moves doesn't seem to support his most important player.
If Deshaun Watson intends on living up to his immense potential, he should refuse to sign a long-term deal with the Texans. Otherwise, he'll end up letting Bill O'Brien succeed in ruining his NFL career.