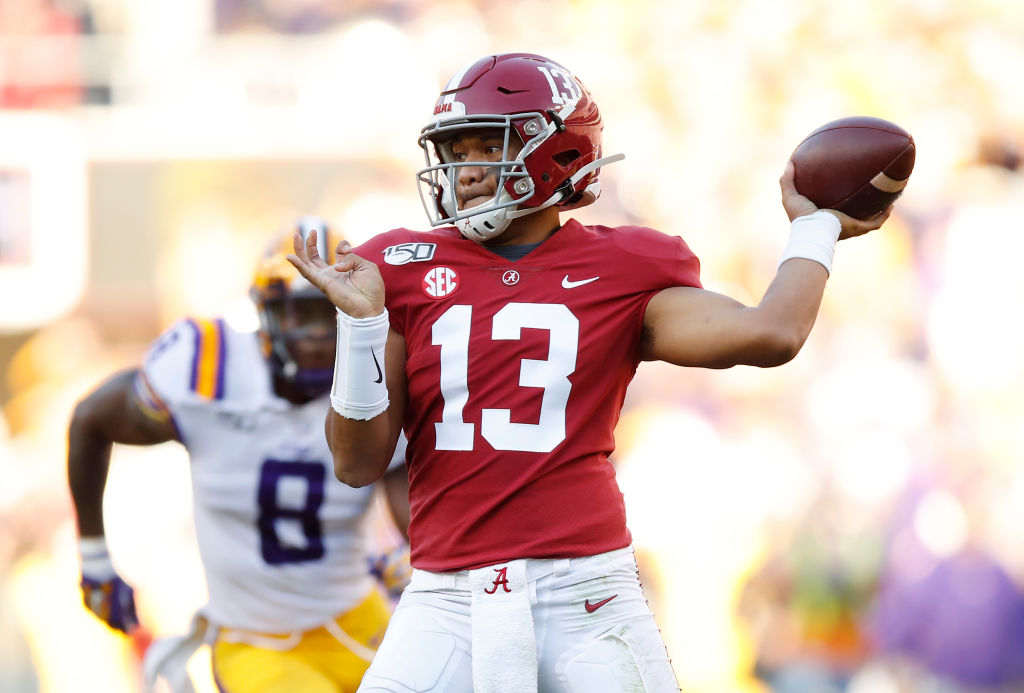 Is Bill Belichick Quietly Planning to Draft Tua Tagovailoa?
Patriots coach Bill Belichick could find his next quarterback in the 2020 NFL draft by going after Alabama star Tua Tagovailoa.
Bill Belichick is always two steps ahead. At least, that's how some people explain how the Patriots have won six Super Bowl championships over a two-decade stretch. But is the greatest coach in NFL history about to pull another shocking move out of his sleeve?
Hopefully, Belichick is hiding his NFL draft strategy in a hoodie that actually does have sleeves. The cold and calculated architect of the greatest sports dynasty could turn to a few familiar friends to help pull off a maneuver that could help ease Patriot Nation's pain over losing Tom Brady. It may be a pipedream, but no one should doubt Belichick's ability to make Tua Tagovailoa the next quarterback of the New England Patriots.
Belichick has the ideal trade partner to land Tua Tagovailoa
Currently, the Patriots hold the No. 23 pick in the 2020 NFL draft. New England does not have a second-round pick due to the Mohamed Sanu trade. However, Belichick's savvy free-agent strategy helped the Patriots land two third-round compensatory draft picks that could be utilized in a trade scenario. Speaking of trades, the Patriots certainly aren't landing the Crimson Tide star with the 23rd pick. But Belichick does have an ideal trade partner sitting in the sweet spot for Tua: Matt Patricia.
Belichick's former defensive coordinator has been a major disappointment as the head coach of the Detroit Lions. Fresh off a 3-12-1 season that saw Matthew Stafford spend most of the year on the sidelines, the Lions currently hold the third overall pick. However, assuming the Lions stick with Stafford for the foreseeable future, Patricia could capitalize on Tua's draft stock and trade down from the No. 3 pick to accumulate more draft capital.
Of course, the Patriots would likely have to include future early-round picks to make the 20-spot jump. That would be a pricey decision for the economically-driven Belichick. But let's not forget the Patriots coach/GM has a history of successful deals with Detroit. Just weeks ago, Duron Harmon got traded to Detroit while he was sitting at the dentist. In the 2018 NFL draft, the Patriots traded down in the second round with Detroit to pick up an extra selection. The two teams executed another trade that resulted in New England picking up a 2019 third-round pick.
Patriots have drafted 11 quarterbacks under Belichick
Ironically, the first quarterback Belichick ever drafted in New England was Tom Brady. The most famous sixth-round pick in NFL history remained entrenched as the team's starting quarterback for two decades. Yet, that never precluded Belichick from spending draft picks on the position.
Even though he had the greatest quarterback of all time, the defensive mastermind drafted 10 other quarterbacks since making Brady the 199th player taken in the 2000 NFL draft. Whether it was a philosophical decision or a way to keep Brady on his toes, Belichick actually drafted a quarterback about every other year throughout Brady's time in Foxborough.
Rohan Davey arrived in 2002 before future Arizona Cardinals head coach Kliff Kingsbury got drafted a year later. Matt Cassel became a seventh-round pick despite never throwing a touchdown pass in college. Considering he led New England to an 11-5 record in 2008, it's safe to say Belichick knows a thing or two about scouting QBs.
Of course, the Patriots drafted Jimmy Garoppolo in the second round of the 2014 draft. And while he never succeeded Brady, he definitely put pressure on the veteran to push himself to new limits. New England did draft Jarrett Stidham in the fourth round last year, but the former high-profile recruit is largely an unproven commodity. And with long-time backup Brian Hoyer as the only other quarterback on the roster, it's not like the Patriots are loaded with viable options at the most important position in football.
New England could expand offense with Tua at QB
Put the cost aside of trading up to land Tua. From a pure football perspective, the prospect of adding arguably the most talented quarterback in college football is mesmerizing. For all of Brady's impressive accomplishments, his physical limitations and inability to develop a rapport with younger and newer receivers played a role in New England's regression on offense. Now, that's not to disparage the newest Tampa Bay Buccaneer. It does, however, bring to the light the wondrous possibilities of a Tua-led Patriots offense.
Nobody would confuse the former Alabama star as the next Lamar Jackson. After all, the southpaw slinger totaled just 340 rushing yards in 32 games. The 2018 Heisman runner-up does have solid movement skills and the innate ability to keep his eyes downfield when eluding pressure. The 6-foot-1, 218-pounder utilized his arsenal of talented receivers to push the ball downfield with ease. Tua averaged a robust 10.9 yards-per-attempt at Alabama—the highest mark in NCAA history.
With Tua behind center (or in the shotgun), New England could diversify its offensive attack and utilize more rollouts, screens, and deep play-action passing that caters to his strengths. He may actually be a better fit for 2019 first-round receiver N'Keal Harry, who never got on the same page with his Hall of Fame QB.
For all we know, Belichick may already have his quarterback of the future in Stidham. Maybe the Patriots will surprise everyone and sign Cam Newton. Or maybe, just maybe, Bill Belichick will push all chips to the middle of the table and go all-in on drafting Tua Tagovailoa.