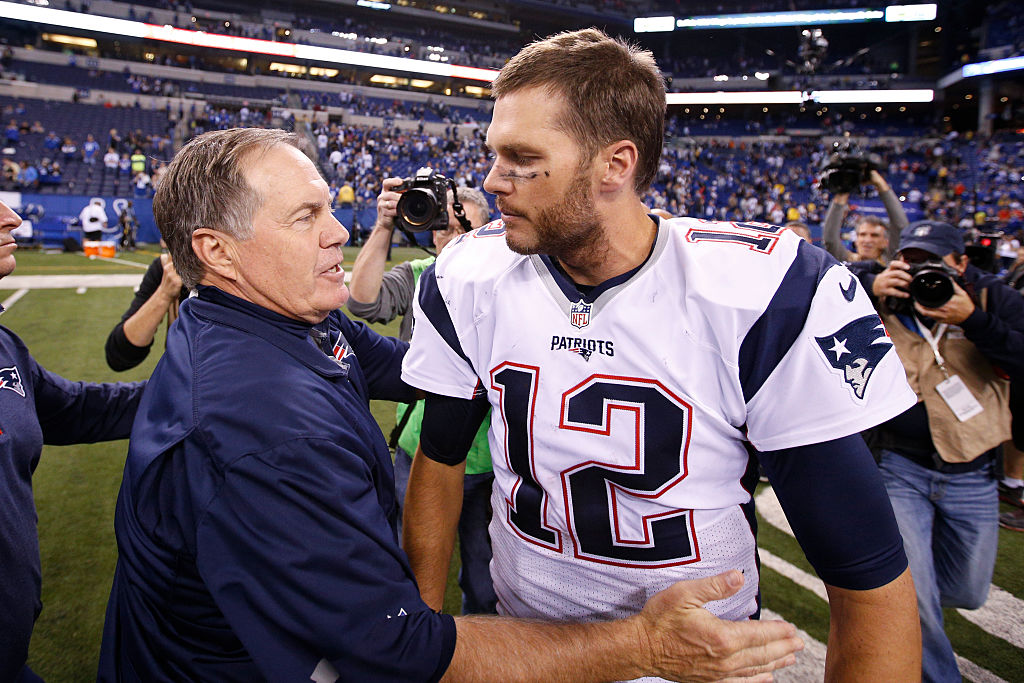 Bill Belichick Almost Moved Tom Brady Before the NFL Trade Deadline
Bill Belichick has never been afraid to make a bold trade. Before he shipped Jimmy Garoppolo the the 49ers, he tried to trade them Tom Brady.
Bill Belichick has never been afraid to make difficult decisions. After all, this is the same coach who cut a team captain right before the season opener. This is the same coach who traded Richard Seymour, Logan Mankins and Chandler Jones. And this is the same head coach who traded Jimmy Garoppolo for just a second-round pick.
But if it were up to Belichick, the New England Patriots would never have moved on from the budding star. In fact, according to Bleacher Report's Matt Miller, the greatest head coach of all time tried to trade the greatest quarterback of all time to San Francisco before the 2017 NFL trade deadline.
And while Tom Brady ultimately won the power struggle, his recent departure only highlights what was a very complicated situation. New England once boasted three starting-caliber quarterbacks on its roster in the fall of 2017.
All of them are gone.
Tom Brady never got assurances of his future with the Patriots
When the Patriots selected Jimmy Garoppolo in the second round of the 2014 NFL draft, it definitely qualified as a mild surprise. In Belichick's time in New England, he had never spent such a premium draft pick on the quarterback position. However, Tom Brady's quarterback rating dropped from in three straight seasons, bottoming out at 87.3 in 2013. There certainly was reason to wonder whether the then-36-year-old was approaching the proverbial cliff.
With the talented Garoppolo nipping at his heels, Brady experienced a career resurgence. He rebounded with 33 touchdowns in 2014 and beat the Seattle Seahawks in Super Bowl XLIX—with some help from Malcolm Butler. But after watching Garoppolo impress during his Deflategate suspension, Brady stormed back, played at an MVP level, and led the greatest comeback in Super Bowl history against the Atlanta Falcons.
Despite winning two titles in three years, Brady never received a lucrative, long-term deal that guaranteed his starting job. And with Garoppolo showing he was ready to play, the Patriots entered the 2017 season with Brady, Garoppolo and Jacoby Brissett all in one quarterback room. Something had to change.
Bill Belichick offered Tom Brady to the 49ers
The Patriots had an enviable quarterback situation in 2017. Brady was seemingly entrenched as the starter. Garoppolo was in the final year of his rookie deal and appeared ready for primetime. Brissett even showed flashes of starting ability the year before.
Despite boasting a bounty of QB talent, Belichick sold low on two assets. First, he traded Brissett to the Indianapolis Colts for disappointing receiver Philip Dorsett. That trade alone made little sense considering the team had just spent a third-round pick on the QB the year prior.
More importantly, though, Belichick faced one of the most difficult decisions of his career. But according to Miller, instead of taking the 49ers up on their request for Garoppolo, Belichick actually offered to trade Brady. Other versions of the trade story have circulated for years. But Miller's report is the first to have stated that Belichick initiated the Brady proposal.
Patriots owner Robert Kraft apparently stepped in. Garoppolo, who seemed like the perfect successor, got shipped across the country instead of Brady.
Tom Brady outlasted Jimmy Garoppolo and won another Super Bowl
The 2017 season didn't end well for the Patriots. Belichick mysteriously benched Butler in the Super Bowl and New England lost despite a record-setting night by Brady. That offseason, the team gave Brady a new contract that expired after the 2019 season.
Ultimately, Brady and Belichick got back to their winning ways in 2018. Even with a past-his-prime Rob Gronkowski lumbering down the field, New England rode its defense to a sixth Super Bowl championship. Of course, Brady failed to hit any of the performance-related incentives in his updated contract.
Once again, Brady and Belichick got locked in a staredown last offseason. In exchange for an $8 million raise, Brady earned the right to hit free agency after the 2019 season.
And as we know, the greatest quarterback of all time finally got his freedom. After 20 years as the face of the Patriots, Brady will finish his career with the Tampa Bay Buccaneers. But if it had been up to Belichick, Brady would have been gone years ago.