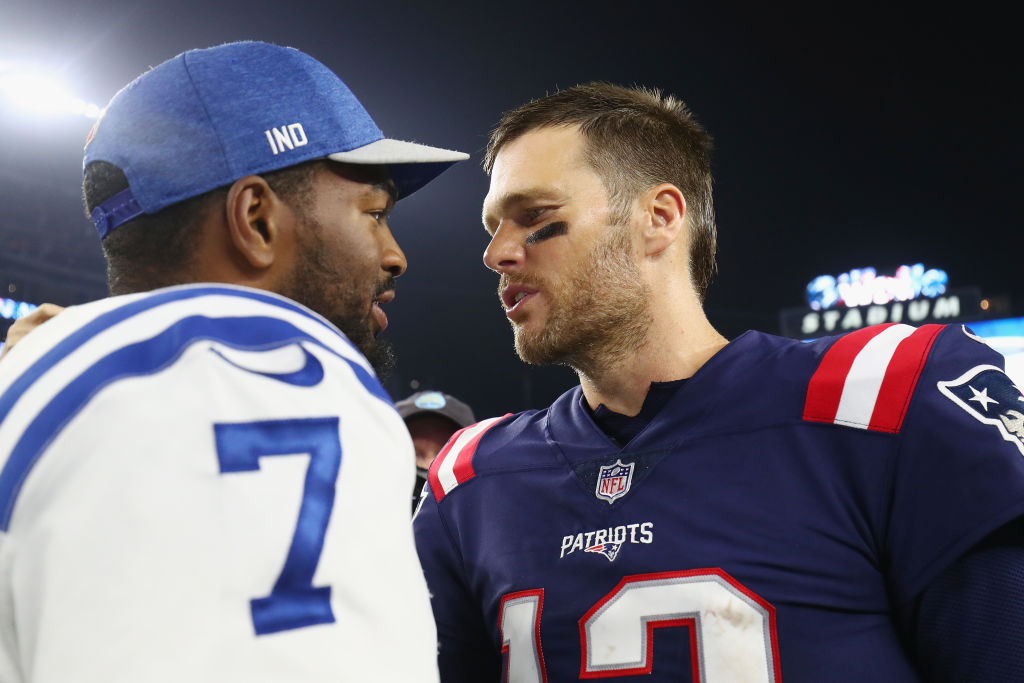 Which Veteran Quarterbacks Can the Patriots Target to Replace Tom Brady?
The New England Patriots must find a replacement for Tom Brady. Which veteran quarterbacks could be in play?
Tom Brady sent shockwaves through the NFL world and Patriot Nation Tuesday by formally announcing his departure from the New England Patriots. The six-time Super Bowl champion has been a mainstay behind center for two decades. He managed to stave off a potential succession plan once, but the Patriots don't seem quite as prepared this time.
While attention pivots to second-year quarterback Jarrett Stidham, there's little to suggest he's ready to take over this season. If Bill Belichick believes the kid is ready, then he should get every opportunity to win the starting job. But if the Patriots decide to go with a veteran quarterback in 2020, here are five names that should be on their radar.
Andy Dalton, Cincinnati Bengals
Armed with the first overall selection, the Bengals have all but confirmed they're taking LSU quarterback Joe Burrow. That leaves veteran Andy Dalton looking for a new home in 2020. While he has never taken the step into elite status, the 2011 second-round pick has been more than serviceable. When surrounded by a solid cast of weapons, he has actually been even better than that.
Unless Cincinnati releases their long-time starter, the Patriots will have to make a trade. New England does not have a second-round pick due to the Mohamed Sanu trade. However, they do have a trio of third-rounders that could be utilized to acquire Dalton. It wouldn't be the flashiest move, but Dalton would be an ideal bridge quarterback until Stidham is ready.
Derek Carr, Oakland Raiders
Another starter who could be on the trading block, Derek Carr watched his team sign former second overall pick Marcus Mariota early in free agency. Though neither player has lived up to expectations, both have flashed above-average starting production. Carr and head coach Jon Gruden don't have the closest relationship, and it wouldn't be surprising to see Gruden move on from a quarterback he inherited.
Carr only has one winning season in six years as a starter and that came all the way back in 2016. He does do a good job protecting the football (just 62 interceptions in 94 games), and he just set a career-high in completion percentage (70.4). Those traits would serve him well in New England's timing-based system. Carr currently has three years remaining on his five-year, $125 million contract he signed in 2017.
Jacoby Brissett, Indianapolis Colts
Once one of Brady's backups, Jacoby Brissett could end up being his successor. New England traded the 2016 third-rounder to Indianapolis in exchange for Philip Dorsett. The wideout was a limited contributor in three seasons.
On the other hand, Brissett started 15 games in 2017 and ended up taking over when Andrew Luck abruptly retired last summer. Unfortunately, injuries played a factor in Brissett's disappointing 2019 campaign that included just 18 touchdowns and a paltry 6.6 yards per attempt. Perhaps the Patriots believe their former backup can step in as a bridge piece due to his knowledge of the system.
Blake Bortles, Free Agent
Patriot Nation might go up in arms if the next starting quarterback is Blake Bortles, but it could be a possibility. Belichick and the Patriots reportedly graded him highly ahead of the 2014 NFL draft. And in the past, Bortles has played very well against New England. He nearly led Jacksonville to an upset in the 2017 AFC Championship before Stephon Gilmore saved the day.
Bortles has all the physical tools to be a successful starter. Yet, he never developed enough accuracy, consistency or decision-making skills to become the franchise quarterback the Jaguars hoped for. Bortles spent the 2019 season as Jared Goff's backup but is now available to sign. If Belichick manages to turn Bortles into a capable starter, the rest of the league might faint.
Jameis Winston, Free Agent
This option has the most upside but also significant downside. Jameis Winston certainly doesn't lack arm talent. However, his penchant for turnovers and his mental maturity make him a questionable fit in New England. The former top overall pick watched his team commit to Brady on Tuesday, so he will now need to look for a place to restart his career.
Belichick would have to pull off one of his greatest coaching jobs of all time to save Winston. The former Florida State star may just elevate his game in a more demanding environment. He could also flame out quickly and fail to buy in to Belichick's no-nonsense, business-first approach. But if he wants a chance to work on his weaknesses, compete for a Super Bowl title and rehab his value, Winston may find a home in New England.