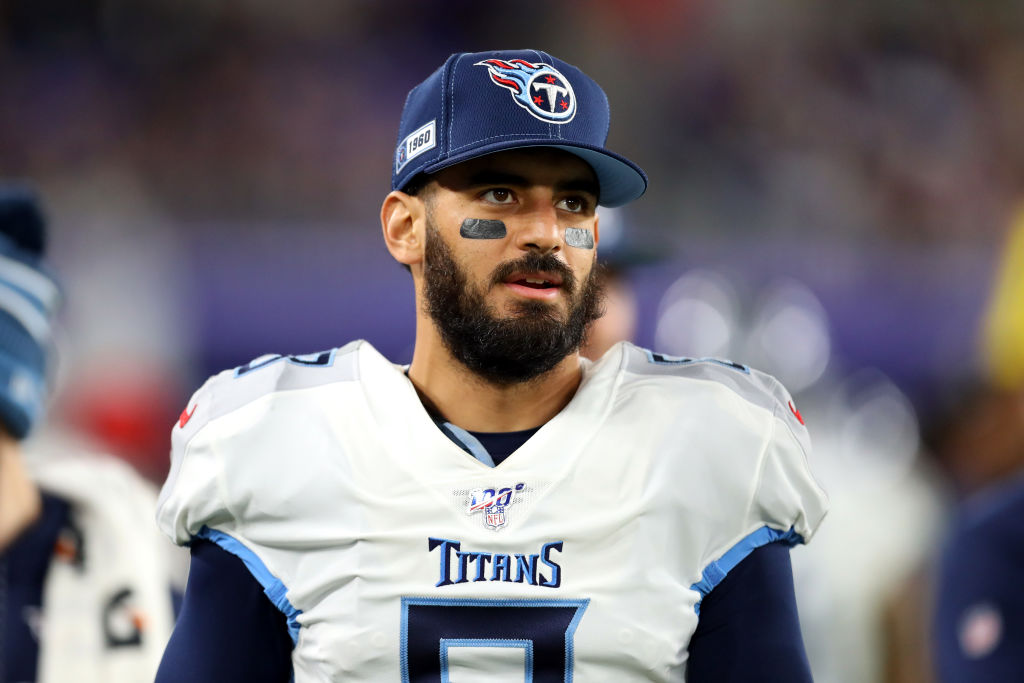 Mike Mayock Finally Got His Man In Marcus Mariota
On Monday, the Las Vegas Raiders reportedly came to terms with Marcus Mariota. General manager Mike Mayock finally got his man.
For much of the offseason, the Las Vegas Raiders were linked to one specific quarterback: Tom Brady. We now know that the veteran QB won't be heading to Sin City, though. On Monday, news broke that general manager Mike Mayock finally got his man; the team has reportedly come to terms with Marcus Mariota.
Although the deal may seem like it came out of left field, it has actually been a long time coming. Mayock, it seems, has had his eye on Mariota for years.
Marcus Mariota's road to joining the Las Vegas Raiders
During high school, Marcus Mariota garnered his attention with both his quarterback play and his raw athleticism. At Oregon, he continued to make waves.
Mariota redshirted his season in Eugene and then took over the starting job. Over the next three campaigns, he led the Ducks to a 36-5 record; as a senior, he passed for 4,454 yards and 42 touchdowns, en route to a loss in the College Football Playoff National Championship and the Heisman Trophy.
The Tennessee Titans selected Mariota with the second overall pick of the 2015 NFL draft; while he showed potential as a rookie and posted a strong 2016 season, but never managed to take his game beyond that level. With each passing season, his passing numbers fell. Injuries and changes of offensive scheme took their toll until he lost the starting job to Ryan Tannehill in Week 6 of the 2019 campaign.
It now seems like the quarterback will get a fresh start, though. On Monday, news broke that he agreed to terms with the Las Vegas Raiders.
Mike Mayock has wanted Marcus Mariota for a long time
While we might not know how the deal to bring Marcus Mariota west went down behind the scenes, one thing is clear: Raiders general manager Mike Mayock has had his eye on the quarterback for quite some time.
During Mariota's NFL draft year, Mayock was still working for the NFL Network as their lead draft analyst. At the time, he said the Ducks' QB, not Jamies Winston was actually the best quarterback available.
While Mayock couldn't dispute Winston's raw athleticism, he believed that Mariota could thrive if placed in the right situation. "I appreciated what he's been asked to do in their version of the spread offense. He reads combination routes. He takes tremendous care of the football and he wins games," the current Raiders general manager said at the time. "He's not as natural a thrower, but in the correct scheme, I think he can be productive."
Mayock must believe that the Raiders, who run Jon Gruden's modified West Coast offense, have the right scheme for Mariota.
Don't expect an immediate switch, though
During the NFL offseason, it was easy to write off Gruden and Mayock's comments about Derek Carr as empty posturing. After Monday, however, it seems like the Raiders won't be making an immediate change under center.
If the club wanted to go out and go big game hunting, they would have done so. That means Mariota will likely start the season as a back-up, waiting to step in if Carr falters. In a way, he'll try to do what Ryan Tannehill did last season; come in, learn the team's system, and seize the opportunity that's presented to him.
Signing a second-string quarterback might not be a sexy move, but Mike Mayock finally got his man in Marcus Mariota. Now, it's time to see how he helps the Raiders.