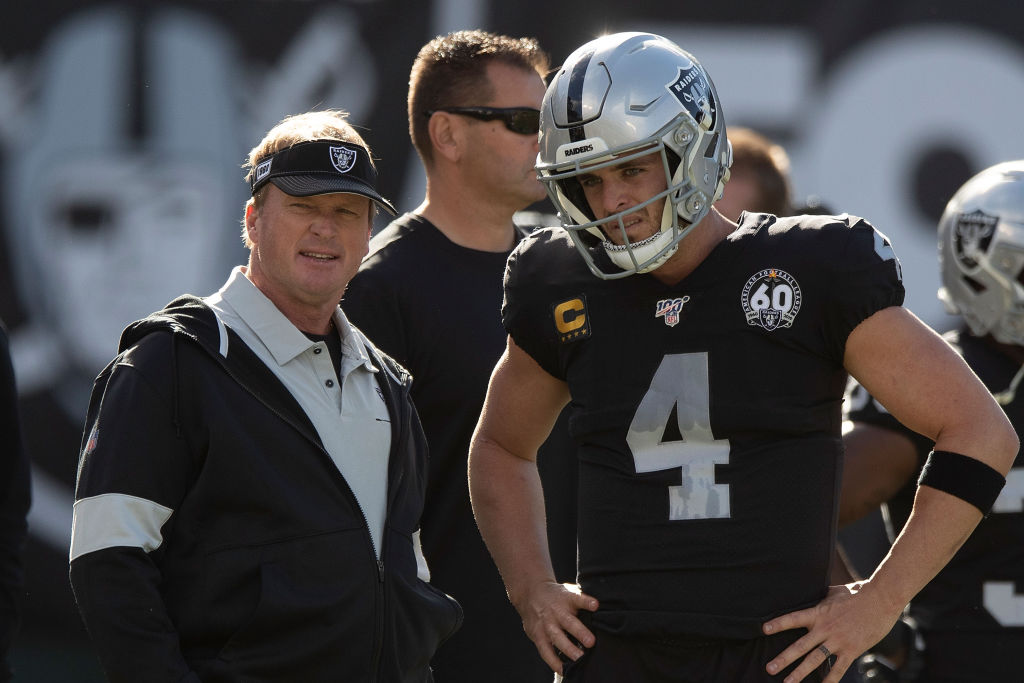 Jon Gruden and the Raiders Still Don't Sound 100% Committed to Derek Carr
The Las Vegas Raiders have Derek Carr on the roster, but Jon Gruden might not be 100% confident in his current starting quarterback.
This offseason will be a bit different for the Las Vegas Raiders. Beyond the usual activities, like preparing for the NFL draft and drawing up next season's depth chart, the organiztion will also be moving from Oakland to Las Vegas, Nevada. While that reality in of itself will shake things up, the club could also be making another change; Jon Gruden may want someone under center other than Derek Carr.
While free agency hasn't officially opened yet, there's plenty of rumors swirling around the Las Vegas Raiders. Are they really committed to Derek Carr?
Derek Carr's career with the Raiders
In 2002, David Carr became the first overall pick of that year's NFL draft. Derek, it seemed, was poised to follow in his older brother's footsteps.
In college, however, it took things didn't immediately click. Carr enrolled at Fresno State, but didn't win the starting job during his freshman season; the next year, he sat out as a redshirt. After two years on campus, Carr finally got his chance at quarterback during the fall of 2011. He threw for 3,554 yards and 26 touchdowns that year, and only continued to improve after that.
During Carr's senior season, he threw for 5,083 yards and 50 touchdowns. On the back of that performance, the Oakland Raiders selected the quarterback with the 36th overall pick of the 2014 NFL draft. Carr entered training camp as the back-up but beat out Matt Schaub for the starting job. In six seasons, however, he hasn't been able to get the club over the hump.
Other than an MVP-quality 2016 season, Carr hasn't really moved the needle in Oakland. While there's been plenty of turmoil around him, the quarterback has gone 39-55 while throwing for 22,793 yards, 143 touchdowns, and 62 interceptions; he'll have some great performances and drop some stinkers, he's a mid-tier performer.
Jon Gruden's eventual endorsement
Despite Derek Carr's improved 2019 campaign, the Raiders still finished below .500. That reality, combined with this spring's class of free-agent quarterbacks, has led to speculation that he could be replaced by Tom Brady when the team hits Vegas.
While some comments seemed to imply that the club wasn't happy with Carr, head coach Jon Gruden did his best to quiet the rumors. "Consistent on what I have said. I really think Derek is a heck of a player," Gruden told Vic Tafur of The Athletic. "And I have a lot of respect for what he has done and with some tough circumstances. So I'm not going answer every media rumor out there—just can't do it. I'm just going to listen to my Sirius rock 'n roll classic vinyl and keep working. But I love what Derek Carr did, love what he brings to our team and anxious to continue to build around him."
While you can't take anything at face value during the offseason, those comments do seem to clarify things.
Jon Gruden might not be 100% sold on Derek Carr, but will it matter?
When rumors are flying, it's hard to put too much stock in anything a head coach or general manager says. On Monday, however, we may have gained a little more clarity into the Raiders' though process.
According to NBC Sports Boston's Tom E. Curran, the team isn't planning on making a "great chase" after Tom Brady. While they'd still be open to working out a deal if the veteran quarterback came calling, they're not going to build their entire offseason around signing him. If Brady wants to move to Sin City, great; if not, the team seems to be comfortable moving forward with Derek Carr.
While the Raiders organization and Jon Gruden aren't exactly known for their sound decision making, that stance seems to make sense. Carr, for all his warts, is a competent quarterback who knows the offense. While Tom Brady might have an all-time resume, we don't know how he'd handle the transition; even if he thrives in Vegas, he's only a short-term solution.
No matter what Jon Gruden says, it seems like the Las Vegas Raiders aren't 100% sold on Derek Carr. In some cases, however, the devil you know is better than the devil you don't.