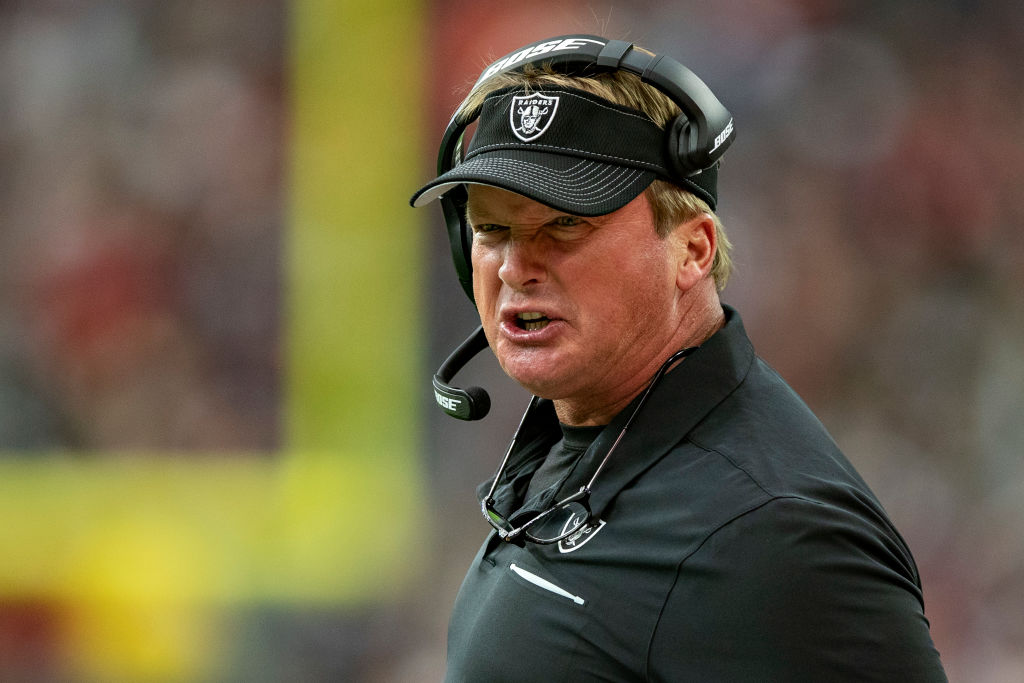 How Much Does Jon Gruden Make and Is He Overpaid?
Jon Gruden is one of the most famous coaches in the NFL. But are the Oakland Raiders overpaying him?
While it's easy to focus on the players, a head coach can make or break an NFL team. It's their job to keep things running smoothly; while the coaching staff isn't taking the field, it's their job to ensure everyone knows exactly what to do on Sunday. That crucial role is why the Oakland Raiders went big and rehired Jon Gruden prior to last season.
Gruden has been back on the NFL sidelines for about a season and a half now. Has he been worth his massive salary?
Jon Gruden's career coaching record
After his college playing career ended, Gruden headed to the sidelines, too. He spent a year as a graduate assistant at Tennessee, before spending one season at Southeast Missouri State and another at the Univesity of the Pacific.
Gruden made the jump to the NFL in 1990 when he joined the San Francisco 49ers as an offensive assistant. He then bounced through various offensive roles on several teams before taking over as Oakland Raiders' head coach in 1998.
After leading Oakland to two AFC West titles in four years while posting a 38-26 record, Gruden was traded to the Tampa Bay Buccaneers. He took over a strong squad and immediately won a Super Bowl title, but never reached the same heights as that first year in Florida; by the time he was relieved of his duties, Gruden's record in Tampa sat at an unimpressive 57-55.
While he lives on in popular culture as a great coach, Gruden's record doesn't back it up. In just over 12 NFL seasons, he's only won six more games than he's lost, racking up a 103-97 record. Furthermore, most of that success has been confined to a few notable seasons. Since winning the Super Bowl, Gruden has only finished three campaigns above the .500 mark; two of those three years, his team only finished 9-7.
How does Jon Gruden's salary compare to other NFL coaches?
After losing his job with the Buccaneers, Gruden joined ESPN as a Monday Night Football analyst. After spending several years as on TV, however, he couldn't resist an opportunity to return to the sidelines and don the silver and black one more time.
In January 2018, Gruden signed a massive $100 million, 10-year contract to return to the Oakland Raiders, giving him the third-highest coaching salary in the league.
If that salary sounds excessive, it is, even by NFL standards. The only coaches who get paid more than Gruden are Pete Carroll and Bill Belichick; neither of those men have a 10-year term, however, which is a lifetime for a football coach. Raiders owner Mark Davis felt like he had to bring Gruden back to Oakland and he accomplished that goal by making an offer no coach could refuse.
Is Jon Gruden overpaid?
While the Raiders have looked a bit better this season, it's still hard to justify Jon Gruden's paycheck.
Gruden's success came in the past, and, by all accounts, that's where his mindset still remains. He boasted about his desire to take football back to 1998, running the ball and using a fullback to full effect. While the Raiders have found success on the ground this season, it's been more due to Josh Jacobs than anything else.
While a coach might not count towards the salary cap, those contracts should still be held to a high standard. If you're paying anyone $10 million a season, you need to be getting something more than a myth of hard-nosed football and a return to the glory days. Jon Gruden isn't innovating, pushing the envelope, or even winning with consistency; those are the things you'd expect from a coach on a record-setting contract. Even if he's moving things in the right direction, he's not a $10 million man.