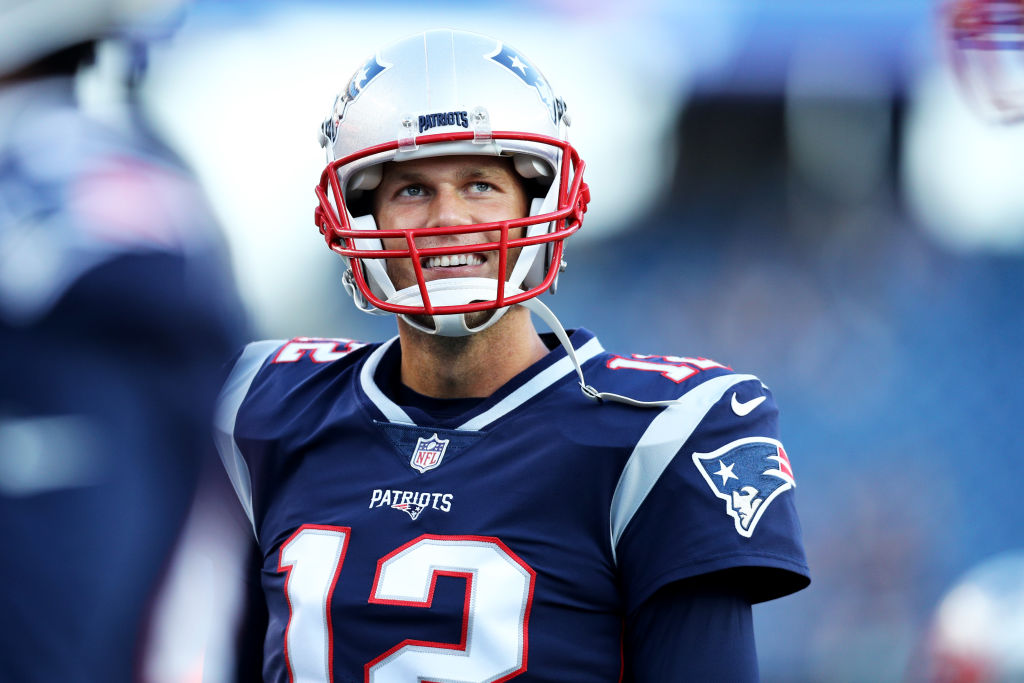 Should Tom Brady Really be Considered the GOAT?
Do Tom Brady's six Super Bowl titles automatically make the New England Patriots quarterback the greatest of all time?
Six-time Super Bowl champion Tom Brady is headed into unchartered waters this offseason, entering free agency for the first time in his illustrious 20-year NFL career.
Referred to as the greatest of all time by many, Brady enters the final phase of his Hall of Fame career with great uncertainty and there is a better-than-slight chance he might not return to the New England Patriots. We all know Brady is one of the greatest to ever play in the NFL, but can we really say Brady should be considered the GOAT?
Tom Brady has written the NFL's best resume to date
Tom Brady has never had the strongest arm, never been very mobile, but he has always been a ring collector. Brady has been the team's leader in gathering those rings as well as he has been named Super Bowl MVP four times. Brady, winner of six Super Bowls, has certainly compiled the greatest resume in NFL history.
Do those rings alone equal GOAT status?
It's fair to say Brady isn't as athletically gifted as many of his counterparts. Aaron Rodgers, Russell Wilson, and Patrick Mahomes can run circles around Brady on the field, but they don't compare to Brady when it comes to championships.
The debate will always be there. Do Brady's six rings make him better than Joe Montana, who has four, even though Montana played in a much tougher era when the quarterback wasn't nearly as protected as he is today?
If Patrick Mahomes wins the next four Super Bowls, is Brady still better because his six rings will still be more than Mahomes' five? What justifies a player being called the GOAT?
Tom Brady has had a lot of help
How much of the Patriots' success has been because of Brady? How much of it has been because of head coach Bill Belichick? How much of it is because of the defense? It's hard to say, but Aaron Rodgers, Russell Wilson, and Patrick Mahomes haven't been paired with a coach like Belichick and multiple top-10 defenses.
Wilson has had a top-10 defense in his career and his team went to back-to-back Super Bowls during that stretch, winning one. Rodgers and Mahomes have played on teams with some porous defenses, yet both still managed to win a Super Bowl.
Brady has been blessed by playing with arguably one of the greatest coaches of all time and significant surrounding talent. The Patriots have been far from a one-dimensional team throughout Brady's career. Brady is the perfect quarterback for the perfect system. He doesn't turn the ball over, he's intelligent and he manages a great game. If Mahomes, Wilson or Rodgers were paired with Belichick and the Patriots' defense, would they have has the same success?
Tom Brady is simply a winner
The goal in the NFL is to win a Super Bowl and no quarterback has done that more than Tom Brady. He is without question at the top of the conversation when the topic of greatest quarterback or greatest NFL player of all time comes up.
Back in 2017, Brady took over the record for most wins by a quarterback. Add that to his six Super Bowl titles and his legacy seems to be cemented as the NFL's GOAT. Or is it?
One thing is for sure and that is Tom Brady is the greatest winner of all-time in the NFL. So, just to be safe, let's call him the GWOAT.