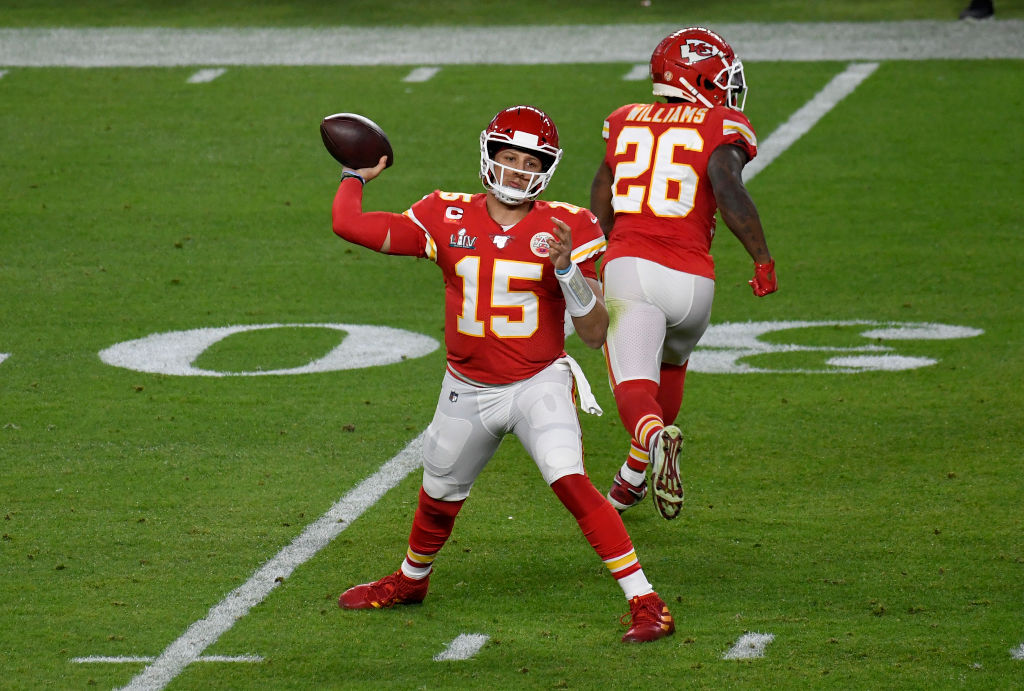 Patrick Mahomes Knows He Can Get Better at Doing This
Kansas City Chiefs quarterback Patrick Mahomes is one of the NFL's top stars, but he still thinks he can improve this offseason.
Even if you hate the Kansas City Chiefs, it's hard to say anything bad about Patrick Mahomes. In his two seasons as an NFL starter, the young quarterback has established himself as one of the league's must-watch players; no matter the situation, he's capable of producing a bit of Mahomes Magic to get his team out of a jam. That doesn't mean he's perfect, though.
While he's already lifted his first Lombardi Trophy, Patrick Mahomes isn't resting on his laurels. In fact, the quarterback still wants to improve one specific area of his game.
Patrick Mahomes' rise to football's highest heights
Growing up, Patrick Mahomes starred on the football field and the baseball diamond. Thankfully for Kansas City Chiefs fans, he chose to stay on the gridiron.
Mahomes headed to Texas Tech, where he started his football career as the backup quarterback. When sophomore year rolled around, however, he seized the starting job with both hands. The young quarterback posted 4,653 yards and 36 touchdowns in his first full season under center; as a junior, he hung up his baseball spikes to focus on football. Unsurprisingly, he posted even bigger numbers.
For decades, the Kansas City Chiefs couldn't draft a starting quarterback; that all changed in 2017. The club, of course, traded up to select Patrick Mahomes and allowed him to learn under Alex Smith for a season. Once he took the starting job, however, the Chiefs became a different team.
Trying to improve as a pocket passer
When you win the Super Bowl, you're allowed to take a little time to enjoy yourself. While Patrick Mahomes has done just that, he's also getting ready to defend his championship.
Right now, the young quarterback's focus is primarily on ensuring he's in the best possible shape for the 2020 campaign. "These first few weeks, I've really been building the injury prevention stuff—the stuff that I dealt with the ankle and the knee," he explained on Sirius XM. "I've really been getting after that and trying to make sure that I can be 100 percent going into this next season or 120 percent and ready to take on the impact of another entire football season."
Beyond that, Mahomes also wants work on standing tall in the pocket; while he's more than comfortable making plays on the run, he doesn't want to be reliant on his legs.
"As of right now, it's about my body and getting myself in the best shape possible," he continued. "As I get onto it and I start working with my quarterback coach and quarterback drills, I'll work on my footwork and work on that stuff where I can be better from the pocket and keep getting better, 'cause that's an area that I still need to improve on. If I get better there, I can extend the plays as a bonus."
Does Patrick Mahomes really need to improve in the pocket?
While no professional athlete can ever rest on their laurels, Patrick Mahomes probably doesn't need to go too hard during the offseason. Although he still hasn't played that many NFL games, he's a great passer from anywhere on the field.
Mahomes' scrambling and improvisation might grab the most attention, but he's still pretty comfortable in the pocket. According to 538, his quarterback rating is almost identical, whether he's staying under center or throwing on the run. When you're able to throw the ball as hard as Mahomes can, that will cover up plenty of sins.
While you don't want to strip Patrick Mahomes of what makes him special, better footwork in the pocket could help him take his game to an even more impressive level. During the quarterback's second season under center, he looked more composed. Rather than forcing highlight-reel throws, he accepted that every play couldn't turn into a touchdown; sometimes, there's nothing wrong with throwing the ball away or taking a short loss. Similarly, there's no reason to expose yourself to potential danger outside of the pocket if you can stand tall and throw a strike.
Patrick Mahomes might be at his best when he's scrambling and improvising, but he's no slouch in the pocket, either. If he keeps improving, the rest of the NFL should be on notice.