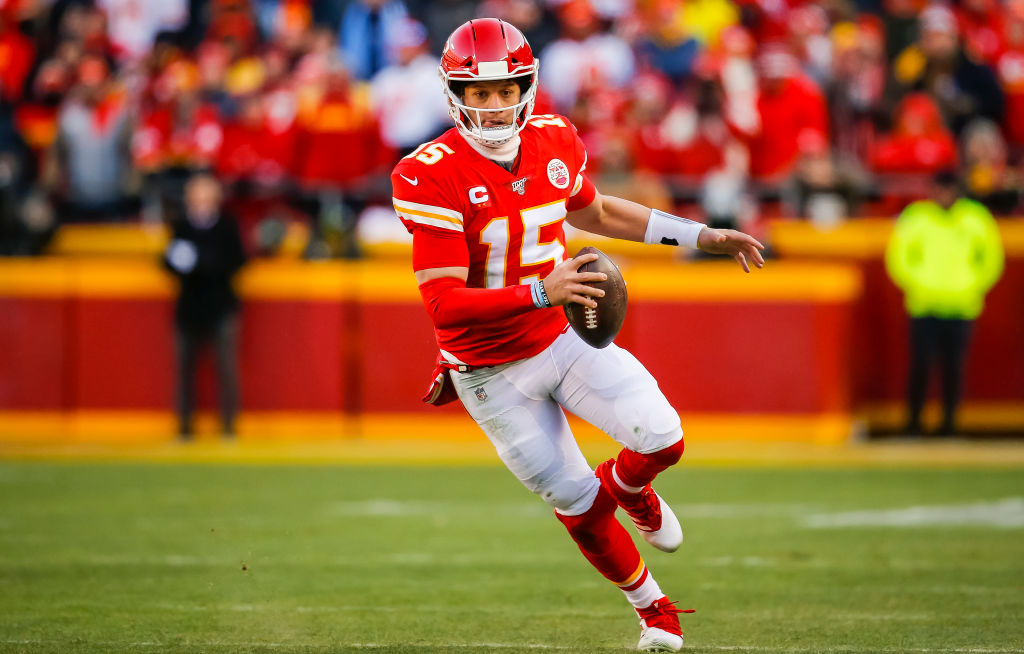 Patrick Mahomes' Mom Reveals He Almost Quit Football for Good
Patrick Mahomes has the Kansas City Chiefs within a win of NFL immortality. The quarterback, however, almost quit football for good.
On the football field, Kanas City Chiefs quarterback Patrick Mahomes can do virtually anything. Whether it's throwing bombs with the greatest of ease or leading his team to historic victories, the second-year starter seems like a superhero on the gridiron. Mahomes, however, almost quit football for good during his youth.
The quarterback's mother recently revealed that Patrick almost left the gridiron once and for all. One piece of advice, however, changed the course of sporting history.
Patrick Mahomes' time on the baseball diamond
Patrick Mahomes' father, Pat, plied his trade as a professional baseball player. As you might imagine, that meant Patrick had an early love affair with America's pastime.
In addition to spending time with his dad in Major League clubhouses, Patrick Mahomes developed into quite a pitcher in his own right. By the time he was in high school, the teenager was throwing 93 mph fastballs and blowing batters away with ease; he even threw a no-hitter, striking out 16 batters in the process. He could have had a professional baseball career, but something else got in the way.
Despite his clear talent on the diamond, Patrick Mahomes never specialized in a single sport. He played baseball, basketball, and football, eventually choosing to ply his trade on the gridiron; that decision, though, didn't come easily.
Coming this close to quitting
Today, it's impossible to think of Patrick Mahomes as anything other than a professional football player. During high school, however, he almost hung up his helmet for good.
"Before his junior year in high school, he came to me that summer wanting to quit football," Mahomes' mother, Randi, told FOX4. "But I just said you're going to regret it if you quit." That simple reminder was apparently all it took.
As Randi explained, Patrick is a winner, not a quitter. He battled through a high school quarterback competition to eventually take the starting job; as a senior, he threw 4,619 yards and 50 passing touchdowns, while rushing for 940 yards and 15 more scores. That success took him to Texas Tech, where he played both baseball and football; as a junior, however, he decided to focus on football full time. After that, the rest is history.
Patrick Mahomes is now on the verge of history
While it might sound like something out of a movie, that conversation between Patrick Mahomes and his mother proved to be a historic moment. The young quarterback has already changed the course of the Chiefs franchise; he's one win away from writing his name in franchise legend.
While the Chiefs have a rich history, that history includes a great deal of suffering. The club has found new and creative ways to botch playoff games and went three decades without drafting a quarterback capable of winning a single game. In a matter of years, Patrick Mahomes has changed all that; despite Kansas City's best efforts to choke, he's willed them to their first Super Bowl appearance in 50 years. Even if he doesn't lift the Lombardi Trophy this season, he's given Chiefs fans a fresh dose of hope and optimism.
At the end of the day, Randi Mahomes deserves some credit, too. If it wasn't for her, Patrick could be starring for the Royals, rather than the Chiefs.