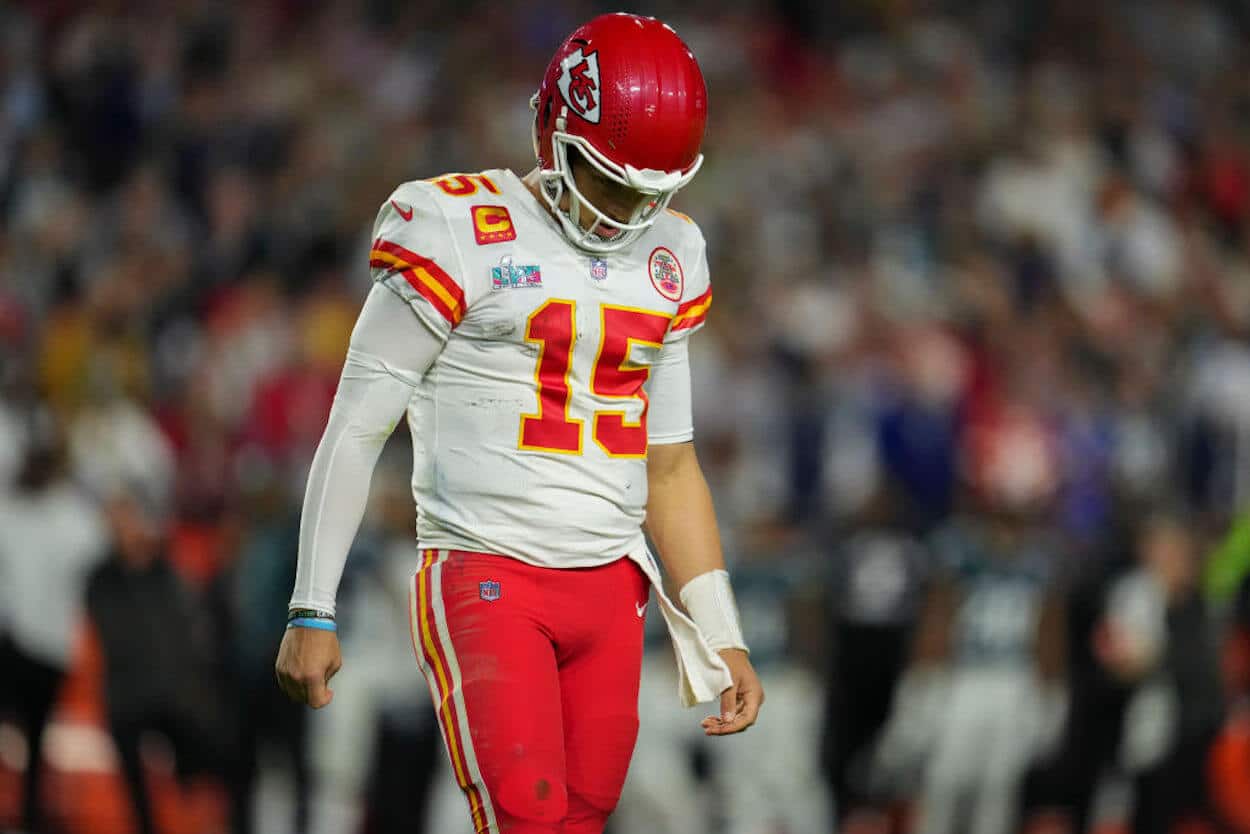 Where Did Patrick Mahomes Grow Up and Go to College?
Patrick Mahomes has become a hero in Kansas City, but he's not from Missouri. His road to stardom started a bit further south.
For years, the Kansas City Chiefs couldn't find a franchise quarterback. The likes of Trent Green and Alex Smith did a solid job, but names like Tyler Thigpen, Brodie Croyle, and Todd Blackledge won't exactly go down in glory. But on April 27, 2017, everything changed. That's when Patrick Mahomes arrived.
The signal-caller, however, didn't magically appear on the NFL draft stage. He had taken his own personal journey to the pros. Let's take a closer look at that path, including where Patrick Mahomes grew up, went to college, and grew into the star football fans know and love (or hate) today.
Patrick Mahomes grew up in Tyler, Texas, and played at Whitehouse High School
As long-time Chiefs fans will know, the franchise started out playing AFL football as the Dallas Texans. Years later, the club's savior cut his teeth in the Lone Star State.
Patrick Mahomes was born in Tyler, Texas, a city in the northeastern part of the state, on September 17, 1995. He attended nearby Whitehouse High School, where he played football, baseball, and basketball. Given that his father was a professional athlete — Pat Mahomes was a relief pitcher in both the United States and Japan — that multi-sport resume shouldn't be surprising.
The younger Mahomes, however, broke from family form by making headlines on the gridiron. He took over the starting quarterback role on the Whitehouse High team as a junior and promptly put up 3,839 yards and 46 touchdowns.
Despite those talents, though, the teenager wasn't exactly overwhelmed by college recruiters. As laid out in a 2018 Bleacher Report piece by Mike Piellucci, only three schools — Texas Tech, Rice, and Houston — made official offers. The jury is still out on whether other programs were unsure of Mahomes' fundamentals or scared off by the prospect of him playing professional baseball, but that's irrelevant now.
Patrick Mahomes had his options, and he made his college choice.
Mahomes took his talents to Texas Tech, which proved to be a perfect match
So, what actually brought Patrick Mahomes to Texas Tech? Joining the Red Raiders represented a perfect fusion of interest and opportunity.
On the coaching side of things, the young signal-caller was exactly what Kliff Kingsbury wanted under center. "Kliff, after coaching Johnny [Manziel], wanted a mobile quarterback, and Mahomes is obviously that," Tre Haverty, a Texas Tech coach who became Mahomes' area recruiter for the Red Raiders, told Piellucci. 
And from Mahomes' perspective, the school represented an exciting opportunity. Not only was he able to play big-time college baseball, but he'd get a chance to make things happen on the gridiron.
"I just remember seeing Patrick with his eyes wide-open and excited about how much they threw the ball at Tech, because we did the exact same thing in high school," Coleman Patterson, a childhood friend who played alongside Mahomes in college, recalled. "Texas Tech was kind of a no-brainer for him."
With the benefit of hindsight, it was a no-brainer for the football program, too.
Patrick Mahomes Texas Tech stats 
| Year | Games Played | Completions | Passing Yards | Touchdowns | Interceptions |
| --- | --- | --- | --- | --- | --- |
| 2014 | 7 | 105 | 1,547 | 16 | 4 |
| 2015 | 13 | 364 | 4,653 | 36 | 15 |
| 2016 | 12 | 288 | 5,052 | 41 | 10 |
While Texas Tech might have been a perfect fit, Patrick Mahomes didn't step directly into the starting job. He started out as a backup but saw some sporadic action as a freshman after Davis Webb was forced to the sidelines. He also played baseball, seeing some action as a relief pitcher.
The following season, Mahomes kept pitching and retained the starting quarterback job. His numbers understandably improved with more opportunity and experience, and the young signal-caller started to make a name for himself. The best, however, was yet to come.
As a junior, baseball fell by the wayside; it was time to focus on football. And with Mahomes focusing his undivided attention on the gridiron, things got even better. While he started one fewer game than the previous campaign, the junior threw for roughly 400 more yards, five more touchdowns, and five fewer interceptions. That was enough to earn the QB the Sammy Baugh Trophy as the nation's top passer.
It was also enough for Andy Reid, Brett Veach, and the rest of the Kansas City Chief to know they had their man.
Since then, the rest is NFL history
To take it back to where this piece began, the Kansas City Chiefs selected Patrick Mahomes with the tenth pick of the 2017 NFL draft. While that seemed like something of a gamble at the time, it's more than paid off.
Alex Smith retained the starting job for another season, but once Mahomes stepped into the breach, the franchise never looked back. Touchdowns and passing yards piled up, and, after a 50-year Super Bowl drought, two Lombardi Trophies came back to Arrowhead. Now, no deficit feels insurmountable, and every game is within reach.
And the best (or worst, depending on your perspective) news? The star quarterback isn't going anywhere anytime soon.