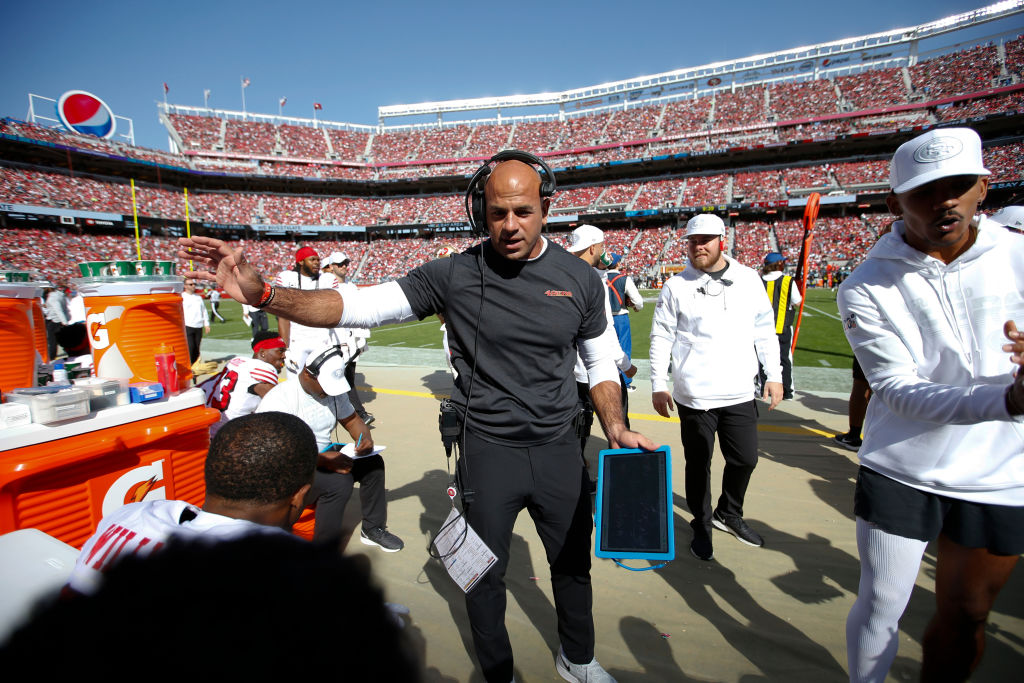 49ers Defensive Coordinator Robert Saleh Believes This is Patrick Mahomes' Biggest Strength
Stopping Patrick Mahomes and the Kansas City Chiefs offense won't be easy. 49ers Defensive Coordinator Robert Saleh knows he has his hands full.
While Robert Saleh might not be a household name, he played a key role in the 2019 NFL season. As the San Francisco 49ers defensive coordinator, Saleh masterminded one of the league's best units. He'll have his hands full in the Super Bowl, though, trying to slow down Patrick Mahomes and the Kansas City Chiefs.
While the big game might still be a week away, Saleh's preparations are well underway. The defensive coordinator recently shared his perspective on the task ahead; he knows that stopping Mahomes and company will be an uphill battle.
The 49ers defense vs. the Chiefs offense
It goes without saying that both the San Francisco 49ers and the Kansas City Chiefs are talented football teams. They each shine, however, in different ways.
While the 49ers are strong on both sides of the ball, their defense makes them an elite squad. They boast playmakers at just about every level, from Nick Bosa on the line to Richard Sherman in the secondary, and are remarkably fast; when you're trying to contain a scrambling Patrick Mahomes or track down Tyreek Hill, that speed will come in handy.
The Chiefs, on the other hand, are all about the offense. While Steve Spagnuolo's defense has stepped up down the stretch, everything in Kansas City starts and ends with Patrick Mahomes. As we've all seen in the playoffs, the young quarterback can be unstoppable; when everything is clicking, he'll throw a touchdown on every drive.
During the regular season, the 49ers had the fourth-best offense and second-best defense in terms of yards per game; the Chiefs were ranked sixth and seventeenth, respectively. While it might seem like San Francisco has the clear advantage, things won't be straight forward on Super Bowl Sunday.
Robert Saleh is impressed by Patrick Mahomes
As the San Francisco 49ers defensive coordinator, Robert Saleh has the unenviable task of game-planning for Patrick Mahomes and the Kansas City Chiefs offense. As you might imagine, that will be easier said than done.
"One, [Mahomes'] mobility is unique. His arm strength is ridiculous. He's very, very accurate," Saleh explained. "But, what I don't think people give him enough credit for is that he actually plays quarterback. There's a lot of people, there's a lot of quarterbacks in this league that will say no to number one, and then it just becomes street ball. He gets rid of the ball on time. He puts it where it needs to be. He hits a lot of throws in rhythm. And when he needs to take his shot, he knows how to buy time in the pocket and do it. So, he's a superstar in every way you can possibly imagine, and he's going to be tough to deal with."
The issues, however, don't stop there; the rest of the Chiefs offense has plenty of talent, too. "At every position, it almost looks like they got their roster from the Olympic relay team and threw them all on the football field," the coordinator continued. "Not to say they can't run routes and catch either, because they can do that. They're a special group, and you can see why they're there."
Can Robert Saleh and his defense really slow down Patrick Mahomes?
If the 2019 NFL playoffs have proven anything, it's that you can't completely stop Patrick Mahomes. Robert Saleh and the San Francisco 49ers defense, however, will give it their best shot on Super Bowl Sunday.
When the Chiefs have the ball, we'll probably see a bit of a game of chicken. Since Richard Sherman doesn't travel across the field, Kansas City will look to attack the side he isn't defending; at the same time, the 49ers pass rush will be trying to get to Mahomes and force him out of the pocket. The young quarterback is usually at his best when scrambling and improvising, but San Francisco's team speed could force him to throw the ball away more than usual.
In theory, a championship game should feature two elite squads. When Patrick Mahomes' offense and Robert Saleh's defense are both on the field, we're in for a clash of the titans.