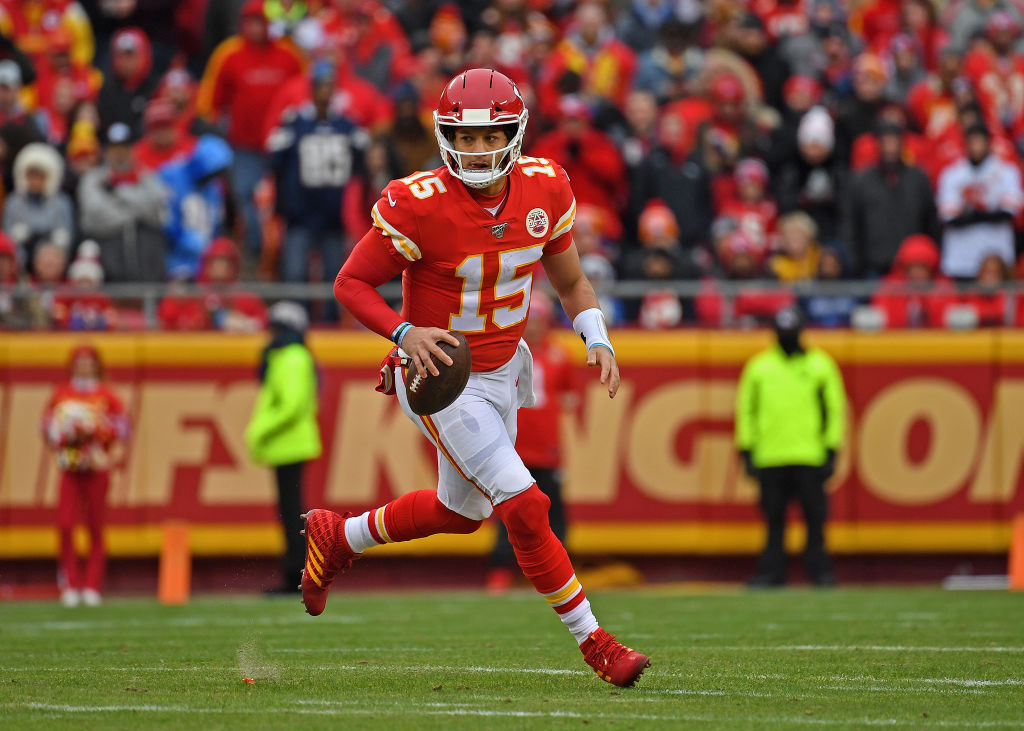 1 Stat That Explains Why Patrick Mahomes and the Kansas City Chiefs Offense are So Hard to Stop
Third and long? That isn't a problem for quarterback Patrick Mahomes and the Kansas City Chiefs dynamic offense.
While the cliche might say that defense wins championships, it's tough to argue with a potent offense. The Kansas City Chiefs know that first hand; for all of their defensive struggles, Patrick Mahomes is capable of keeping the team in any game. No matter what the down and distance is, the Chiefs' offense is always dangerous.
Mahomes and his unit specifically thrive in one difficult situation, though. That reality explains why the Chiefs are so hard to stop.
Patrick Mahomes' offensive success
Last season, Patrick Mahomes burst onto the NFL scene with a dominant offensive campaign. While his counting numbers aren't as impressive this year, the young quarterback is still an elite player.
Despite some injury issues—beyond his scary knee problem, Mahomes' battled through a bad ankle at the start of the season—the QB has still shown signs of maturation. While his touchdowns and pure passing yardage have both decreased, Mahomes has taken better care of the ball; with another year under his belt, he's simply more comfortable eating a bad play. He's less likely to try to force things downfield and has consequently thrown fewer interceptions and take fewer sacks this season.
For all of those qualifications, though, Patrick Mahomes still posted numbers that would make any other quarterback jealous. Through 14 starts, one of which was shortened by injury, he's thrown for 4031 yards and 26 touchdowns; the Chiefs finished the season 12-4, thanks in large part to his play.
Where Patrick Mahomes and the Kansas City Chiefs offense thrive
Even the most casual football fan knows that third and long is a tough situation for any offense. The Kansas City Chiefs, however, don't panic when they're facing a tough down and distance.
While the average NFL team converts on roughly 8% of third and longs, Patrick Mahomes does things a bit differently. This season, the Chiefs QB has faced quite a few third downs with more than 18 yards; he's thrown 11 passes in those situations, completing 10 of them and picking up five first downs. Mahomes also has a perfect passer rating of 158.3 when facing third and 18 plus.
That success boils down to a combination of factors. Not only are the Chiefs incredibly deep on offense—beyond Mahomes' talent, the team's receiving corps is full of speed and skill—but they practice escaping tough third-down scenarios.
"We have times in training camp where it's just third-and-long, where we're third-and-11-plus and we're working against a defense knowing they're more in the prime position they want to be in to try to get stops," Mahomes told ESPN's Adam Teicher.
How far can the Kansas City Chiefs go in the playoffs?
When you have an elite quarterback like Patrick Mahomes under center, no game is out of reach. The Chiefs will hope that their young star can carry them to the promised land.
On paper, Kansas City has a pretty favorable road to the Super Bowl and are currently the favorites to win the big game. They face the Houston Texans on Sunday, with the winner hosting the Tennessee Titans; in reality, though, no game will be easy. Both teams beat K.C. during the regular season, with Deshaun Watson and Derrick Henry running riot on the Chiefs defense.
Despite that reality, the Chiefs will always have a shot with their star under center. "As long as you're out there on the field and you have Pat Mahomes on your side, you've got a chance," Travis Kelce said. "That's the key right there."