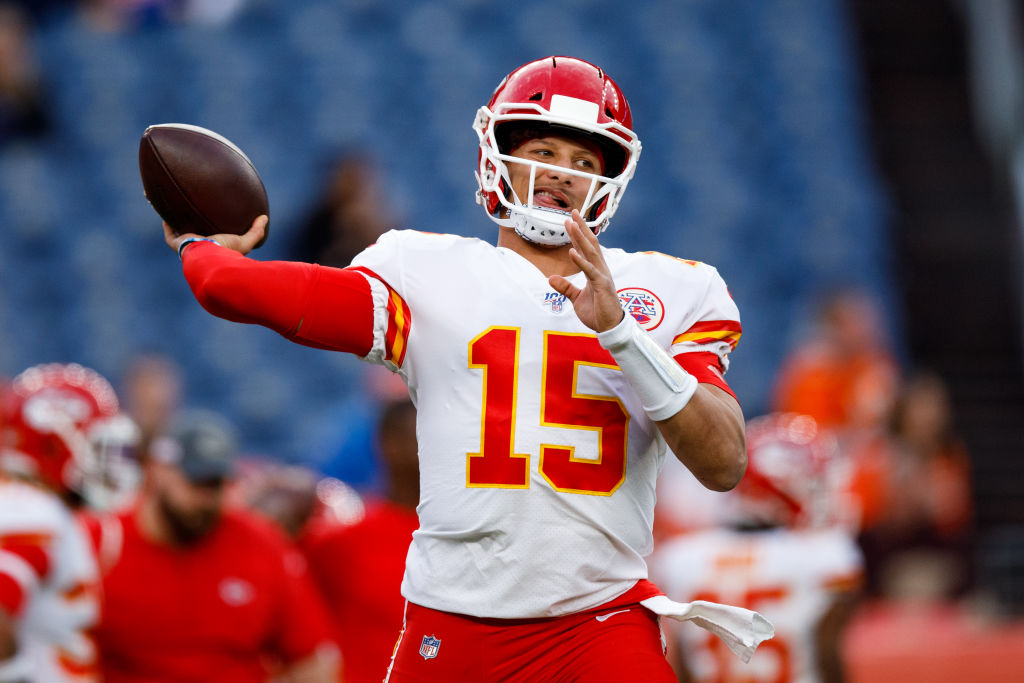 NFL: How the Kansas City Chiefs Can Defy Expectations in Patrick Mahomes' Return from Injury
After two weeks on the sidelines, quarterback Patrick Mahomes is back in action. What can you expect from the Kansas City Chiefs this afternoon?
There are certain players that every fan can't help but watch. Kansas City Chiefs' quarterback Patrick Mahomes is one of those stars. Even if you're cheering for another AFC West squad, sometimes you simply have to stop and stare at what the young signal-caller is capable of doing.
This afternoon, Mahomes looks set to make his return from a two-week layoff after a knee injury. While there will surely be a little bit of rust, you can expect big things from the Kansas City quarterback.
Patrick Mahomes' knee injury
Towards the end of October, the Chiefs paid their annual visit to the Denver Broncos. While the Thursday night game didn't look like it would be too eventful, everything changed on a simple quarterback sneak.
After carrying the ball up the gut, Patrick Mahomes remained on the ground. The quarterback was clearly in pain, and trainers appeared to pop his kneecap back into place before helping him off the field. He was diagnosed with a dislocated kneecap, and an MRI revealed that there was no structural damage to the joint.
Mahomes, who is no stranger to impressive feats, made it back to the practice field before the next game. He failed to suit up on the next two Sundays—a loss to the Packers and a win over the Vikings—but he'll be back in action today against the Tennessee Titans.
With Mahomes taking the field, there are a couple of things you can expect to see on Sunday.
Big plays from Patrick Mahomes, but only in moderation
From everything we know about Patrick Mahomes and Andy Reid, they're going to want to open it up this afternoon. Both love pushing the envelope and will want to throw at least a couple of deep balls.
Despite those urges, Reid has been around the block before, and he won't want his quarterback taking any unnecessary risks. While the Chiefs will want to see how Mahomes knee—and the ankle injury he was nursing all season—respond to a true game situation, expect to see more moderation than usual.
Reid enters each game with his first 15 or so plays scripted out; expect that series to include a couple of handoffs, combined with screens and quick-hitting passes. Not only will the coach want to get his young quarterback back into the rhythm of an NFL game, but he'll want to keep him out of trouble early. Once things have settled down, however, it wouldn't be a Chiefs game without a few deep passes.
A strong defensive performance
Yes, you read that correctly. Patrick Mahomes is returning to action, but the much-maligned Kansas City Chiefs defense should also have a solid day.
The Titans will have Ryan Tannehill under center who, despite his time on terrible teams, has always but up decent numbers in any circumstance. They also have Derrick Henry in the backfield; Chiefs fans will all remember how the running back shredded them in a playoff match-up a few years ago.
Despite that, the Chiefs defense seemed to turn a corner last weekend. They made Kirk Cousins uncomfortable in the pocket, limiting his opportunities to target Stefon Diggs. Kansas City also bottled up Dalvin Cook, who looked poised to run riot at Arrowhead Stadium
Some analysts, like Tedy Bruschi, have suggested that winning without Mahomes helped the Chiefs defense believe that they can make plays and win a game. If that's the case, they'll want to use that confidence today to show they're not just riding on the quarterback's coattails.
Today will undoubtedly be the Patrick Mahomes show, but the Chiefs defense will want to hold their own. If both the Kansas City offense and defense get rolling at the same time, the rest of the league better watch out.