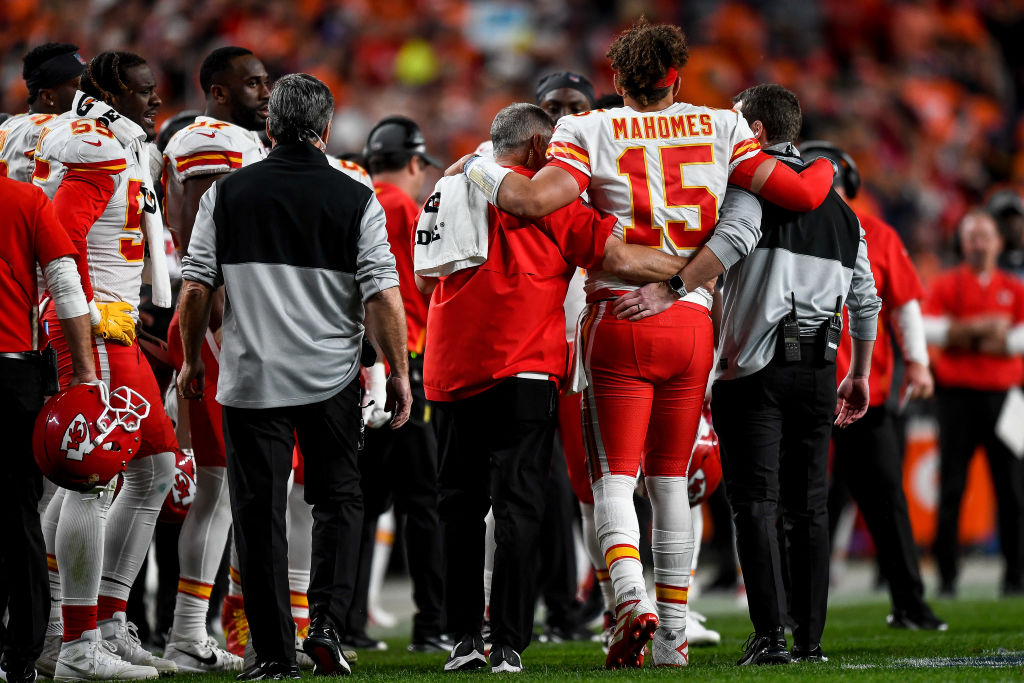 NFL: Can the Kansas City Chiefs Super Bowl Hopes Survive Patrick Mahomes' Injury?
With Patrick Mahomes on the sidelines, can the Kansas City Chiefs keep themselves in the playoff picture?
Injuries are an unfortunate reality of any professional sport. Players on every team get hurt; the best clubs are the ones who can cope with those losses without missing a step. But, no matter their level of preparation, the Kansas City Chiefs are going to be in for a rude awakening when they take the field without Patrick Mahomes.
While the team currently leads the AFC West and hoped to make a run to the Super Bowl, their focus will shift to surviving the next few weeks. How can they cope with the loss of their MVP quarterback?
Patrick Mahomes' injury
Early in last Thursday's game against the Denver Broncos, Patrick Mahomes called his own number on a quarterback sneak. When the dust cleared, however, the Chiefs quarterback was in pain; he was helped off the field with a leg injury, which was later diagnosed as a dislocated kneecap.
An MRI confirmed that there was no damage to any knee ligaments beyond the dislocation. While that was the best possible scenario for Mahomes and the Kansas City Chiefs, it will still sideline the quarterback for a few weeks. The reigning NFL MVP will probably miss a few games, but there's no doubt the team will be cautious with their star; it's better to lose an extra game than to do permanent damage to your franchise player.
Who will start at quarterback for the Chiefs
Despite speculation about trades or free agent signings, the Chiefs will likely stick with backup quarterback Matt Moore. While he obviously won't have the pure athleticism and throwing arm of Patrick Mahomes, Moore should be able to hold down the fort for a few games.
During his 11 seasons in the NFL, Moore has thrown for just over 7,000 yards with 46 touchdowns and 36 interceptions. While those numbers don't inspire a massive amount of confidence, he'll probably play more like Alex Smith from a few years ago than like Patrick Mahomes. Travis Kelce will probably see a great deal more usage underneath, serving as a safety valve, while LeSean McCoy should get additional touches out of the backfield. Tyreek Hill's speed will also be used differently, with getting open on shorter slant routes taking precedence over deep balls.
The Chiefs have plenty of weapons on offense, even without Mahomes. If Moore can keep the chains moving and avoid any significant mistakes, he'll be doing his job under center.
Can the Chiefs survive Patrick Mahomes' injury
Based on everything we know so far, we'll conservatively plan for Patrick Mahomes to return in Week. That means he'll miss four total games against the Packers, Vikings, Titans, and Chargers, and have Kansas City's bye week to get back up to speed.
Even if Mahomes was under center, the first two games would be tough given the quality of the Kansas City defense; while the Chiefs could split the results, we'll conservatively assume they'll lose both of them. Kansas City should have enough firepower to handle the Titans and Chargers, though, leaving them with a 2-2 record during Mahomes' absence.
Those results would give Kansas City a 7-4 record going into the final stretch of the season. They should be safe in the AFC West—they beat the Raiders in their first meeting, and Mahomes may be back for the second round on December 1—but there's a real risk of losing their first-round playoff bye, especially if the Ravens continue to thrive.
No team, especially one with historic playoff struggles, wants to play an extra postseason game, but, right now, that's the least of the Kansas City Chiefs worries. Right now, the club will just be looking to keep their head above water, one week at a time. As long as they can survive until Patrick Mahomes returns, they'll take their chances after that.