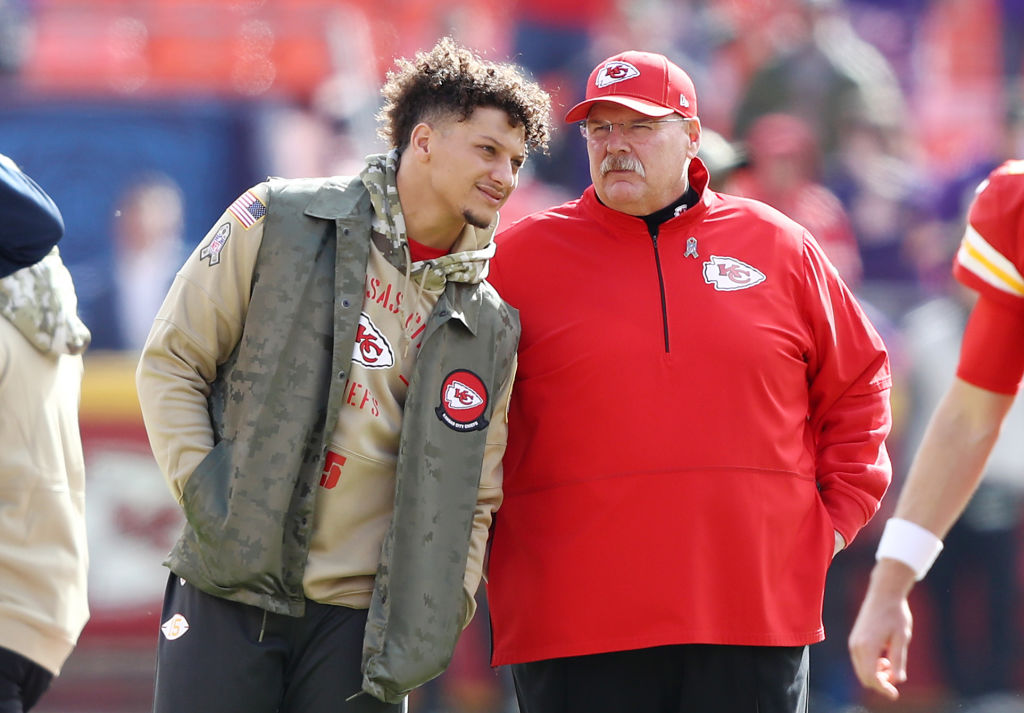 Is Patrick Mahomes Andy Reid's Last Chance to Win a Super Bowl as a Head Coach?
For all of Andy Reid's NFL success, he's never won a Super Bowl as a head coach. Can Patrick Mahomes help get Reid over the hump?
While it's not exactly fair, professional athletes and coaches are often judged by one standard: championships. Winning a title has become a shorthand for greatness; if you can make it to, and then win the big game, you have to be pretty good. Kansas City Chiefs head coach Andy Reid, however, falls on the wrong side of that rule.
Despite having an impressive career, Reid has never lifted the Lombardi Trophy as a head coach. Patrick Mahomes, however, could give the long-time coach his best shot at reaching eternal football glory.
Andy Reid's time as a head coach
While Andy Reid been prowling the NFL sidelines for quite a while, his coaching career actually began far from the bright lights of Sunday night. The mustachioed coach started as a graduate assistant at BYU, then plied his trade at smaller programs like Northern Arizona, UTEP, and San Francisco State.
In 1992, Reid signed on with the Green Bay Packers as an offensive assistant. Before long, however, he started climbing through the ranks. He became the assistant offensive line and tight ends coach and then secured another promotion to quarterbacks coach and assistant head coach. The Packers won Super Bowl XXXI, and Reid established himself as a promising coaching talent.
Reid got his big break with the Philadelphia Eagles 1999; he didn't get off to the best start, but soon justified the franchise's decision. Working with Donovan McNabb, Reid turned the club into one of the NFC's dominant teams; no matter their opponent, the Eagles were capable of lighting up the scoreboard. While he couldn't get the team over the hump, Reid left the NFC East with a .613 winning percentage. His time in Kansas City has followed a similar mold of dominant offensive performances and strong regular seasons, but little playoff success.
Andy Reid's place in history
That, unfortunately, has been the story of Andy Reid's career. While he's been a consistently strong head coach, a couple of realities keep him from getting the credit he deserves.
Reid currently sits seventh in all-time NFL regular season coaching victories with 205; at a minimum, he should easily reach at least fifth place before retiring. He's one of only 16 men to coach for more than 20 NFL seasons and has won 61.5% of his total games.
The postseason, however, is a different story. While Reid deserves credit for frequently making the postseason—only three men have coached in more playoff games than Big Red—he only holds a .462 playoff winning percentage and has never won a Super Bowl as head coach. That reality, combined with a knack for failing to manage the clock in big moments, has earned Reid a reputation as a coach who cruises through the regular season but falls at the final hurdle.
Can Patrick Mahomes help get Reid over the hump?
While Andy Reid hasn't been able to win the big game yet, he's currently in a pretty good spot. Working with Patrick Mahomes, he's turned the Kansas City Chiefs into an offensive powerhouse; last season, an atrocious defense and a penalty flag were the only things keeping them from the Super Bowl. Due to Mahomes' youth, the Chiefs are entering a nice window; since they'll have one of the league's best quarterbacks under center, the front office can focus on building the perfect supporting cast. If Reid is looking to get over the hump, it will be hard for him to find a better situation.
Even without that Super Bowl ring, Andy Reid is still a great coach. Winning the title in Kansas City, a city that's intimately familiar with playoff pain, however, would make him a legend.