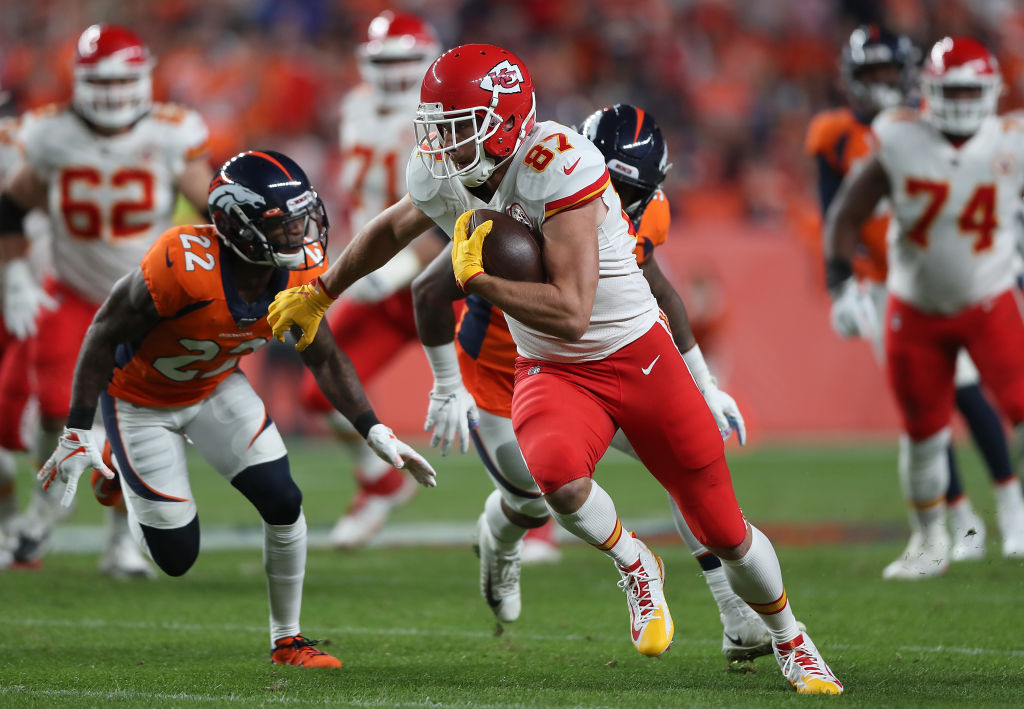 NFL: Expect a Big Night From Chiefs Tight End Travis Kelce, Even Without Patrick Mahomes
Even with Matt Moore under center, expect Kansas City Chiefs tight end Travis Kelce to have a big game on Sunday night.
Going into this season, everyone wanted to snag a Kansas City Chief for their fantasy football team. Whether you were impressed with Tyreek Hill's big-play ability or Travis Kelce's blend of size and athleticism, playing with Patrick Mahomes will boost anyone's offensive numbers. This weekend, however, the reigning NFL MVP won't be under center; Matt Moore will be starting in his place.
While you might be tempted to panic, don't feel like you have to pull all of the Kansas City Chiefs out of your starting line-up. Travis Kelce could actually be in line for a big night, even with Moore throwing him the ball.
Matt Moore gets the start
By now, everyone knows what happened to Patrick Mahomes last week. In the Chiefs' game against the Denver Broncos, the quarterback suffered an injury trying to sneak for a first down. He was helped off the field and later diagnosed with a dislocated kneecap.
An MRI revealed that there was no structural damage, however, and Mahomes returned to the practice field on Wednesday. Despite that quick recovery, though, the Chiefs still ruled him out for tonight's game against the Green Bay Packers. "He just wasn't ready right now," head coach Andy Reid said. "That was our decision, not his. He wanted to play right after it happened. He just needs a little bit of time here."
That means veteran quarterback Matt Moore will get the start against the Packers. While the Chiefs will have to adjust their offense, they certainly have enough talent to survive.
The Chiefs' new gameplan
When Moore first entered the game in Denver, the Kansas City offense looked out of sorts. The back-up had barely taken a snap with the starters all season and was trying to run Patrick Mahomes offense. In the second half, however, Reid adjusted his play-calling, and the Chiefs looked much more comfortable.
Reid and offensive coordinator Eric Bieniemy have had 10 days to create a gameplan for Moore. While some of Kansas City's signature deep passes will surely remain in the playbook, expect simplicity to reign. LeSean McCoy and Damien Williams will probably see an increased workload out of the backfield; Kelce's targets could also increase, as he'll serve as a safety valve to get Moore out of trouble.
"I don't think we have to change the whole offense, but definitely [there will be adjustments for Moore]," Reid explained. "That's part of being a coach and knowing your players. You want to put them in the best position to do what they do best. We'll look at what he does best and talk with him, and we'll put together a good game plan."
A big night for Travis Kelce?
It's safe to assume that Matt Moore will look to target Travis Kelce early and often on Sunday night. Beyond that pure volume of work, though, there's another factor working in the Chiefs' favor.
This season, the Packers defense has been unable to stop their opponents' tight ends. Zach Ertz of the Philadelphia Eagles put up 65 yards on eight catches against them; Raiders tight end Darren Waller exploded for 126 yards and two touchdowns. Based on that precedent, there's no reason to believe Kelce's size and athleticism won't give Green Bay fits.
It's easy to write the Kansas City Chiefs as a one-man team, with Patrick Mahomes driving everyone forward. While the young quarterback makes everyone around him better, there's still plenty of talent on the offensive unit. Expect Travis Kelce to show his skills on Sunday night, even with Matt Moore throwing to him.