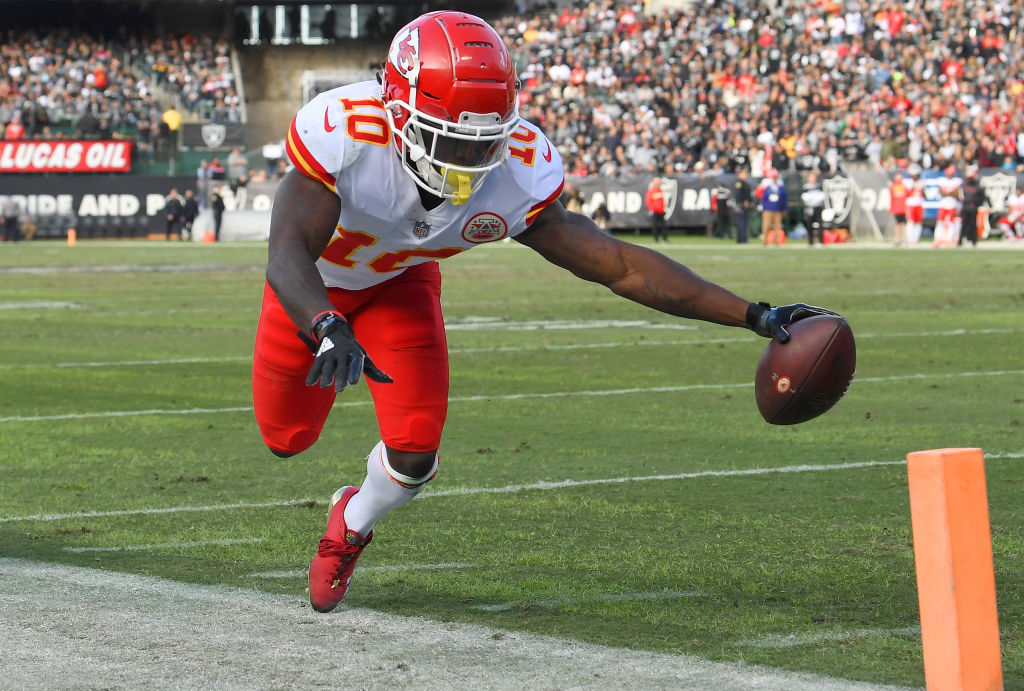 NFL: What Will Tyreek Hill's Return Mean For the Kansas City Chiefs?
After several weeks on the sideline, Kansas City Chiefs receiver will be active on Sunday. How much will his return mean to Patrick Mahomes?
Last season, the Kansas City Chiefs took the NFL by storm. In Patrick Mahomes' first full season under center, their offense exploded, averaging over 35 points per game. Receiver Tyreek Hill proved to be the perfect weapon, latching onto deep balls with ease and turning simple passes into massive gains.
At the start of this season, however, Hill was sidelined with a shoulder injury. He's set to return this Sunday, and he could be coming back into the huddle when the Chiefs need him the most.
From college speedster to Kansas City Chiefs player
During his college career, Hill saw action as a running back, receiver, and kick returner. His speed was evident, but his on-field production became less important after Hill pleaded guilty to domestic assault, punching and choking his pregnant girlfriend.
The Chiefs still decided to draft Hill, making him the 165th overall pick of the 2016 NFL draft. He once again took up a utility role, catching passes, lining up in the backfield, and returning kicks; he finished the year with nearly 2,000 total yards and 12 touchdowns.
His overall production decreased in the 2017 season, but Hill started lining up more frequently as a wide receiver. Once again, his pure speed was evident, turning Alex Smith's check-downs into massive gains. Patrick Mahomes' ascension to the starting role, however, helped Tyreek Hill take things to the next level. He clicked with his new quarterback, finishing 2018 with almost 1,500 receiving yards and 17 touchdown catches.
An uncertain start to 2019
In March 2019, Tyreek Hill was investigated for child abuse after his son suffered a broken arm. Despite a troubling audio recording—Hill's wife said the child was afraid of Tyreek, and he responded, "you should be afraid of me too"—the receiver was neither charged nor suspended by the NFL.
Even though he was allowed on the field, the season didn't start smoothly for Hill. He left the Chiefs' Week 1 game against the Jacksonville Jaguars with a shoulder injury, which was later diagnosed as posteriorly dislocated sternoclavicular joint.
Tyreek Hill's return to NFL action
On Sunday morning, news broke that Hill would be active for the Chiefs' game against the Houston Texans. His return from injury comes exactly as his team needs it the most.
Last weekend, the Chiefs took their first loss of the season in a drab affair with the Indianapolis Colts. The visiting team did what many thought was impossible, slowing down Patrick Mahomes and holding the Kansas City offense in check. They primarily accomplished the feat by dropping their secondary into man-to-man coverage. The Colts correctly bet that their defensive line could get to Mahomes before the Chiefs' receivers could break free from their coverage downfield.
The NFL is a copycat league, meaning that other teams will try to beat the Chiefs in the same way. That defensive scheme, however, plays directly into Hill's strengths. The wide receiver has the pure speed to burn any cornerback; even if defenses send safety help to Hill's side of the field, that will open up space for another Chiefs' receiver.
While there are still questions hovering around Kansas City's offensive line, Tyreek Hill's return will definitely make life easier for everyone in Arrowhead. Patrick Mahomes is dangerous enough, giving him more tools in simply unfair.