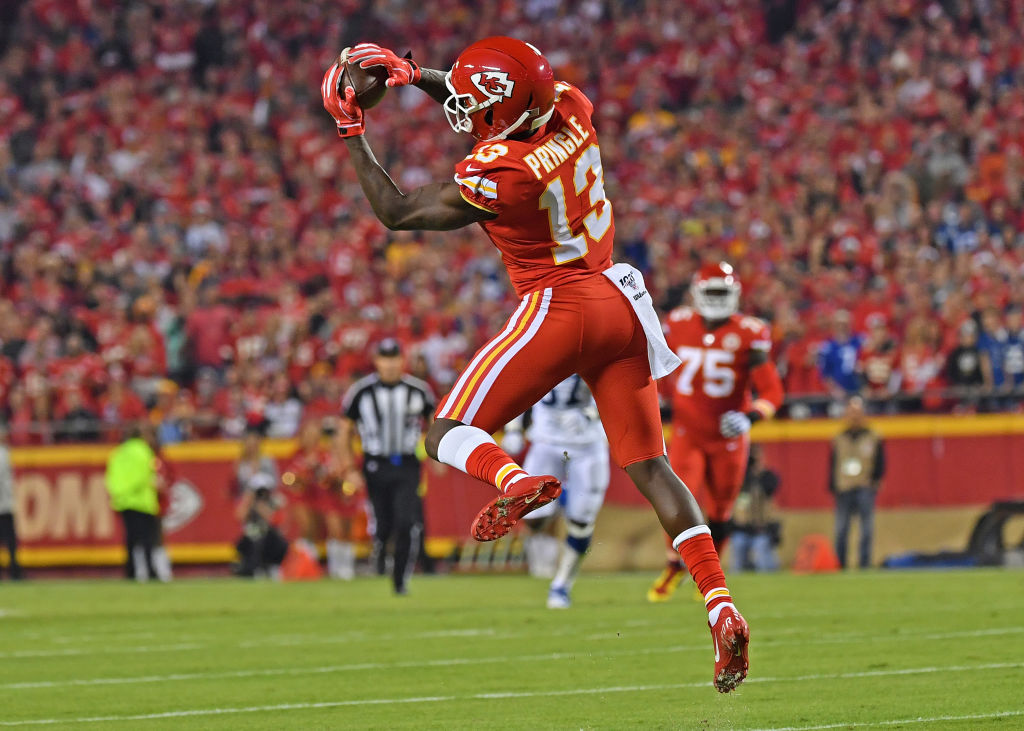 NFL: Should You Add Kansas City Chiefs Reciever Byron Pringle to Your Fantasy Football Team?
It's tempting to snap up any available Kansas City Chiefs player, but is receiver Byron Pringle worth a spot on your fantasy football roster?
While the NFL season might feel like it just started, we're already reaching the middle part of the schedule. Teams are going on bye, injuries are starting to mount, and you're probably scrambling to fill a dead spot in your fantasy football roster. During your search of the waiver wire, you may have noticed one tempting option: Kansas City Chiefs receiver Byron Pringle.
While you might be tempted by his role in a potent Kansas City Chiefs offense, his previous performances have been anything to write home about. With kickoff rapidly approaching, should you add him to your fantasy lineup?
Who is Byron Pringle?
After playing his college football at Kansas State, Pringle went unselected in the 2018 NFL draft. He signed with the Kansas City Chiefs but got hurt during the preseason; he would spend the entire campaign on injured reserve.
At the start of the 2019 season, Pringle made the Chiefs' 53-man roster but was cut after Week 1. He was resigned by the club and placed on the practice squad, only to return to the active roster four days later. He appeared in Kanas City's games against the Baltimore Ravens and Detriot Lions but didn't find much success.
Breaking out against the Indianapolis Colts
Pringle's Week Five performance, however, was a different story. The Indianapolis Colts set out to make life difficult for Patrick Mahomes and the Kansas City offense, dropping into man-to-man pass coverage. They correctly bet that their pass rush could reach Mahomes before the Chiefs' wide receivers could find an opening downfield.
While no Chief had a great game, Pringle stood out as one of the few bright spots. He hauled in six passes for 103 yards and a touchdown, playing the second-most snaps of any Kansas City receiver. Beyond the pure counting numbers, the receiver also showed off his skills as a route runner.
Pringle isn't a physical freak—he's listed at 6 feet, 1 inch tall, and doesn't have blazing speed—his footwork and technique helped him get open on several occasions. With Patrick Mahomes under center, that ability to find an opening is an essential skill.
Kansas City's injury woes
Pringle is also benefitting from some injuries in the Kansas City Chiefs receiving corps offense. Last weekend, he slotted into Sammy Watkins' role; the former Buffalo Bill seems likely to miss today's game, guaranteeing Pringle a role in the offense. The bigger issue, however, is the health of Tyreek Hill.
After hurting his shoulder in Week 1, Hill looks to be nearing full fitness. He's looking to be a game-time decision for Sunday afternoon's match-up with the Houston Texans, but the schedule could work against him. The Chiefs have a divisional game against the Denver Broncos on Thursday Night Football; they might be hesitant to throw Hill into two games in such quick succession.
Should you add Byron Pringle to your fantasy football team?
Picking players from the Kansas City Chiefs offense can be a high-risk, high-reward proposition. While the unit usually puts up a massive amount of yards and points, Patrick Mahomes is capable of throwing the ball to anyone. If your receiver doesn't happen to be the target of a downfield bomb, it's possible to get skunked.
With that being said, Byron Pringle looks to be in line for a decent amount of targets on Sunday. If Hill is inactive, the Chiefs won't have any big-name receivers beyond tight end Travis Kelce; if he does play, the Texans may focus on him, forcing Mahomes to throw elsewhere.
It's unreasonable to expect a massive performance from Pringle but, if you're up against the clock and need to pick up a free agent wide receiver, he's worth a flyer. Maybe you'll be the recipient of a little Mahomes magic.