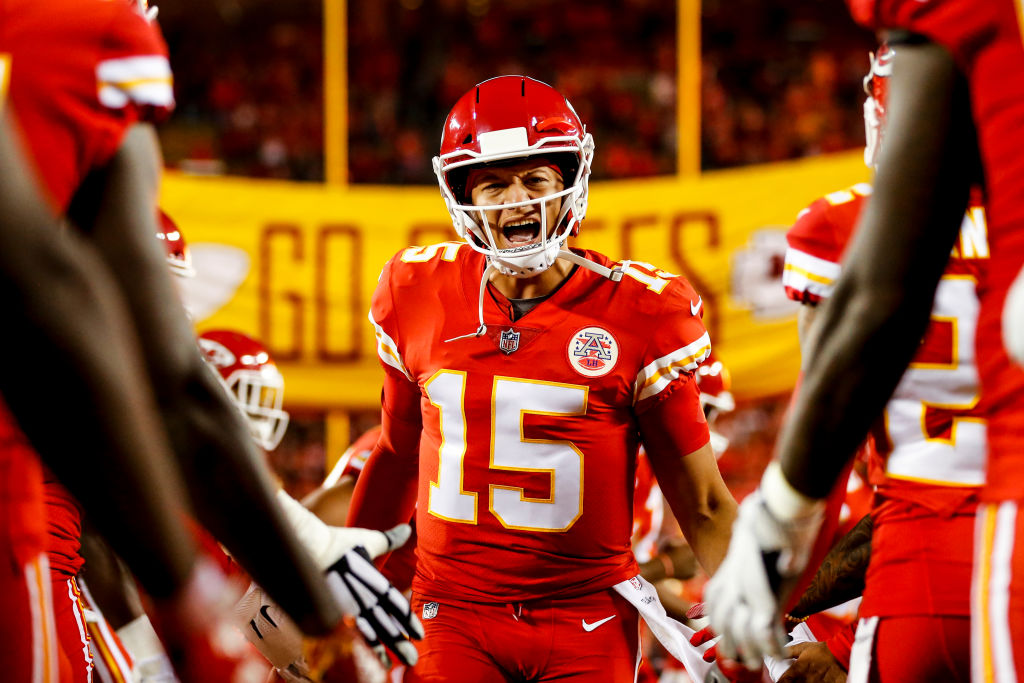 Patrick Mahomes' Road to the NFL May Have Gotten a Boost From Mother Nature
Kansas City Chiefs quarterback and Super Bowl champion Patrick Mahomes' road to the NFL may have gotten a boost from Mother Nature.
It wasn't always this easy for Patrick Mahomes. There was a time when the Kansas City Chiefs quarterback and Super Bowl champion had to prove himself on the football field. Mahomes, the son of a former Major League Baseball pitcher, was a multi-sport athlete in high school and didn't even get the starting quarterback job until his junior year. He solidified that job with some strong play and with the aid of Mother Nature.
Patrick Mahomes' NFL career
He hasn't spent a whole lot of time as a professional football player, but Patrick Mahomes is already considered one of the best. The Kansas City Chiefs quarterback, after two years as a starter, has turned heads with his athleticism and strong arm. He's guided the Chiefs to a Super Bowl. He's been named the league's MVP.
Mahomes was drafted by the Chiefs with the 10th overall pick in the 2017 NFL draft. He played his college football at Texas Tech. In his first year as a pro, Mahomes was relegated to the bench, sitting behind starter Alex Smith. Mahomes took charge in his second year of the NFL after Smith was traded to the Washington Redskins. 
In his first year as a starter, Mahomes threw for 5,097 yards and 50 touchdown passes. He also rushed for 272 yards and a pair of scores. He guided the Chiefs to a 12-4 record and was named the league's Most Valuable Player. Last season, he overcame a knee injury and still threw for better than 4,000 yards and 26 touchdowns in leading the Chiefs to the Super Bowl title.
Mahomes' early years
At Whitehouse High School in Whitehouse, Texas, Patrick Mahomes was a three-sport standout, playing football, basketball, and baseball. For the 2013-14 high school season, Mahomes was named Max Preps Male Athlete of the Year.
Like his father Pat Mahomes, who enjoyed an 11-year Major League Baseball career, Patrick Mahomes was a very talented pitcher. As a senior, he threw a no-hitter and recorded 16 strikeouts. He was selected by the Detroit Tigers in the 37th round the 2014 MLB draft. He likely would've gone much higher in the draft had he not already committed to play football at Texas Tech.
At Texas Tech, Mahomes began his college career as a backup quarterback, but started the remaining four games after an injury to starter Davis Webb. Mahomes entered his sophomore year as the starting quarterback. For the first two years at Texas Tech, Mahomes also played baseball but gave it up to focus on football heading into his junior year. In his junior year, Mahomes threw for 5,052 yards and 41 touchdowns. He entered the NFL draft after his junior year.
Mother Nature assists Mahomes
Whitehouse High School had two very talented quarterbacks in 2012. Patrick Mahomes and Ryan Cheatham were vying for the starting job and offensive coordinator Adam Cook had a tough time deciding which one to start. He decided to have them split time until one won over the job. On Sept. 14, 2012, Mahomes, a junior, got the call to start, only his second high-school start.
The game was played in a driving rain and Mahomes adapted well, taking control from the beginning. When it came time to put in Cheatham, Cook decided to stick with Mahomes, who wound up with better than 500 yards of offense in a 38-33 win. "I think that's when it finally clicked for Patrick Mahomes, what it's like to be the quarterback of a football team," Cook said in the Atlanta Journal-Constitution in 2018. "There's nothing like it. He can be on the mound, and he can be the pitcher, or he can be the point guard in basketball, but there's nothing like being the quarterback of a football team."
Cook said the Mahomes/Cheatham competition was real. "It was a legitimate battle," he said in The Sporting News. "Cheatham was a very good quarterback. We had two quarterbacks before those two that went to college on football scholarships. Ryan was a lot more like those two in the way that he played."
The game in the rain was when Mahomes took the job away and ran with it.
"That's when Patrick won the spot," Cook said. "Afterwards, Ryan knew. Ryan Cheatham would have come into the game had it not been raining,"