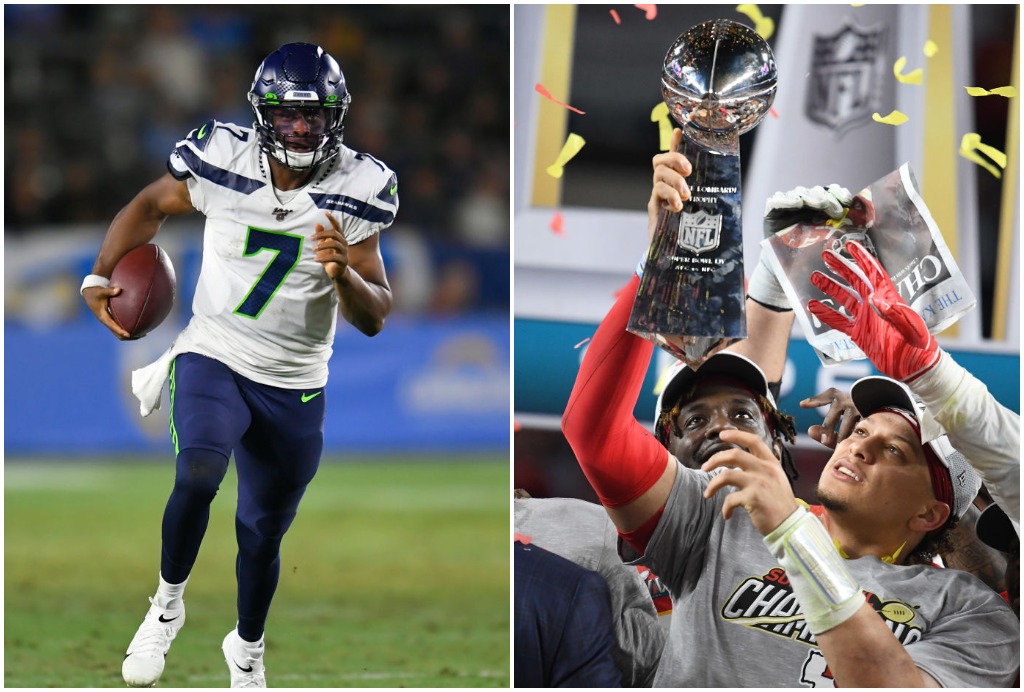 Patrick Mahomes and Geno Smith Share an Impressive Accomplishment
Patrick Mahomes and Geno Smith couldn't have more different career paths, but the two quarterbacks share a unique playoff accomplishment.
Patrick Mahomes and Geno Smith couldn't have more different NFL careers. The former has quickly become the face of the league after leading the Kansas City Chiefs to their first Super Bowl victory in 50 years. The latter has spent most of his time as a backup to future Hall of Famers. However, despite their drastically different career arcs, Mahomes and Smith share a unique playoff accomplishment that no other NFL QB can claim.
Patrick Mahomes has become a superstar with the Chiefs
Without a doubt, Patrick Mahomes is not only the present but the future of the NFL. Perhaps the most physically gifted quarterback of all time, he's made a dramatic rise since entering the NFL as a rather undervalued draft pick. Even though he flashed tantalizing talent at Texas Tech, Mahomes went 10th overall in the 2017 NFL draft behind the likes of Mitchell Trubisky and Leonard Fournette. After spending a year on the bench learning under Alex Smith, Mahomes took over in 2018 and blew everyone away with his rare skillset.
As a first-year starter, the 6-foot-3, 230-pound gunslinger led the NFL with 50 touchdown passes. He eclipsed 5,000 yards and also led the NFL with an outstanding QBR of 80.4. Mahomes guided the Chiefs to a 12-4 record while capturing NFL MVP honors. However, Tom Brady spoiled Kansas City's Super Bowl dreams.
Falling short of their mission to hoist the Lombardi Trophy, the Chiefs made sure to learn from their mistakes. Last season, Mahomes didn't put up nearly the same numbers, but that didn't matter. By the playoffs, he returned to form. The 24-year-old put together a fantastic postseason run that included 10 touchdowns and a quarterback rating of 111.5. Thanks to some timely throws by Patrick Mahomes, the Chiefs took down the San Francisco 49ers in Super Bowl LIV.
Geno Smith's journey from Jets starter to backing up Eli Manning and Russell Wilson
Coming out of West Virginia, Geno Smith looked like the future for the New York Jets. That plan didn't last long. Smith went 8-8 as a rookie and posted an ugly 12:21 touchdown-to-interception ratio. He certainly looked nothing like the Heisman Trophy candidate who threw for nearly 12,000 yards for the Mountaineers.
Year two of the Geno Smith experiment may have been worse. The 2013 second-round pick went 3-10 and once again failed to throw more touchdowns than interceptions. The Jets had no choice but to bench him. Smith spent two more years in New York primarily backing up Ryan Fitzpatrick.
Ironically, Smith spent the next season playing in the same stadium after the New York Giants signed him to a one-year deal. Through no fault of his own, he caught a ton of heat when head coach Ben McAdoo benched Eli Manning in favor of Smith. His one start actually wasn't half-bad.
Geno Smith then took his talents to the Los Angeles Chargers, where he backed up Philip Rivers for a year. He moved north to Seattle to provide insurance behind Russell Wilson. This offseason, the Seahawks brought back their top backup on a one-year deal.
Mahomes and Smith have a unique playoff bond
Few NFL quarterbacks experience playoff success. After all, it's mightily difficult to win when the pressure gets turned up in the postseason. Yet, Patrick Mahomes and Geno Smith share a unique accomplishment in that regard.
In a league that includes legends like Drew Brees and Tom Brady, Mahomes and Smith are the only two quarterbacks to advance to the Divisional Round in each of the last two seasons. The Chiefs made it to the AFC Championship in 2018 before completing their Super Bowl quest earlier this year.
On the other hand, Geno Smith advanced to the Divisional Round with the Chargers in 2018. Coincidentally, they got beat by the Patriots, who went on to topple the Chiefs and Rams en route to their sixth Lombardi Trophy. Last year, Smith didn't throw a single pass for the Seahawks. However, Seattle advanced to the Divisional Round after taking down the Philadelphia Eagles. The Green Bay Packers sent the Seahawks home with a 28-23 victory.
Statistics courtesy of Pro Football Reference