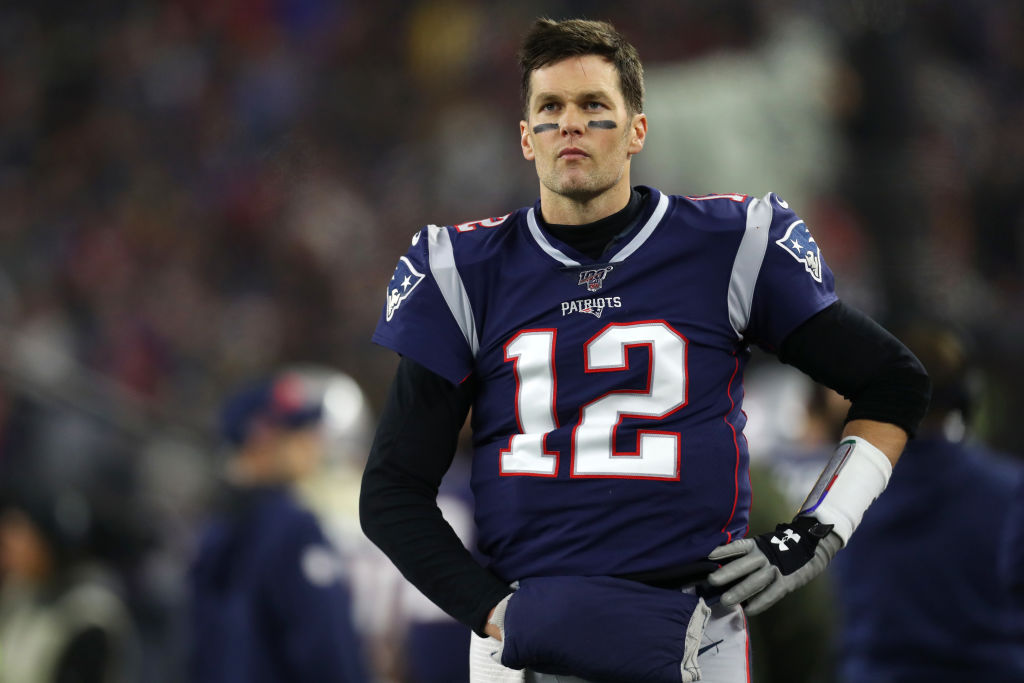 Tom Brady is the $13.5 Million Burden That Won't Go Away
Tom Brady won't suit up for the New England Patriots again, but he's still an expensive drag on the team's Super Bowl hopes in 2020.
It sure will look strange seeing Tom Brady in Tampa Bay Buccaneers colors this fall. Yet, after 20 year and six Super Bowl rings, he finally got his freedom from Bill Belichick. For years, Brady famously took below-market deals in order to give the New England Patriots salary-cap flexibility. Now, he's a $13.5 million burden that's crippling the Patriots' Super Bowl chances.
Tom Brady and Bill Belichick finally divorced after 20 years of marriage
No matter what side of the debate you fall on, there's no doubt that Tom Brady and Bill Belichick formed the greatest quarterback-head coach combo in NFL history. Both joined the Patriots with significant question marks. Belichick posted a disappointing 36-44 record as the head coach of the Cleveland Browns. Brady fell to the sixth round of the 2000 NFL draft and didn't give any inkling that he'd eventually become a starter, let alone the greatest quarterback of all time.
A monster hit by Mo Lewis opened the door for Brady to take Drew Bledsoe's starting job. And the rest, they say, is history. For two decades, the masterful mind of Belichick and the incredible intelligence of Brady dominated the NFL at an unprecedented level. The two NFL legends won six Super Bowl titles and made winning the AFC East a ritual. While Belichick brought Rob Gronkowski and Julian Edelman into the fold, it was Brady who turned them into stars in New England.
However, the relationship ran its course. Belichick's personnel moves left his quarterback short-handed over the last two years. Brady rightfully grew frustrated not only with his lack of weapons but also his lack of a long-term deal. So after a 20-year fruitful marriage, the Patriots and Brady officially divorced in March. The face of the Patriots signed a two-year, $50 million deal to throw passes to Mike Evans and Chris Godwin with the Buccaneers.
Brady carries massive dead money hit on New England's 2020 salary cap
Although Tom Brady moved on from the Patriots, he still has a significant effect on the organization. According to Over the Cap, the three-time NFL MVP carries a $13.5 million dead money hit on New England's 2020 salary cap. That's a huge number for a player who won't be playing in Foxborough anymore. So how did Brady become such a financial burden? It all traces back to last summer.
Last August, the Patriots signed Brady to a two-year, $70 million contract extension. However, the legendary quarterback ensured his future freedom by including a clause that prevented the Patriots from using the franchise tag on him this offseason. Essentially, the deal represented a big raise for 2019, but the final two years of his deal voided on the last day of the 2019 league year.
Because of that contract structure and Brady's subsequent departure, New England got stuck with $13.5 million in dead money. If the Patriots had re-signed Brady prior to the end of the league year, they could have split that charge over the next two years. But with Belichick sticking to his economic principles, Tom Brady left for the Buccaneers and officially became a $13.5 million burden on the team's 2020 salary cap.
Patriots have no cap space to afford Cam Newton or another veteran QB
For 20 years, Tom Brady made the Patriots annual Super Bowl favorites. Now, he's crippling their chances of hoisting the Lombardi Trophy. Due in large part to Brady's massive dead-money hit, Bill Belichick has had barely any salary-cap space to work with this offseason.
With Brady eating up $13.5 million in dead money, New England has been hamstrung in terms of bringing in a veteran quarterback. Andy Dalton, Jameis Winston and Cam Newton all hit free agency. Yet, the Patriots watched Dalton land in Dallas while Winston won the world's best-paying internship. Newton has yet to find a new home, but there's simply no way the Patriots can afford his services.
Bringing back Brian Hoyer definitely doesn't move the needle. The lack of financial flexibility leaves Jarrett Stidham as the favorite to be QB1. However, he barely saw the field as a fourth-round rookie. If he succeeds, Bill Belichick will look like a genius yet again. But if Stidham stumbles out, the lack of an established veteran starter traces back to the financial impact of Brady's departure. Ultimately, Tom Brady won't be playing in New England in 2020, but he's a $13.5 million burden who's crippled the Patriots' Super Bowl chances this season.