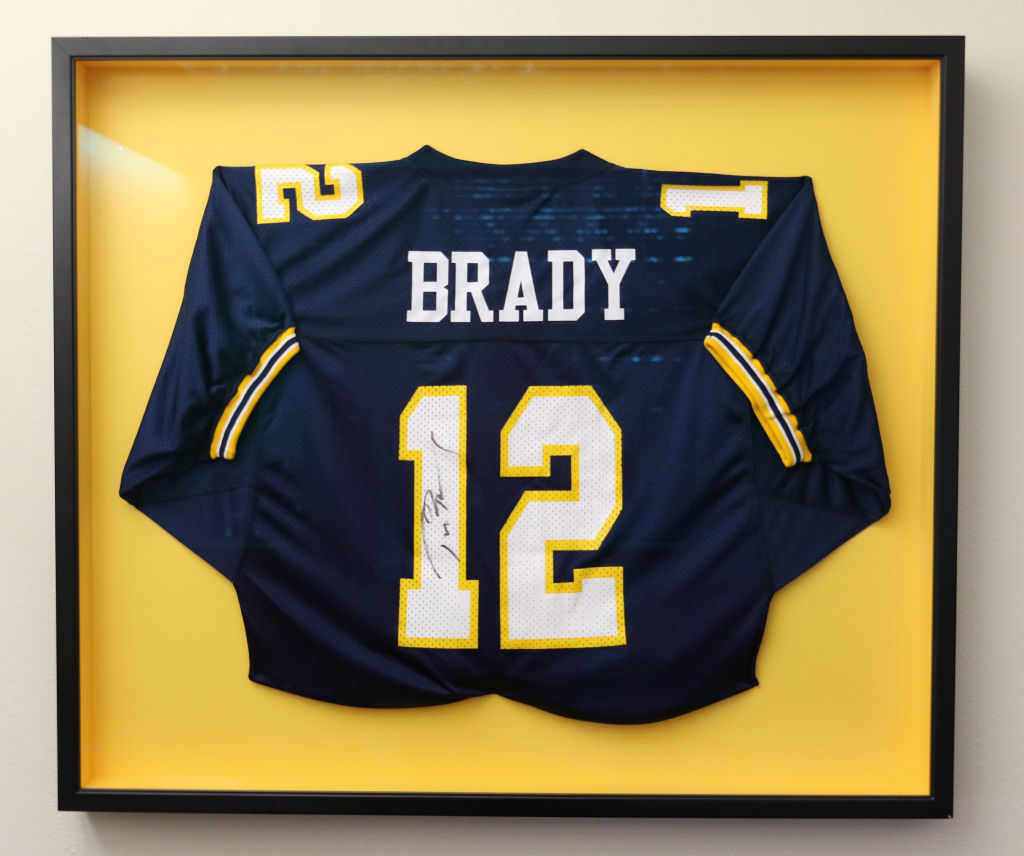 Tom Brady Suffered a Painful Loss in High School Due to Sprinkler Gate
Tom Brady is no stranger to controversy. In fact, it began in high school, when his team lost a championship game because of Sprinkler Gate.
Tom Brady has faced plenty of adversity on the football field. From working his way up the Michigan depth chart to overcoming his sixth-round draft status, nothing came easy for the greatest quarterback of all time. In his 20 years with the New England Patriots, he also had to endure a number of scandals, including Spygate and Deflategate.
But long before Eli Manning stole two Super Bowl titles, Tom Brady had to endure another controversial championship loss. Only this time, it didn't involve a miraculous helmet catch or an overturned replay review. Instead, Tom Brady lost a high school championship due to Sprinkler Gate.
Tom Brady developed into a star at Serra High School
Tom Brady's first foray at football didn't go quite as planned. Just as he had to in college and later in the NFL, he had to scratch and claw his way to the top. It was no different at Serra High School, where the California kid couldn't even start on a winless freshman team. According to Joe Smith of The Athletic, Brady's legendary work ethic that summer set the stage for what turned out to be a highly productive high school career.
Brady, Kirby and another receiver would spend hours every Monday, Wednesday and Friday that summer on the high school's football field. They'd run routes until they couldn't anymore. The school's JV coach, Bob Vinal (pronounced Vin-Yall), would stick around and help out before returning to work at his insurance agency.
After never playing a down in his first year, Brady made a name for himself by leading the JV team to a game-winning drive in his first-ever start. That sophomore season included yet another clutch performance by the future NFL star.
"It was probably just over a minute left, and we were down one point," Vinal said. "We went into a two-minute drill and we just picked them apart all the way down. With no time on the clock, we hit a field goal to end the game."

Brady's ascent from bench-warmer to fearless leader simply set the stage for his future success. Of course, that didn't come without heartbreak.
The story of Sprinkler Gate
Clearly, even a young Tom Brady possessed the ability to perform under pressure. After spending his entire freshman year on the sidelines for an 0-8 team, he led Serra High to the league championship as a sophomore starting quarterback. Unfortunately for the future Patriots legend, he got his first taste at how unfair the game of football can be.
On the road and with a league title on the line, Serra High needed a score to win the game. However, according to Brady's former teammate, John Kirby, the home team's sprinklers went off twice during the team's potential winning drive. Though Brady failed to deliver a championship, it didn't take away from the tremendous strides he made as a sophomore. His hyper-competitive attitude and willingness to perfect his craft was evident to Coach Vinal.
"A lot of kids come through. You can tell who is special and who is not," Vinal said. "It comes from the heart, the way they care, their love for the game. He was one of those guys where when you were around him, you felt comfortable. I knew I could depend on this guy. A lot of guys, you wonder, what the hell is he going to do this time? Even as a young kid, we had all the faith in the world in Tommy.

Ultimately, Brady never won a title in high school due to some pesky sprinklers. Still, that didn't stop him from continuing his football journey.
Brady won six Super Bowl championships with the Patriots
Despite coming up short in high school, Tom Brady managed to win more than his fair share of championships later in his football career. He beat out a number of highly-coveted recruits at Michigan to become a successful starter. And after Drew Bledsoe went down with a life-threatening injury, he took over the Patriots' starting quarterback job and never looked back.
In two decades working with Bill Belichick, Brady engineered numerous game-winning drives en route to six Super Bowl championships. And while he'll be suiting up for the Tampa Bay Buccaneers this season, he left an indelible mark on a Patriots organization that had never won a Super Bowl championship before his arrival.
Spygate and Deflategate couldn't take down the greatest quarterback of all time. Perhaps the devastation of Sprinkler Gate gave Tom Brady the extra competitive boost that's made him the greatest quarterback in NFL history.